Summary
A full rebrand, including user experience research, customer journey mapping, and a new e-commerce website build was carried out for a division of the U.S.' largest home warranty company. The results included a year-over-year 70.1% increase in leads on a flat advertising spend.
OneGuard Home Warranties is a division of American Home Shield, the largest warranty provider in the U.S. and a business unit of ServiceMaster Global Holdings, Inc. (NYSE: SERV).
OneGuard's desire was to grow its new and unique business model, offering not only home warranty services, but also home maintenance services. OneGuard therefore needed to educate homeowners and prospective homeowners about their new service model and increase demand for OneGuard's offerings.
Of particular note was the fact that venturing into home maintenance services placed OneGuard squarely in competition with companies such as: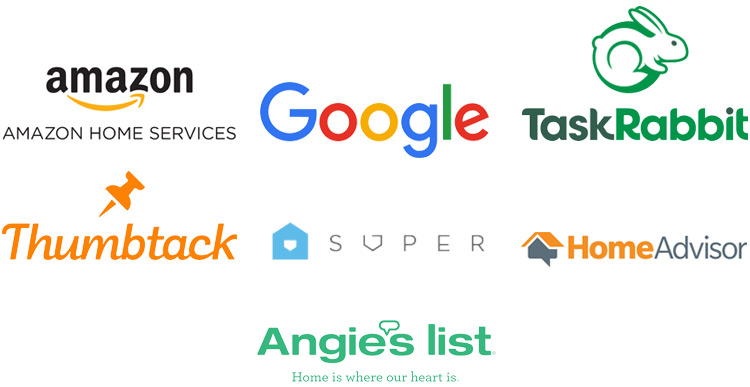 Our research for the client highlighted the fact that trust is a key barrier to consumer sales in the home maintenance services industry, however, when combined with OneGuard's up-market service/pricing model and the number of competitors out there, we needed to go beyond building trust to position OneGuard.
We needed to shift away from the consumer thinking about this just as an expense, and focus on those that want "One" place that provides confidence, such that, if I'm very vested in my home, my lifestyle, my property, OneGuard is the "white-glove" service provider that reassuringly handles all my home care needs.
We led the client through our proprietary branding process to uncover existing and aspirational brand personality traits. These exercises and additional work by our brand strategy team led to the following traits becoming the dimensions of OneGuard's brand personality.
Authoritative
Responsive
Empathetic
Thorough
Progressive
Other brand development work by our team led to us settling on the Caregiver brand archetype. Reasons for this included the fact that OneGuard's culture embodied the virtue of working to protect others. Other Caregiver attributes that also applied included:
The Caregiver seeks to do good for others
The Caregiver promises safety and support
The Caregiver works hard to remain a mentor
The new brand was embodied in the development of a new logo, visual branding elements, copy, brand voice and tone, and formal documentation of the new brand so that it could be used not just externally, but to enhance internal focus.
Comprehensive user experience research was also conducted by our team, leading to the development of a new website. Specifically, we focused on improving the customer journey of requesting a quote online. Our team identified that the amount of mental effort required by a user to receive a quote on OneGuard's current site, also known as cognitive load, was much too high. The site required four steps to request a quote, with five to seven optional steps along the way.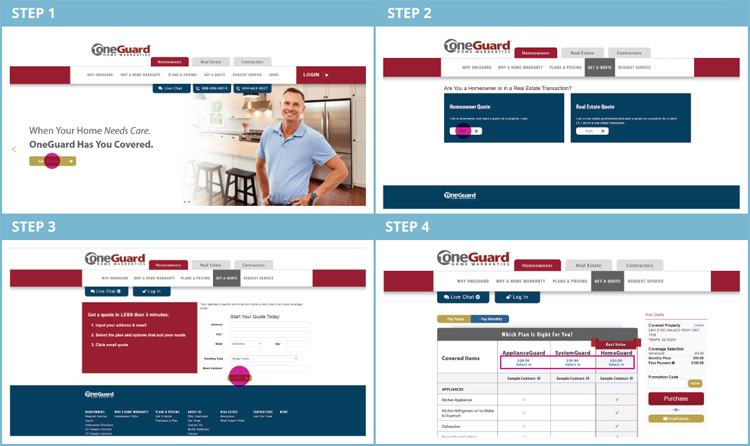 After conducting extensive user research on the customer journey for both OneGuard's website and competitor websites, we concluded that four steps were far past the optimal number of steps needed for lead generation.
These insights allowed us to propose a new customer journey for OneGuard. The new customer journey now only requires two steps to receive a quote. This was an improvement, among many others, that ultimately led to the success of the new website.
Year-over-year results for the quarter following the launch of the brand and e-commerce site saw a dramatic 70.1% increase in leads on a flat year-over-year advertising spend, facilitating OneGuard's continued expansion into additional states.