Summary
As agency of record, we developed an integrated Halloween Campaign for Goodwill that incorporated outdoor, digital, in-store signage, email, and TV. Year-over-year Halloween sales increased by 34%.
Goodwill of Central and Northern Arizona is the largest Goodwill organization in the country. The client operates 84 retail stores, 20 donation centers, 3 clearance outlets, 3 furniture stores, and 20 career centers and has revenues nearing $150 million.
As traditional and digital marketing Agency of Record for Goodwill of Central and Northern Arizona, we work on everything from strategy, branding, and creative, to web, email, social media, and media planning and buying. Halloween is Goodwill's "Christmas Season" and is a huge revenue driver for their retail stores. It's an opportunity for customers to showcase their creativity and take advantage of the great finds (and prices) by shopping for their costume at Goodwill. Who wants a cheesy, prepackaged costume when you can design your own and be the talk of the party?
Goodwill's unique position as a provider of economical, individual pieces from which to build a costume from scratch, offers customers the choice of not simply a particular costume, but a variety of ways to put it together. For example, a vampire costume at Goodwill could be a fitted black suit or a sexy corset with a cape. It is whatever you want it to be. Helping consumers see the various ways to be creative helps tackle the challenge of not being able to promise that a particular costume will be in stock due to constantly changing inventory from location to location.
Our strategy was to bring out each shopper's "authentic" creation and focus on abstract characters of vampires, zombies, monsters, witches, etc. that all can be customized at Goodwill with a wide selection of hats, boots, coats, dresses and more.
The supporting copy marginalized packaged costumes and declares that if you want a real costume, it must be created – i.e. "Vampires Aren't Born. They're Made." We encouraged customers to be "Authentically Halloween" and submit their creations to Goodwill's Costume Contest by posing with a flyer (found at all Goodwill of Central and Northern Arizona locations) that proudly stated, "I Am Authentic."
In-Store Experience
In addition to the media components for the campaign, there were also in-store graphics that we crafted with a related, but different set of considerations. Specifically, the "external" media component of the campaign focused on individual costumes that could be created with the items found in any Goodwill store. However, given the fact that there are endless opportunities and ideas for costumes once you walk in the store, we re-focused the message to "Costumes Aren't Packaged. They're Made."
We ensured typographical consistency with the other pieces of the campaign, except with the word "Costumes," which allowed for the signage to also act as an identifier for the Halloween section within each store. By keeping the messaging within the store about "costumes," we were able to inspire shoppers to imagine the possibilities for their creations.
Integrated Media Plan
The multi-media plan that we developed included TV, radio, outdoor, and digital, and while it utilized the same budget as the prior year's campaign, we refocused the targeting to expand Goodwill's audience.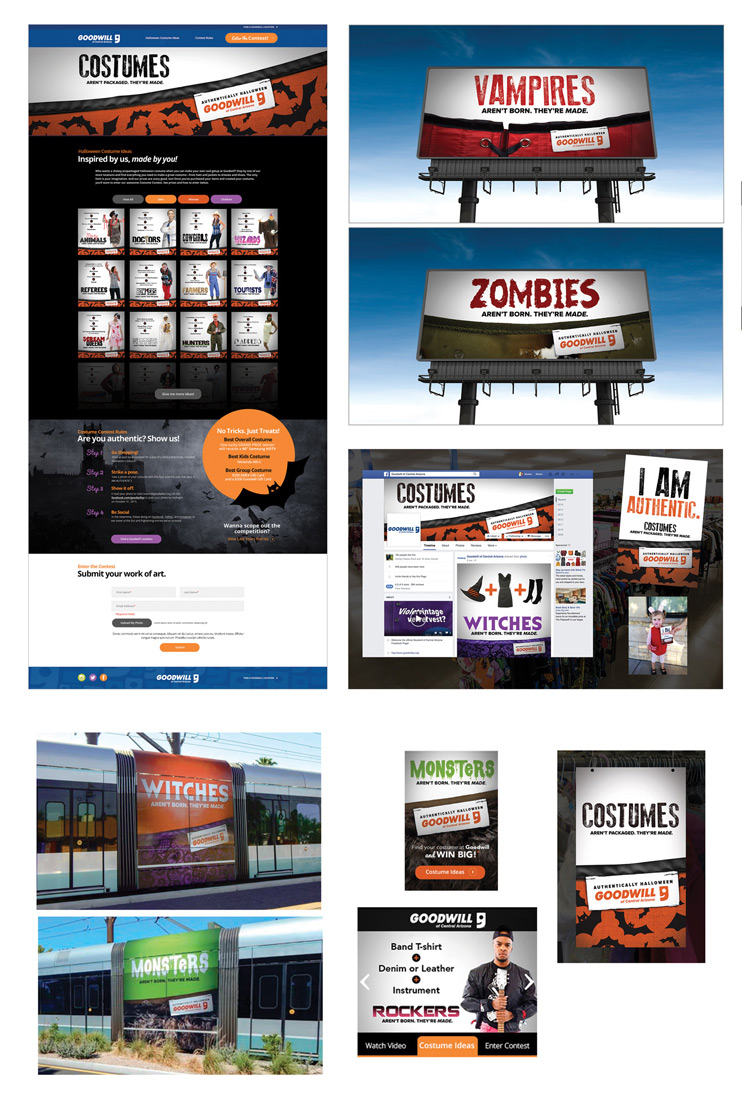 The TV buy placed this year's Goodwill Halloween creative in front of new audiences by using programming such as Saturday Night Live and Arizona Cardinals football, while the radio buy leveraged personality endorsements and a deep mix of stations. The digital buy not only used tactics such as targeted banners and digital radio, but also rich media units that included a variety of interactions, mobile video, and retargeting. The buy also included social media elements such as promoted pins on Pinterest and sponsored Instagram posts.
Most impressive were the results from the cross-device targeting and retargeting, where we were able to demonstrate that targeting the same user across multiple devices increased landing page visits by 385% and clearly justified the cost and the strategy. Overall, the media campaign netted more than 78.6 million impressions.
With a campaign run from September 21 to November 1, and supporting operations, Goodwill saw a record-breaking October. They exceeded the previous year's Halloween sales by 34% and overall revenue for the month by 15%.