Summary
We developed an influencer marketing strategy for a fashion industry client that drove the client's message to an audience of over 75 million people and resulted in a sales volume increase of 349%.
K Couture is one of the U.S.' leading manufacturers and eCommerce retailers of fully customizable bridesmaids' dresses and men's formal wear.
When we began this project, K Couture was a new brand, with a new e-commerce website that we built for them, and had relatively little brand awareness. As the client's digital agency and PR firm, Zion & Zion's challenge was to get the word out about this new company, and what they offer, to their target audiences.
We developed an influencer marketing campaign, partnering with bloggers and earned media online outlets to:
Increase awareness
Elevate the brand
Increase traffic to the website
Increase sales
To accomplish these goals, we researched the brand's target audiences, both primary and secondary. The primary audience consisted of brides looking for bridal party attire, and women looking for a formal dress in general. The secondary audience consisted of faith-based brides, and women looking for conservative or plus size fashion. The secondary audiences of faith-based brides and conservative fashion were primarily driven by their desire for dresses with three-quarter length sleeves which are relatively difficult to find, while the secondary audience of plus size fashion was driven by the fact that K Couture offers dresses up to size 34.
This information informed our media list development, and resulted in the following media segment targets: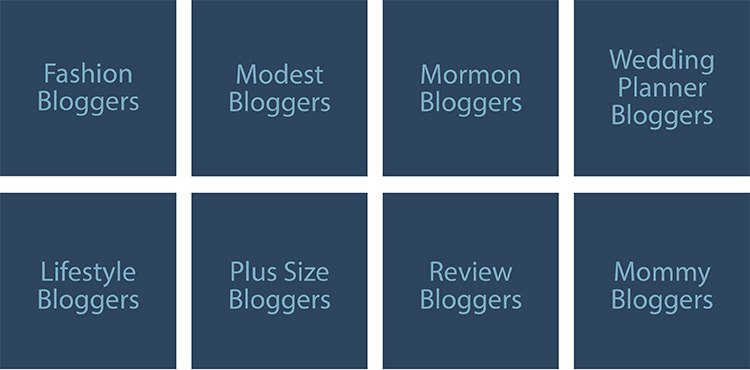 We then created targeted pitches to appeal to these specific bloggers. Each pitch had a different angle, but they all served the same purpose: to invite the blogger to see how easy it was to order a dress using the K Couture "Design A Dress" tool.
After reaching out and forming partnerships with these bloggers, each received a gorgeous, custom dress (that they designed themselves), in exchange for a blog post written about their experiences with K Couture with photos of their dresses.
An important part of our strategy was to focus on bloggers that were also heavy social media influencers with large audiences on Facebook, Instagram, and/or Twitter.
In summary, influencer marketing campaigns had the following total audience numbers:
Blog: 75,453,223
Facebook: 1,438,543
Instagram: 134,506
Twitter: 456,386
Pinterest: 4,593,982
Woman's Day: 6,044,092
Wedding Chicks: 629,455
Other: 27,306
As the efforts are ongoing as of the time of this case study, the following media hits are currently in the pipeline:
Fashion/Lifestyle bloggers:
Gentri Lee
Haircut and General Attitude
Fashion Laine
Plus Size bloggers:
Curves & Chaos
The Style Supreme
Flight of the Fat Girl
Modest bloggers:
Modest by Reva
A La Modest
Bramblewood Fashion
Lovely Deseret
Rachel Sayumi
Fred Rongo
Pink Wings
Deidre Emme
Dani Marie
Unpredictable & Chic
Web traffic directly resulting from our influencer marketing campaign has been dramatic, and client sales volume is up 349%.