Summary
Our brand strategy team developed four research-based, strategic insights. We then leveraged these insights to reposition the client as a true lifestyle brand via a new logo, website, email marketing, print, and TV campaigns. Year-over-year same-store-sales for the campaign period increased 17%.
Shoppers Supply had successfully opened five stores in Iowa. The company then opened its first two stores in Arizona, totaling 140,000 square feet of retail space. The store's products ranged from tools, clothing, western wear, and the state's largest selection of cowboy boots; to pet and pool supplies; to large and small animal feed. Zion & Zion was brought in to re-develop the Shoppers Supply brand and to act as its agency of record moving forward.
The key question was… How can the chain stand out amidst a sea of competitors?
After extensive market research, staff interviews and customer exit surveys, we garnered several key insights that drove our development of strategic positioning and branding for Shoppers Supply.
The Insights

In a sea of relatively undifferentiated, promotion-driven brands, Shoppers Supply had a latent "lifestyle" core to both its stores and its customers.

While competitor brands, positioned themselves for the farmer, rancher, and hunter, we could see that Shoppers Supply's customers weren't just these people, but people that had a relationship with "the land," akin to the "American Way."

Many customers that frequent Shoppers Supply's competitors think of their shopping activities as "drudgery."
Customers appreciate the fact that even though Shoppers Supply might be large in scale (product selection and square footage) and may be located in a non-rural setting, they service their customers with the philosophy of "Main Street," versus the big box mentality of "Main Stream."
Our strategy built on the aforementioned insights. Specifically, we developed a brand personality for Shoppers Supply that differentiated the brand, fully developed its lifestyle image, and turned customers' "to-do lists" into their "want-to-do lists."
Branding exercises and research yielded associations of Sam Elliott, True Grit, Ford Tough, Ram Trucks, and to a lesser, but still significant extent, things like Duck Dynasty and the NRA. The exercises also clearly yielded differences from the "polished" experiences of agrarian brands such as Williams Sonoma.
At the very core of the brand experience for Shoppers Supply was a rugged, self-sufficient customer that loves "the land."
As our brand strategy work progressed, it was evident that Shoppers Supply supported those that want and enjoy a lifestyle of:
Building it
Working it
Raising it
Growing it
Roughing it
Combining this with the realization that big box stores are almost always about "need" and that brands such as REI, Cabela's, and Ariat are often about "want," our challenge was to frame Shoppers Supply in the lifestyle of its customers in a way that brought the true meaning of the brand to the surface. The positioning that we developed for Shoppers Supply was: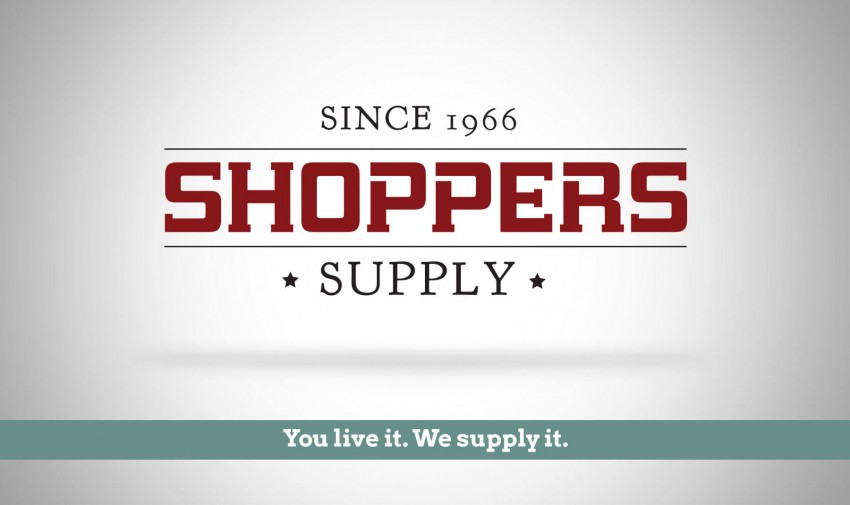 This was a true reflection of Shoppers Supply's core proposition and shifted their positioning from being a retail store like so many others to being a lifestyle brand.
Responsive Website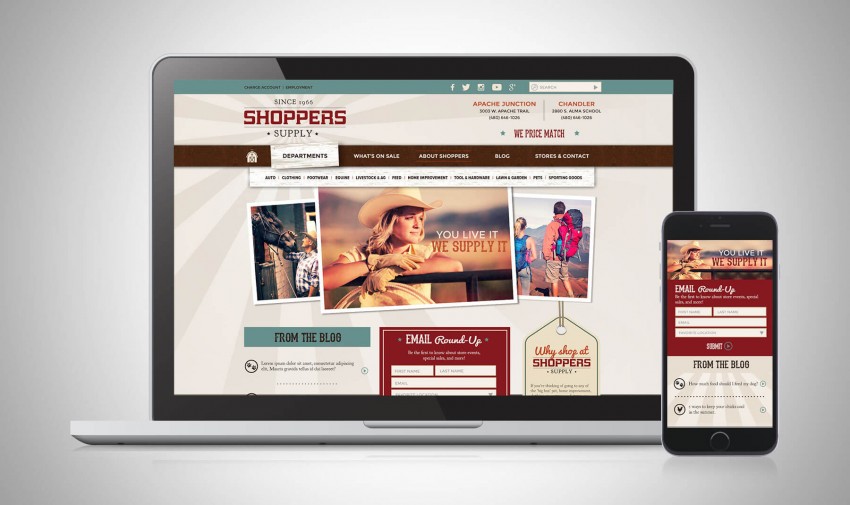 Email Marketing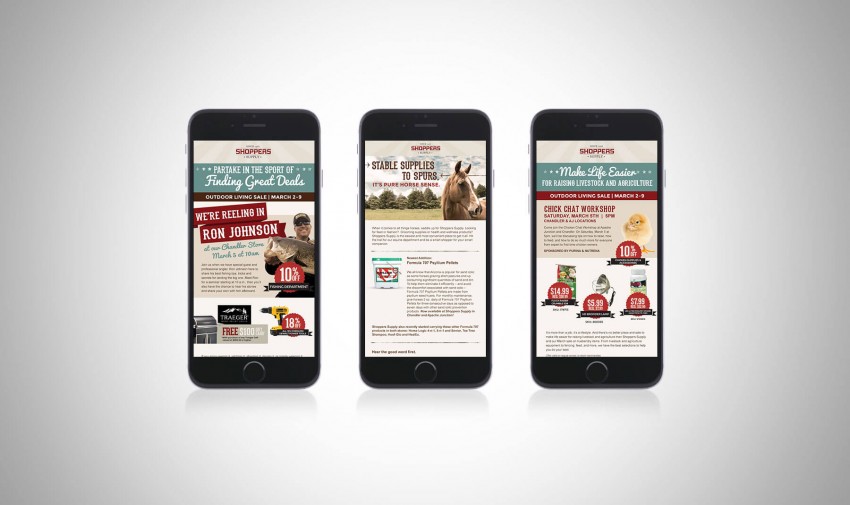 Print Advertising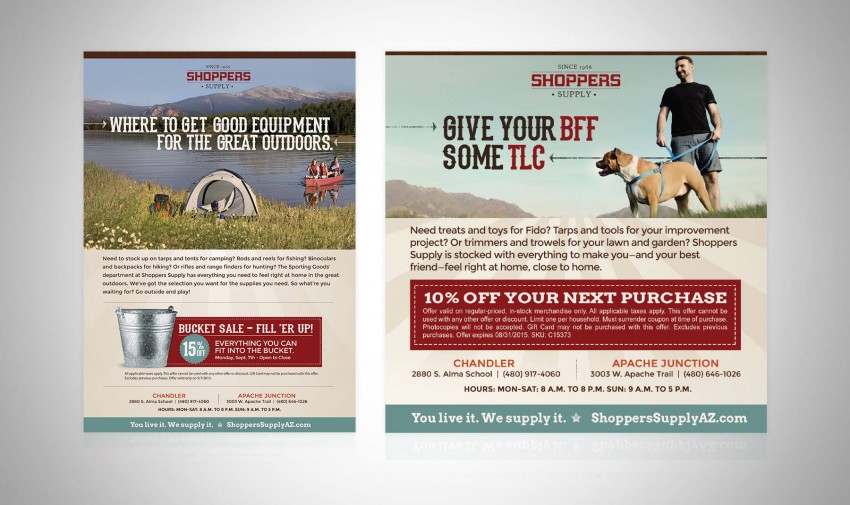 TV Commercial
New advertising and a new website were supported by a completely overhauled media campaign based on a deep dive analysis of Shoppers Supply's sales database by zip code and department. Using our proprietary planning methodology, factoring in qualitative and quantitative research, we built an integrated (traditional and digital) media schedule to generate awareness of the brand, support sales promotions, and grow Shoppers Supply's email database. We created new signage, a new logo, print, and broadcast campaigns, all in support of the new positioning.
The 12 months that followed the re-launch of the brand saw great success, with noticeable buzz and same-store-sales up 17%.