Summary
Our UX team applied a suite of proprietary role playing and interaction techniques, that we refer to as Web Experience Prototyping, as part of their research for this particular web development project. The exercises generated a set of insights that would not easily have been identified by other means. We share the details of our unique approach in this case study.
Venezia's is a fast growing, multi-location, family-owned and operated pizza chain that was made famous by the characters and crew of AMC's award-winning TV show, Breaking Bad. You may remember the scene in which Walter White (played by Bryan Cranston) infamously threw a Venezia's 24" party pizza onto the roof.
Tasked with the development of Venezia's new website, our team leveraged a technique that we've pioneered, called Web Experience Prototyping. Make no mistake, we're not talking about the building of an interactive prototype here. And we're also not talking about the kind of experience prototyping that you find in product/industrial design environments. This exercise is entirely human-to-human interaction-based, designed to discover unknown unknowns as they relate to the ultimate development of web user experience.
Web Experience Prototyping Approach
A prototype is defined by Merriam-Webster as, "an original or first model of something from which other forms are copied or developed." However, an actual physical prototype of a product or website limits exploration of need satisfaction to what the prototype is actually capable of.
This is where experience prototyping takes over and extends the concept to allow interaction that goes beyond the bounds of a physical prototype.
Web Experience Prototyping techniques such as role playing can often come into play. And, while experience prototyping has been applied to physical product design, it has not yet been fully applied in the area of web user experience design.
In the Web Experience Prototyping approach that Zion & Zion has pioneered, it's the interaction between the participants that becomes the true deliverable.
To prepare for this particular Web Experience Prototyping exercise, we created five personas. Next, we cast people who fit the personas. Our five personas were:
Cautious gluten-free mom
Overworked office manager
Frazzled baseball mom
Hungover college student
Pressed for time young professional
Once cast, we provided our participants with specific mindsets and scenarios.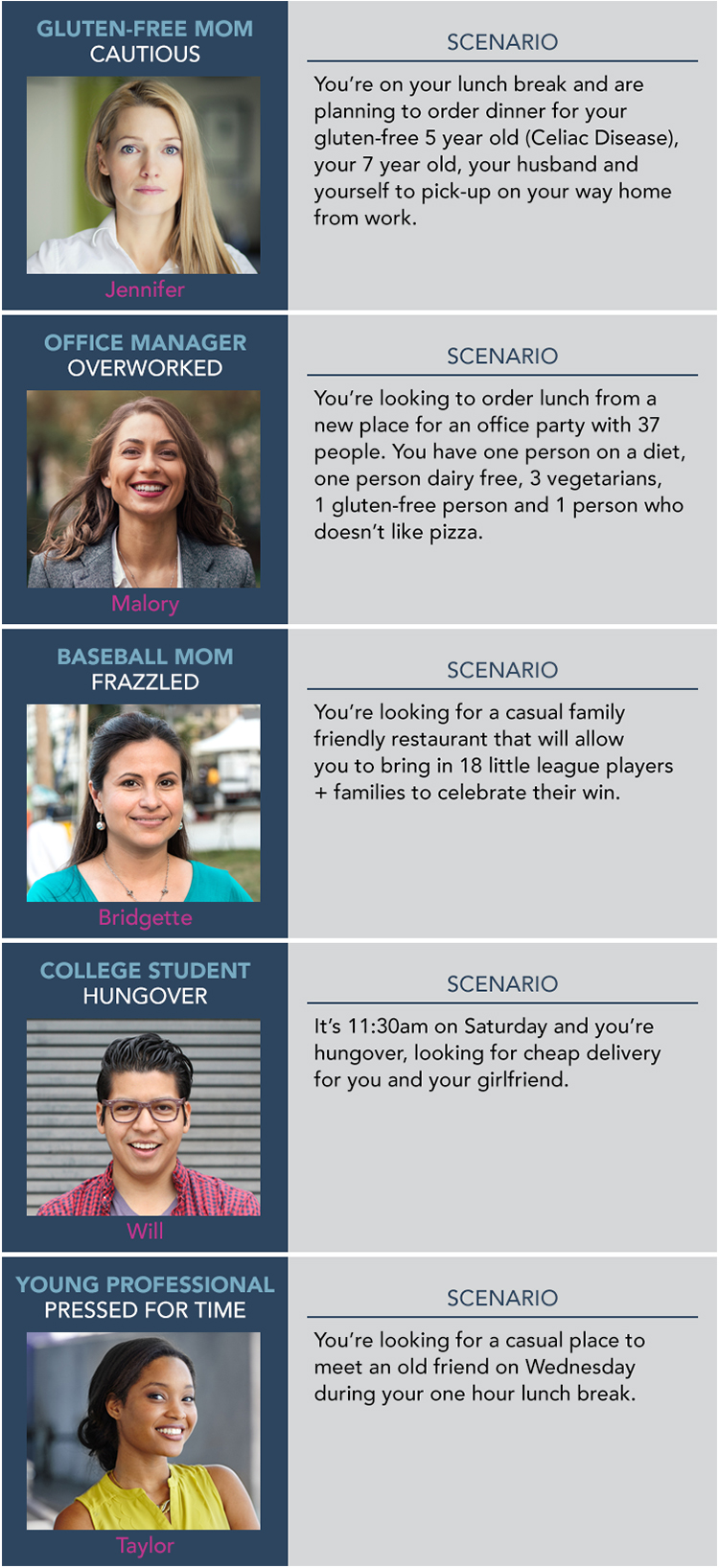 Since our Account Manager for Venezia's Pizzeria lives and breathes the account, he was the perfect brand representative to play the 'website.' He was instructed to act as a human version of the website, providing answers to questions and engaging in thoughtful conversation with our participants.
Most importantly, and by design, this approach brought to light unknown unknowns, i.e. things we didn't even know we didn't know. Three of these are highlighted below.
Finding: 'Deals' versus 'Specials, Coupons, and Daily Deals'
While we had assumptions that stemmed from both our intuition and data gathered during prior research, we were able to confirm from this exercise that customers don't care whether they're using a coupon, receiving a special offer, or taking advantage of a daily special—they just want a deal.
The interaction below provides insight into how customers view 'deals.'

In addition to our gluten-free parent, many other participants asked similar questions, not caring how they saved money, just that they could.
Implication: Simplified Information Architecture
Venezia's current site provides users with multiple pages, navigation items, and callouts to find various offers, deals, and coupons. Based on our findings, we planned for a simplified navigation on the new website to drive all users to one all-inclusive 'Deals' page, thus eliminating any confusion and frustration.
Finding: 'Deals' Based on Menu Item Type
The next big takeaway came from the interactions with our Venezia's representative and our lazy college student. The interaction below provides insight into how customers are only interested in finding deals for the specific menu item they're interested in—they don't care about deals for items they aren't planning on ordering.

From this interaction, we could quickly tell that overwhelming our users with unwanted and irrelevant content was only going to frustrate them.
Implication: Filter Deals by Menu Item
To provide customers with the best user experience possible, we built in the ability to filter all coupons by the most popular menu items, e.g. pizza, wings, salads, drinks, and sandwiches. This allows customers, who, like our hungover college student, only care about getting a deal for a particular item, to quickly and easily find just that without having to manually navigate a page of 20+ coupons.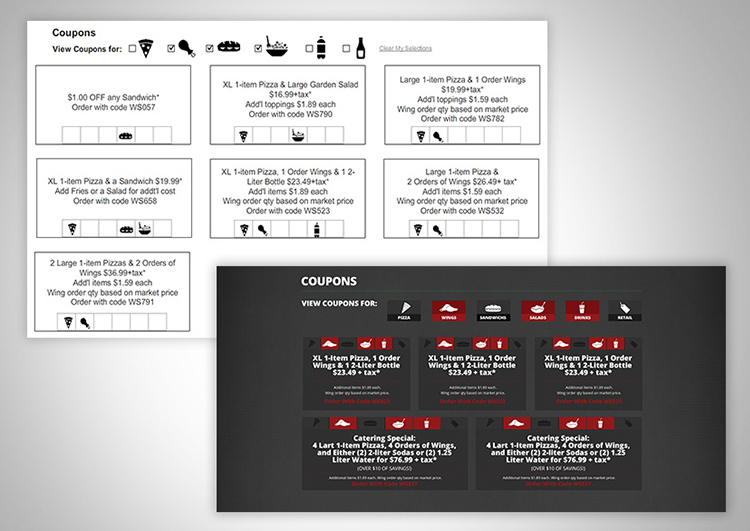 Finding: Non-Gluten-Free Customers Need Information on Gluten-Free Menu Items
Going into this project, we had assumed that customers ordering gluten-free menu items would most likely be gluten-free themselves, meaning they would have a general understanding of what it meant to be gluten-free. However, when three of our five personas (only one of which was gluten-free) asked about gluten-free menu items, this assumption was quickly shut down. View the questions asked below:

Implication: Create a Complete and Detailed Gluten-Free Page
This finding resulted in the addition of a fully detailed page dedicated solely to gluten-free. From listing menu items that are gluten-free to explaining how the gluten-free items are prepared, this page provides anyone, whether gluten-free or not, with the information they need to make sound decisions.
Zion & Zion's Web Experience Prototyping approach helped drive the user experience for the new Venezia's Pizzeria website by:
Confirming and contradicting assumptions our UX team had going into this project.
Confirming ideas that stemmed from prior research we had conducted.
Bringing to light new issues (unknown unknowns) of varying severity that were not (and could not have been) unearthed during our prior research.
Zion & Zion has pioneered and developed our unique approach to Web Experience Prototyping. The results to date, with not only Venezia's, but with other clients have been impressive—yielding insights that typically would not reveal themselves through mainstream UX discovery techniques.