Digiday Retail Summit 2014 Conference Summary
Jessica Edwards, Sr. Integrated Media Supervisor, and Bridgette Foord, Media Director, of Zion & Zion just recently attended the 2014 Digiday Retail Summit in Deer Valley, Utah. Brands, agencies, and media companies on the forefront of digital shared the most promising tech and innovations in-store, online, and, in some cases, on the road, that are advancing the new retail experience.
Mega Trends in the Retail Industry
Brian Morrissey, editor-in-chief at Digiday, opened the conference with the five biggest trends (and opportunities) in the retail industry today. They included:
The Amazon Effect
Not only has Amazon taken a huge chunk of market share from brick and mortar retailers, but they have forever changed customer expectations.  From their competitive pricing and free shipping to recommendations based on past purchase behavior and stellar customer service, they have become the major competitor to beat.  It is crucial for retailers to remember that Amazon is always an alternative for customers to buy your product.  Don't give them any more reason to.
Digital Meets Physical
We've all seen (or heard about) Google Glass, iWatch, and of course, the now ubiquitous smart phone.  The switch from analog to digital has amplified consumer expectations.  Millennials likely don't even know what analog means!  But they do know what they want, and they have high expectations. While in store, consumers research products on their phone for product reviews or alternative pricing. Smart retailers are taking advantage of the fact that their customers have a connected device attached to them. Lowes introduces product locator mobile technology to make shopping easier with in-store mapping.
Content & Commerce
Content is also now moving at digital speeds.  Think about the response rate that consumers expect from your social pages – the speed with which you respond can dramatically influence sales.  If consumers don't get the response they're looking for, or they see unresolved comments from dissatisfied customers, they may go buy somewhere else.  Social relies heavily on content to continue to engage your followers, and the pace is only increasing.  This is not an area to be ignored.
Smart Data
Data continues to be important to marketers, however, they are swimming in it.  How do you decide what indicators to rely on?  To make that data relevant, focus on what's important to your business, and never lose sight of that.
Embedded Social
Content creation takes forethought and time. With users consuming it at a digital metabolism, it's hard to keep up. So embed social into your content whenever possible.  You'll make better use of you and your social manager's time.  Social logins provide a great deal of information about a person without asking them to re-enter information.  Conversion rate increases.  Happiness ensues.
Conversation-Led Retail Marketing
Brian Morrissey sat down with Sean Ryan, Director of Social & Mobile at JCPenney and Daniel Stein, Founder & CEO of EVB, to discuss JCPenney's brand strategy and how they keep pace with social.
JCPenney Speaks One-to-One
JCPenney follows the conversation of the consumer, which is different than traditional methods of advertising.  Instead of the one-to-many approach, they focus on one-to-one communications, speaking to fans in a way that they're comfortable communicating.  They alluded to the fact that focus groups are really an outdated model for measuring consumer feedback when you already have a wealth of information at your fingertips with social insights.  The same could be said for an RFP that media buyers send for a campaign brief.  It could be based on an insight you had six months ago which is no longer valid. They argued that social is so much more nimble and in sync with culture that it is a much better sounding board.
Sean Ryan and Daniel Stein shared a couple of social triumphs for the brand.  When Lululemon's founder implied that their yoga pants were only meant for thin people, after an already poor public sentiment regarding the sheerness of Lululemon's products, JCPenney responded triumphantly with this tweet.
JCPenney's Super Bowl Win
When JCPenney needed to move mittens in February 2014, just six days away from the Olympics, they took a different approach.  Instead of announcing a flash sale, they published some very confusing tweets during the Super Bowl.
Because of all the misspellings, followers of JCPenney thought that their social media manager might be drunk or otherwise "impaired."  Brands like Doritos and Kia took advantage of JCPenney's flub.
Little did they know it was completely intentional. Thirty-five minutes after the charade started, JCPenney tweeted this.
They received thousands of media hits on TV and online from the innocuous tweets (without any paid media).  When the campaign generated over 50k retweets, JCPenney became the second most talked about brand during the Super Bowl. They gained 8,500 new Twitter followers, and most importantly, sales of mittens increased 105%.  Whether you were rooting for the Seahawks or the Broncos, JCPenney was the clear winner.
Key Takeaways
Respond via social media when it's intrinsic to your brand.  Don't be afraid to ruffle a few feathers to get the desired outcome.
A Mobile Service for a Better In-Store Retail Experience
Derek Fridman, Group Creative Director at Huge, talked to us about the importance of digital in-store retail experiences for customers.  Consumers are demanding more, alluding to the change Before UBER and After UBER, and yet, in the retail environment, "effective in-store technology is woefully lagging."  He suggested three methods to counteract this:
Modernize their [the retailer's] footprint. (Make use of the fact that customers are walking in with mini-TVs on their phone.)
Differentiate their experience. (So they don't buy it on Amazon).
Blend the physical & digital. (Digitally, if a user is logged in, a brand knows their customer's previous spending experience. Shouldn't this also be true in your brick & mortar store?)
Lowes' In-Store Application
Derek shared his project with Lowe's, which aims to bridge the gap between physical and digital.  His team at Huge built a really useful app for customers and store associates to use in-store.
The app has everything you'd want in a massive store like Lowe's, including a product locator (down to the aisle and bay level) and product reviews, all in one place.  Using the same iconography digitally and in-store, customers can quickly and easily find the products they're searching for.  The app can even map out a suggested customer journey in the store based on the list of products you're searching for, so you don't have to retrace your steps back and forth between aisles. Store associates can use the app to help customers find products, review a customer's purchase history, and scan products.
In partnership with SWOOSHiD, Huge helped to differentiate the customer experience.  NIKEiDs have disrupted the athletic shoe industry, however the downside is that customers must wait 4-6 weeks for their customized shoe to be delivered.  With SWOOSHiD, customers design their shoe using a touchscreen in-store.  Though the customer has fewer shoe options, they get nearly immediate results.  With the touch of a button, they choose the colors and options they want, and within 20 minutes, the shoes are ready to take home.
Three trends on Derek's horizon:
Things will be more aware of you (like displays that react to your location in-store)
Instant (anticipatory shipping, anyone?) (more customized experiences in-store)
Invisible (like Google Now's flight update that you didn't even ask for, but it appears on your phone's home screen, because Google read your email and thought it would be important to you)
Customer Acquisition Best Practices in E-Commerce
Shan-Lyn Ma, CEO & Founder of Zola, sought to re-invent wedding registries. In 2013, she and her co-founders launched a fully modern, customizable registry featuring curated gifts, experiences, honeymoon funds, even an option for group gifting and the ability to exchange gifts before they're mailed.  At the conference, Shan shared best practices for a successful e-commerce business launch.
Five Best Practices for E-Commerce Launch
Ensure your website/brand name are easy to spell and easy to say.  They tested different iterations of the brand name before committing to Zola.
Make sure you have a great product before advertising.  Shan engaged in user testing before taking the final version to market.  This process will ensure you're not wasting advertising dollars on a sub-par product. When you have a product that users actually enjoy using, they are all too happy to share it with their friends/family.
From day one, virality should be built into the product.  The more easily your product can be shared, the quicker it gets in the hands of consumers.  Shan gave the example of creating a LinkedIn page for your e-commerce site.  Zola.com offers multiple ways to share content via your preferred social network.
Seed the first batch of customers/users any way you can.  For Zola, this meant offering $50 of Zola credits when you created a registry.  They needed to get users: on the site, to fall in love with it, and to spread the word.
Identify your primary goal.  For example, the cost per acquisition should be less than the lifetime value of the customer.  You'll need to know what success looks like once you've achieved it!
Zola's Successful Tactics
Shan was also so kind as to share the tactics that have worked best for Zola:
Facebook targeting (test multiple targets and optimize to the best performing)
Content marketing (providing registry examples and highlighting products targeted around specific content, i.e. technology, for easier vertical news pickup)
Referral programs (you should have them, and provide value to the user for their referral)
Sponsored posts/blogs on influencer sites related to your brand
Notifications (push emails) such as sweepstakes create a positive association with the brand even if the user doesn't win
Marketing partnerships ( i.e. with a celebrity or other brand)
Events (to bridge online and offline)
Key Takeaways:
Creating the best product and user experience is first and foremost.  Do not under-estimate the power of social.  The right customer acquisition strategy may change over the lifecycle of the brand.  Be prepared to evolve it.
How Geolocation Will Change Retail
In the session How Geolocation Will Change Retail, speakers David Womack of the mobile and social platforms group of R/GA and Todd Paris, COO of Footmarks addressed the concept of the merging of our digital and physical worlds in relation to retail and commerce. Since the beginning of retail, the store itself was the consistent presence in which customers moved in and out. Today, that notion is being flipped around; we have a customer-centric world in which sellers must meet the consumers where the consumers are ready to buy, which is often through CRM and/or on a screen. In this time of transformation, retailers must re-think their sales models and strategies in order to keep up with customer expectations.
Beacons
The most promising player in the new retail marketplace model is the beacon. If you are unfamiliar with beacons, here's a good overview:
There are a few different ways beacons can help retailers. They can live in a store, collecting data on visitors to your location, when and how they flow through various store departments, what they spend time looking at, and how long they spend shopping. The data is easily monitored and, as with the Footworks model, reported on a web-based dashboard. By knowing what products are being looked at, with some creativity, you can actually engage customers in a conversation in real time, based on their shopping behavior. This is considered "active use" of a beacon. You can also use beacons passively, which relies on the same collection of data, but you're just not using that data to trigger core events with the consumer.
Another way this technology can be used is through small (16mm) beacons sewn into clothing.  Imagine a mannequin, with a beacon sewn into it, programmed with the details of the articles of clothing it is wearing. When you approach the mannequin, an app can "piece out" the elements of the outfit individually and you can purchase each item instantly or find the precise location in the store of the products you are looking for.
The speakers asked us to imagine what applications this might have, including the "runway" being 5th Avenue in New York, where you could receive a text alert when a model from one of your favorite retailers is walking near you. Real people actually become beacons walking around among us. This example makes it very clear that there is opportunity both IN and OUT of a retail brick & mortar location, and that the store can come to the people, and that people don't necessarily need to go to the store.
As retailers explore the potential of beacon technology, they MUST consider the value they offer to the consumer in exchange for them giving up their information and staying signed into an app. Consumers won't be ok with e-mail alerts and push messaging (and draining some of their battery life) unless there's something in it for them. Without a strong value proposition, the whole technology may seem invasive, or even "creepy."
Beacons are undoubtedly going to be one of the hottest topics in retail marketing in the coming years, and now is a good time to start experimenting with how they work.
How Expedia Found Its Brand Voice with the "Find Yours" Campaign
In this session,Vic Walia, senior director of brand marketing for Expedia.com and Derek Netelenbos, senior director of Expedia Media Solutions explained how Expedia cut through a cluttered online travel landscape to stand out from competitors by appealing to emotion and the personal nature of what travel means to each individual. The campaign called on real travelers to share their personal stories about the transformational power of travel in a campaign titled, "Find Yours." The viewer is left to fill in the blank and imagine what their own discovery might be. (Find your…friendships/love/second chance.)
Check out these two :30 commericals:
Within Expedia's library of beautifully-produced commercials is this film-like piece which launched on Expedia's YouTube channel. According to the thousands of feedback comments across the web, the content sparked strong opinions by viewers.
This campaign brings to life what beautiful cinematography, wonderful storytelling and emotional appeal can do for a brand. It addressed "why" people travel, not just the "where" and "how." It makes travelers feel understood, and therefore more able to relate to the brand. At the conference, there wasn't a dry eye in the room after viewing these videos. We would call any advertising that can spark such a strong emotional response and will undoubtedly be remembered a "win."
How a Traditional Bank is Preparing for a Digital Future
In this session, Ann Von Germeten, CMO of Bank of the West explained how the bank reinvented itself from a financial institution firmly rooted with the baby boomer generation, to one that could resonate well with the entrepreneurial Gen X and Y target audiences. In 2009, the industry was dominated by the "big 4" banks (Chase, Bank of America, Wells Fargo and Citi), and smaller banks had an identity crisis. At the same time, big banks were receiving bail-out money, so Bank of the West used the opportunity to position themselves, both literally and figuratively, as far away from Wall Street as possible. Headquartered in San Francisco, and with 700+ branches in the Midwest and Western United States, the bank was well-liked by current customers, (primarily an "older" demographic) in terms of customer service and in-branch experience, but needed to leverage its appeal with a younger group who might be turned off by the bigger banks. They took on a radical transformation of their online banking platforms, and updated all technologies with an eye on mobile-first, and desktop second.
Project managers asked themselves, what do customers REALLY want, and asked some more imaginative questions, such as, "If you can take a photo of a check to make a deposit, what else can be done that way?" For example, can you simply take a photo of your driver's license to apply for a loan? How can we make banking easy for our customers?
The answers to these questions were the development of their "banking on the go" suite of features which includes mobile and tablet apps, mobile-optimized secure web banking and text banking, where customers can check balances, view transactions, find branches or ATMs, all with a text. One of the most popular features is the mobile app where customers can use a pull-down feature to get a quick and easy glance at checking, savings and loan balances, all without even logging into mobile banking.
Appealing to New Audiences
Our takeaway from this session is that you can't be afraid to expand your business by appealing to new target audiences. Keep innovating, so that you are constantly providing the most convenient and desirable ways for consumers to interact with your brand.
Nielsen: How Digital Platforms Are Shaping the Retail World
In this session, Jeff Smith, Executive Vice President of Global Solutions Marketing & Product Leadership at Nielsen, discussed the role that digital platforms play in the shopping experience. Recently, combined mobile and online usage surpassed TV in total daily hours spent consuming media by the average American. (Source: Nielsen Cross-platform Report). Consumers are using this digital access to change how they shop.
Common Ways Consumers Bring Digital into the Shopping Experience
Using store locators
Checking prices
Researching items before purchase
Using lists while shopping
Mobile couponing
Reading product reviews of (potential) future purchases
These major retailers are leading the way with merging technology and the shopping experience:
Target is changing how we use coupons, and making it easier than ever. They even show its simplicity by explaining it to consumers with a short video.
Walmart is reinforcing their low price leader position with a new app called Savings Catcher.
Walgreens' award-winning app seems to do it all: reminds you to take your medicine, notifies you of weekly offers and makes it easy to refill prescriptions by just scanning the barcode on your prescription label. The app can also send photos from your phone or Instagram for professional printing at the Walgreens photo center, ready for pickup in about an hour (driving you into the store, where you will likely pick-up another item or two).
Technology allows brands to engage with consumers, but it's important to remember that consumers have a lot of power and strong opinions on how brands should engage them. Some key attitudes and opinions can be summarized with these statements:
Source: Nielsen report: Continuous Innovation: The Key to Retail Success
In summary, Jeff reminded us that marketing is only effective if it achieves three things:
Reach
Resonance
Reaction
It's very exciting to see the merging of technology and retail, and the space is open to countless possibilities and applications that will make bringing the right products to the right people increasingly streamlined.
How Mizuno Moved the Shoe Trial Experience from Store to Road
Mizuno was an underdog in the athletic shoe industry. Research indicated that runners don't change their running shoe brand.  80% of runners have a brand in mind when going to a retail store.  In store, only 10% switch.  On top of that, there was little brand awareness of Mizuno, and their shoes carried a 30% price premium.  So ad agency, McKinney, needed to find an innovative way to get their shoes on runners' feet.  Jim Russell, Chief Innovation Officer at McKinney, explained their three-pronged approach:
Initiate: Mizuno sent a hand-addressed invitation to 600 passionate running junkies – "super users" – inviting them to become founding members of The Mezamashii Run Project. Using a special code to unlock their gift online, runners received a free pair of running shoes to test, using the hash tag #brilliantrun to share their experience.
Expand: Mizuno gave super users the ability to invite their runner friends to the Mezamashii Run Project and get their own free pair.  Via paid media, keeping with the Japanese theme, Mizuno used Haikus on digital and print ads.
Nourish: Mizuno's best advocates starred in video testimonials, which resonated with passionate runners and helped grow the Mezamashii community.
The initial 600 became evangelists for the brand.  Users were chosen for their love of running but also their social networking base to ensure the project would generate word of mouth.  The Mezamashii Run Project was awarded five Effies and the Effie/WARC Most Effective Brand in North America.  With an equal budget allocated to shoe giveaways and paid advertising, Mizuno grew its community to 44,000 members.  They achieved YOY growth in unit sales of 19%, and revenue increased 32%, thanks to more profitable customers.  Jim Russell attributed their success to small, empowered teams of 3-5 people, which allowed them to take ownership of projects and implement ideas quickly.
Key Takeaways:
Know what you're up against.  Identifying the key challenge is the first step to finding the right solution.  Mizuno knew they couldn't win new customers in-store, so they turned the shoe trial experience on its head.
The Content-Powered Organization
Ian Fitzpatrick, Chief Strategy Officer at Almighty, shared how New Balance is rethinking the ways it creates, distributes, and bridges content across departments.  Increasingly, content-experiences are tied to retail sales.  He provided six ways that New Balance is rethinking content.
How New Balance is Rethinking Content
"Content management is an operational imperative, not just a marketing function."

We have to solve this at the tech stack level.
Centralized content is an asset, not a threat to the agency.

"Be valuable to a few rather than loosely relevant to many."

New Balance launched the James Worthy classic shoe targeting fans of the old classic.  The shoe was only promoted on Instagram, only sold at Packer Shoes in New Jersey, and, as you might expect, sold out quickly.
Fight the urge to scale everything. New Balance set up a "photo shoot" of James Worthy playing b-ball at his house and used that for their post.

"Start saying 'community' again."

Inform. Talk to product designers, not just marketers.  Speaking to the product designers inspired a marketing campaign.

"The retail customer resource is massively under-utilized."

Ian went browsing New Balance sports bras to see how their customers engage with the product in store.  What he found was really surprising: the sales associate on-hand was typically a young male, which is not the ideal person to assist women shopping for a sports bra.

"There is still room for improvement in content basics."

New Balance built their direct to consumer website a mere four years ago. But even they realize that their website needs to continually evolve with customer expectations.
Word choice matters.  Make sure product descriptions help customers make a decision and not hinder the process with technical lingo like "mesh upper."

"Develop great channel partnerships"

A great activation can bring the brand to life.  New Balance partnered with Amazon for a Gladiator showdown, in which entrants submitted a photo showing their inner gladiator, tagging the photo with #NBGladiator. The photos were judged on how well they integrated running/training athletic elements and creativity.  The winner won a trip to the Marathon of Rome and New Balance products.
The Zappos Enchanted Glass Sneaker sweepstakes brought the magic of Disney's Cinderella story and New Balance's passion for running together.  Users were invited to a special page on Zappos where they could find a special pair of glass sneakers.  If the user could successfully add them to their cart, they won the elusive New Balance Enchanted Glass Sneakers and a trip to the runDisney race!  If not, then they received this message: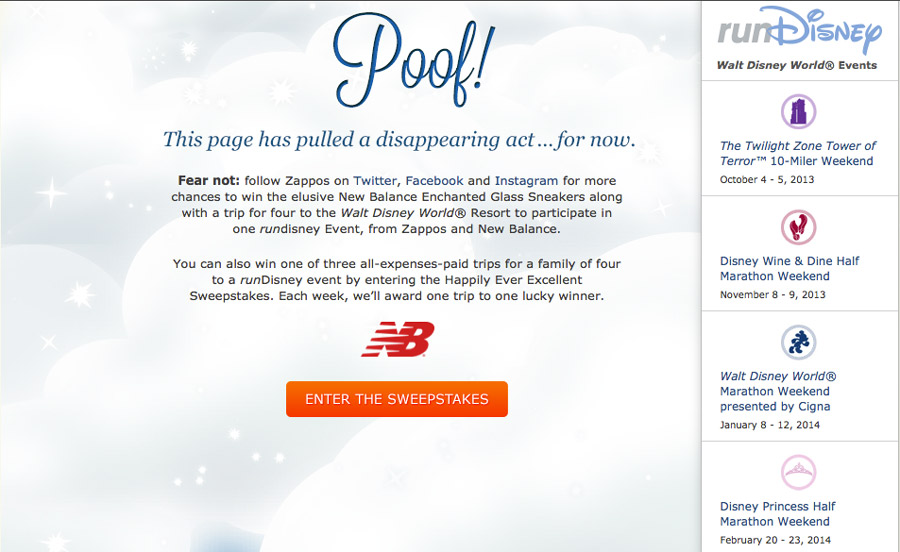 5 Things We Learned
As summarized by Digiday Brands Editor, Shareen Pathak.
Amazon is on everyone's mind (for good reason).
Make in-store retail sexy again.

Screens can't talk on one direction
We must blend the digital and physical worlds

Great story-telling still matters (as we saw from Expedia and Mizuno)
BEACONS!

Retailers must invest to a point of critical mass before consumers will get on-board.
Timing is crucial.  When provided value, 75% of female customers are willing to opt-in while in the store. As soon as they leave the store, that figure drops to 30%.
Don't be creepy with how you use them.

Virtual reality is the next playground.

Buy an Oculus for $350.  It allows you to visualize an in-store display before building it so that you know how large to make the text/buttons.
Top 12 Quotes at the #DigidayDRS Conference
"Effective in-store technology is woefully lagging in retail environments"
– Derek Fridman, Huge
"Date, don't get married." (referring to deploying beacons in retail)
– Todd Paris, Footworks
"We've decided that we're against ad fraud." (on why they're starting their own private ad exchange)
– Rob Norman, GroupM
"Don't look at CPC.  Focus on ROAS"
– Jeffrey Lack, Jiffy Lube
"Be valuable to a few rather than loosely relevant to many."
– Ian Fitzpatrick, Almighty
"While not sexy, developing great product copy has moved the conversion needle"
– Ian Fitzpatrick, Almighty
"Women don't want to buy sports bras from young male associates."
– Ian Fitzpatrick, Almighty
"Don't chase unhealthy revenue.  Create pricing and promotion parity. Protect your brand"
– Jason Bertrand, SkullCandy
"How do you name a brand? If people ask you how to spell it, it's a bad name."
–  Shan-lyn, Zola
"CMO + CIO = BFF"
– Jake Engwerda, Mediamath
"How do we stand out in the sea of sameness?  You need to stand for something."
– Vic Walia, Expedia.com & Derek Netelenbos, Expedia Media Solutions
"Locally relevant content/engagement always trumps global."
– Kevin Planovsky, Vert & Damon Davoudpour, Shoney's