In late October of last year, I virtually attended the Adobe Max Creativity Conference, right here from the comfort of my home office. In 2019 this event was held in Los Angeles, California, however in 2020 it was held virtually for the first time ever, due to the ongoing Covid-19 pandemic. It was streamed live online to all the registered participants, and registration was free.
1. The Keynote
The virtual conference took place over a three-day period. Adobe kicked off the event with a keynote address featuring several speakers, including the President and CEO of Adobe, Shantanu Narayen, and a host of Adobe directors and designers. The entire online event was hosted by the comedian Conan O'Brien, who kept things moving along while providing many laughs along the way. Also presenting at the conference were comedian Chelsey Handler, British actor David Tennant, actor/rapper Common, and actor/director Zach Braff.
During his opening statements, Mr. Narayen spoke about Adobe's mission to change the world through digital experiences:
"Unleashing creativity for all" as content creation and consumption spreads across every device with Adobe Creative Cloud
"Accelerating document productivity" in today's remote work environment with Adobe Document Cloud
"Powering digital businesses" by helping them engage with their customers digitally using Adobe's Experience Cloud
The next speaker, Scott Belsky, Chief Product Officer and EVP, introduced some fun and easy-to-use new Adobe mobile apps:
Photoshop Express
Photoshop Camera
Adobe Spark Post
These apps are available for free in the App Store or Google Play.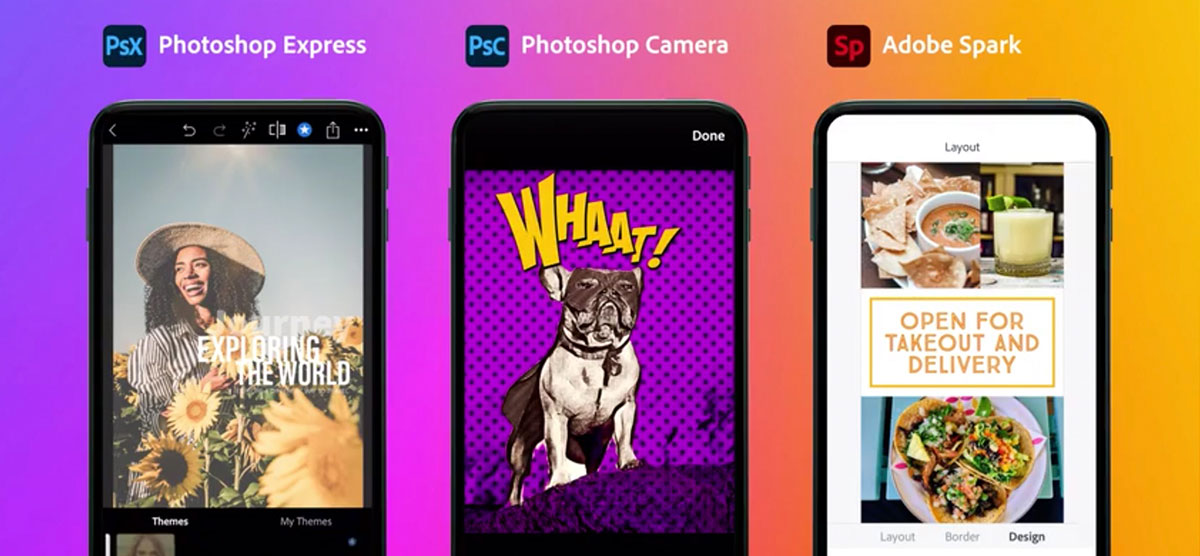 Eric Snowden, VP of Design and Digital Media, introduced and demonstrated the release of Adobe Illustrator on the iPad. Adobe collaborated with thousands of illustrators across the globe to come up with a whole new way to work in Adobe Illustrator, featuring an assortment of new tools and interfaces that make the program much more efficient and intuitive.
One of these innovations is called the Recolor Panel. In this panel, there is a tool called "Inspiration Swatches". This allows you to eyedrop from another vector artwork, image or photograph, and your original vector artwork will take on the color theme of the art you selected. All of these new innovations for the iPad have been integrated into the desktop version as well.
The next speaker, Terry White, Principal Worldwide Photography Evangelist, showed us some new features in Adobe Photoshop, including a very cool one called "Sky Replacement." This is not just some recycled and renamed masking function. Sky Replacement is so much more than that. He demonstrates how you can replace the sky background with a new sky image, either found in the Adobe library inside Photoshop or an image you import. What is so amazing with this new tool is that if the new sky has a different color tone, a sky at sunset vs. a sky at high noon for example, this tool will automatically color balance the existing color tones in the foreground of your image to match the new sky.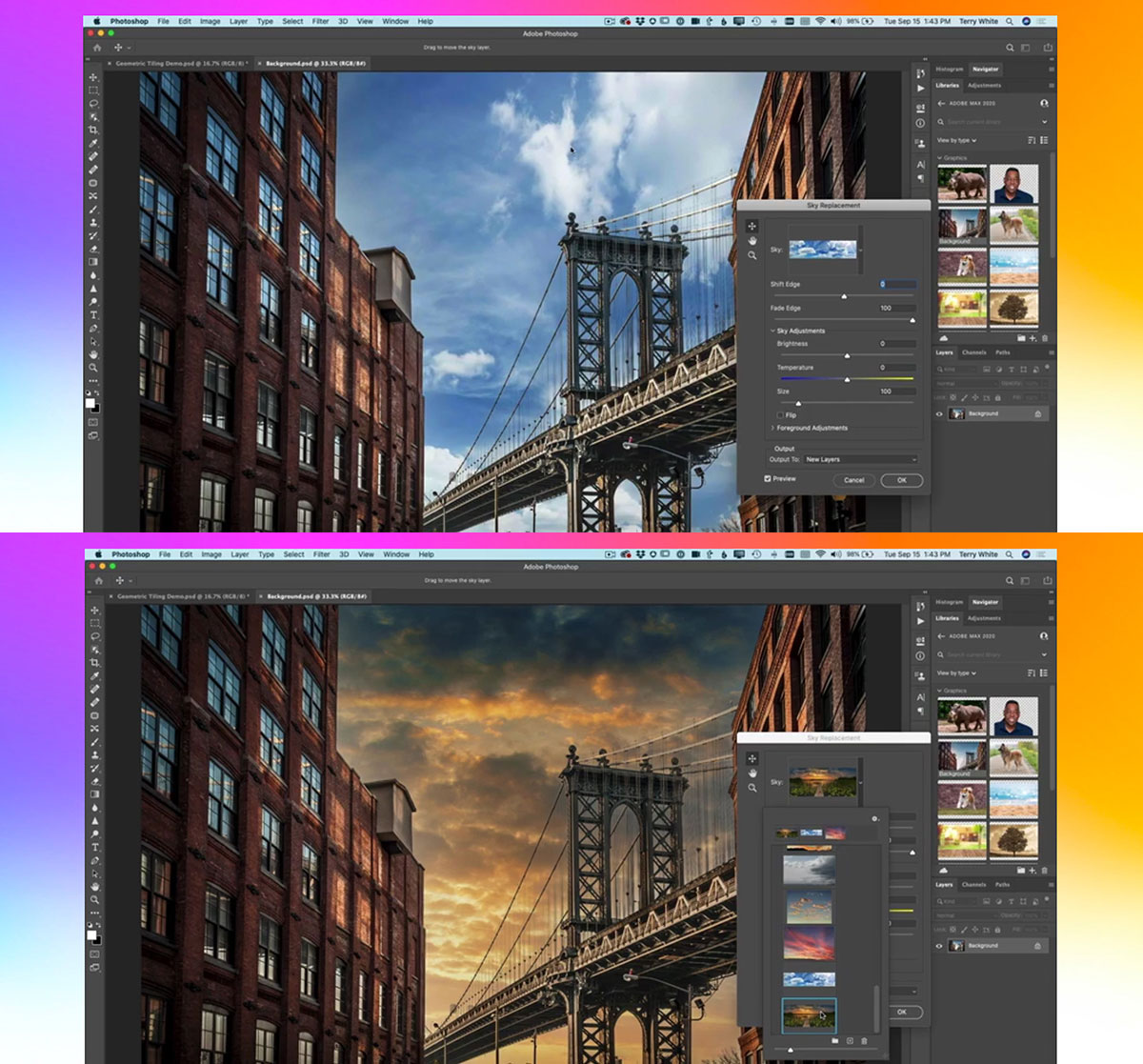 Another exciting new feature in Adobe Photoshop is the addition of "Neural Filters." These filters use AI to do some really unbelievable things to your images.
Colorizing black and white photographs
Removing image artifacts from low resolution jpegs
Applying an artistic style to your photographs
Adjust the facial age of a portrait, making them look younger or older
Turn faces to either side
Related to the use of AI in their new "Neural Filters", Adobe, with help from Twitter and the New York Times, has launched the Content Authenticity Initiative. The goals of this initiative are:
To provide information about how a segment of content has been altered so that the audience can decide for themselves whether or not they should trust it.
To ensure all artistic content creators get credit for their work
2. The Live Sessions
Over the course of three days, Adobe Max provided over 50 hours of live sessions with creative professionals from all walks of life. I chose 20 of these sessions, based on my interest in the topics they covered. I enjoyed viewing Shepard Fairey, the celebrated designer behind the President Obama "HOPE" poster and the OBEY brand, having a conversation with the Executive Director of the Keith Haring foundation. Shepard shared his admiration for Haring and the major influence the late artist had on his own graphic style. It was a compelling back and forth and I learned a lot about both artists in the process.  On the extreme opposite end of the enjoyment spectrum, I watched a gentleman eat various fruits. I am not sure why.
I learned many things during the teaching sessions covering the Adobe products Photoshop, Illustrator, InDesign and Adobe XD, all tools I use daily in my work as a graphic designer for Zion & Zion.
My favorite session was titled: "Graphic Design: From Blank to Brilliance," and the one segment that stood out the most was with designer Kelli Anderson. She spoke in general about conceptualizing, and she gave a few examples, but I loved one in particular. She told a story about remembering watching Mr. Wizard when she was a child. He performed an experiment where he took a needle, wrapped a piece of paper in a conical shape around the dull end of the needle, and placed the sharp end down onto a spinning record. It played music, with the needle acting as a stylus and the cone acting as a speaker.
Close friends of hers were getting married and they tasked her with creating an innovative concept for their wedding invitation. She recalled the Mr. Wizard experiment, and came up with the idea of making a working phonograph out of paper and a needle as the invitation, and would play a song giving the details of the wedding, including time and place. The couple recorded a song they wrote and sang, had it converted into a clear flexidisc, while Kelli designed a working phonograph made completely from folded paper and a needle (see the steps illustrated below). The song was faint and of poor quality, understandably, but it was a huge hit, even among their audiophile friends.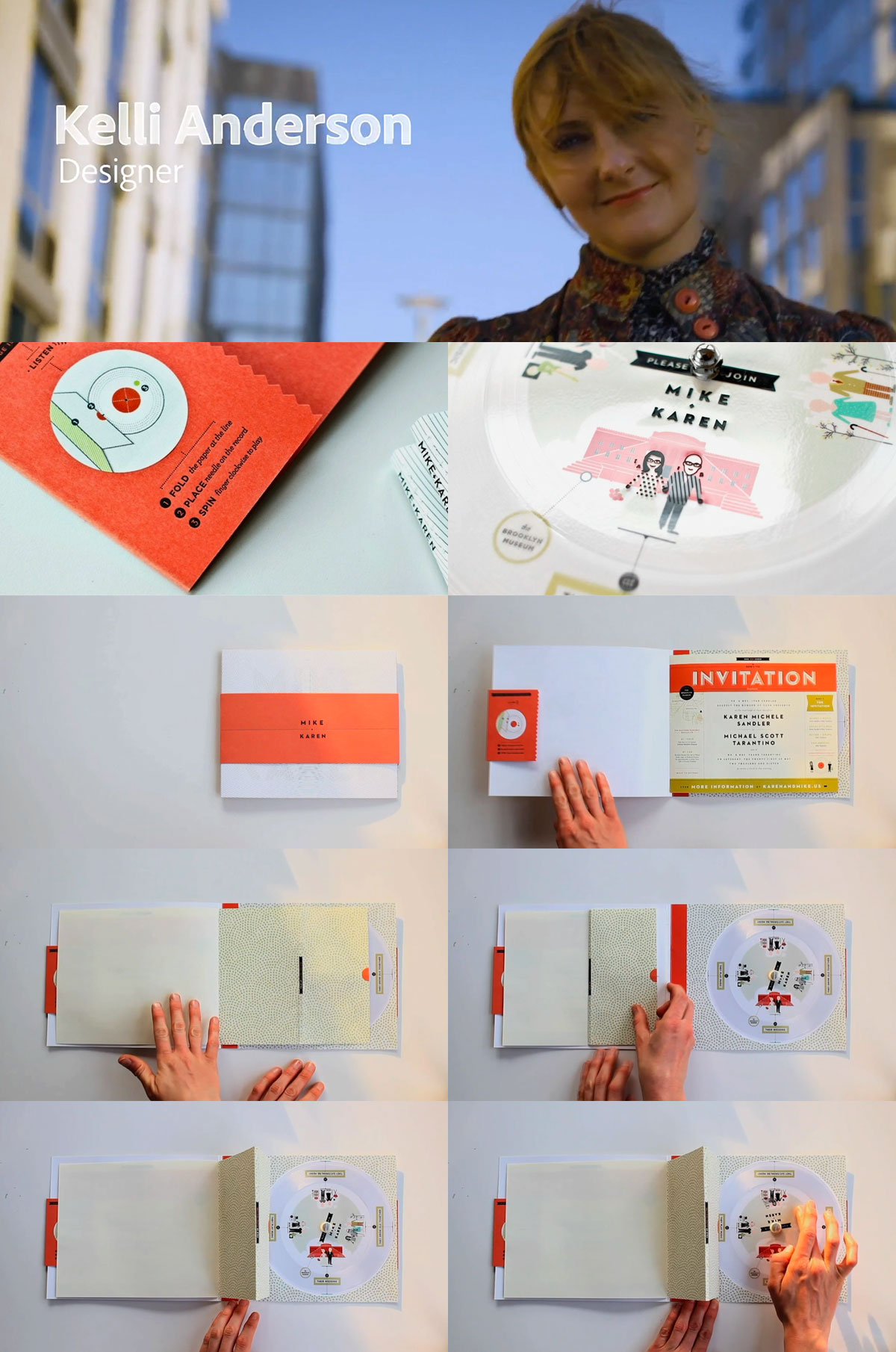 Conclusion
Well, I missed the opportunity to travel to Los Angeles, meet new people, see the various celebrity hosts in person, and enjoy a live performance by Tame Impala, but I can't complain. Participating in this conference remotely allowed me to sign up for any and all the classes I wanted (scheduling conflicts aside) without worrying that a session on my want list could already be full. And it was free! I learned so many new things about the Adobe tools I use on a daily basis at Zion & Zion, and I am looking forward to trying out some of the brand-new tools unveiled during the event.
Looking ahead to the Adobe Max conference for 2021, they plan to stream the event live again, at no charge. Just get yourself registered and sign up for the sessions you are interested in, and get ready to learn and be inspired.