The Zion & Zion media team attended Centro's online Basis training. Due to Covid-19, this was the first time Centro had created this training online and it was exciting to be one of the first to experience it. We were able to attend both Basis Fundamentals and Basis Advanced trainings throughout the two months. The trainings provided us with the latest basis updates, targeting tactic knowledge, and best practices when building campaigns.
Below are some of the class topics discussed during the two-month long training:
Real-time bidding
Custom segments
Conversion tracking
Optimizations
Cross-device
Advanced retargeting
Mobile
Video & audio
Quality & compliance
Native
Data partners
New Basis features
While there was a lot of beneficial information that was shared, this article focuses on buying video ads programmatically through the Basis platform. While observing the TV landscape today, you can see a shift in viewer shift. At one point, media consumption was household-oriented and it was normal for the whole family to gather around to watch cable TV. Today when people watch TV many times they are not actually watching. With phones and other technology available, no eyes or ears are loyal to the television. Over the past four years there has been a continuous drop in TV watching, but a steady increase in digital video watching. Additionally, people are "cutting the cord" and are streaming videos more and more.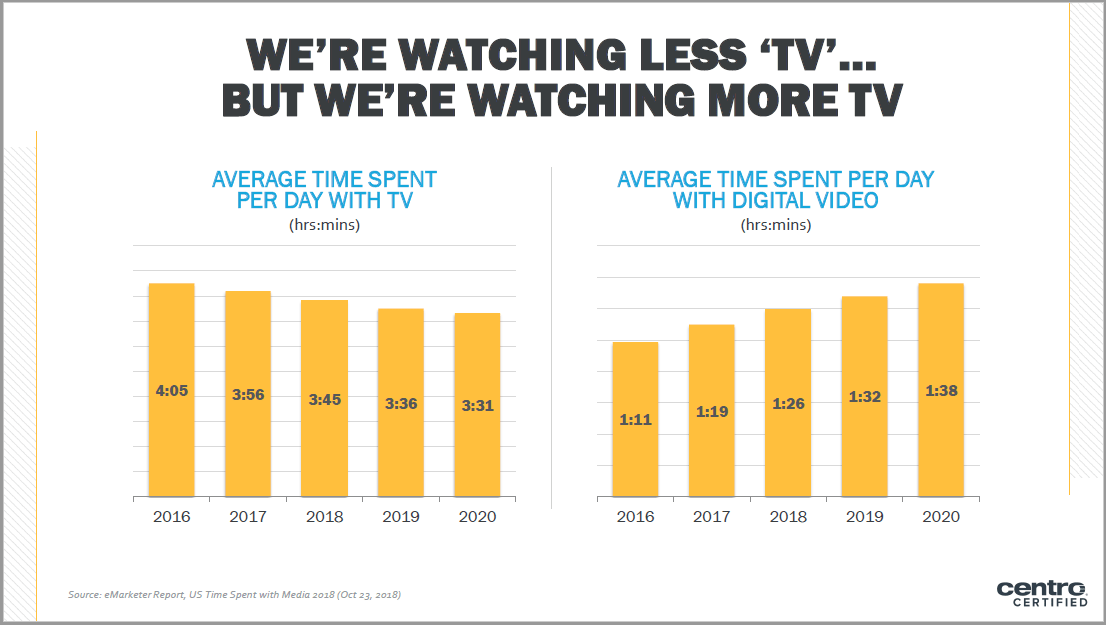 What is Advanced TV?
Advanced TV is television content that evolves beyond traditional, linear TV models. It allows you the ability to serve one ad to one household as opposed to broadcasting the same ad to all households. This allows a more targeting commercial experience. Centro conducted several studies and found that digital video and TV spend would converge and by 2022, with digital making up two-thirds of media ad spend.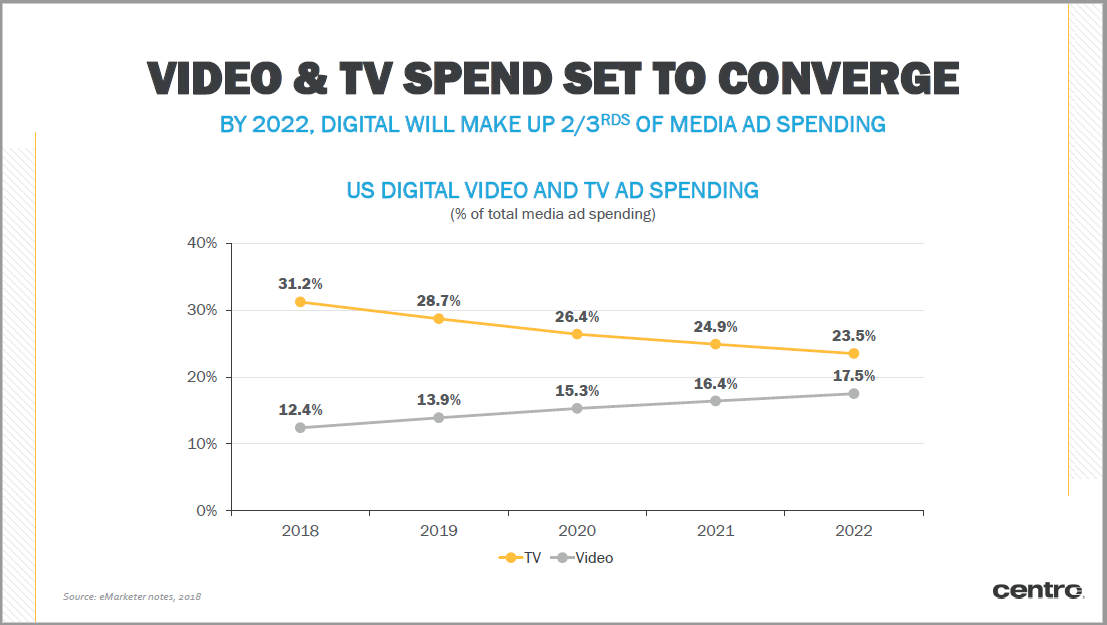 Core Types of Advanced TV
Although Advanced TV is the overarching concept of TV advertising, there are many different types of advanced TV that advertisers use to reach their consumer. Below are some of the core types of advanced TV available:
OTT: Used for the delivery of video content via the internet, without requiring users to subscribe to a traditional cable or satellite TV service like a Comcast.
Connected TV: Refers to the device on which someone is watching a video or an ad, where OTT refers to how that video or ad as distributed.
Programmatic TV: An automated technology or data-driven method of buying broadcast and cable ads.
Addressable TV: Targeted TV ads delivered on a home-by-home basis via cable, satellite, and telco boxes. This includes both linear and video-on-demand, but excludes connected TV, smart TV and OTT.
Video in Basis
Within Basis there are many different types of videos you can run. Below is a brief description of each type of video and where they would run:
In-Stream videos: Play between page loads, upon app load, between game levels, or periodically during app use.
Interstitial videos: Play between page loads, upon app load, between game levels, or periodically during app use.
In-Banner videos: Play in IAB standard display ads sizes on a website, most commonly 300×250.
Out Stream videos being playing once a user scrolls to the placement within web content or social feed.
Basis Video Campaigns
Basis offers a wide range of inventory for video buys, including 15+ video exchanges and 14 billion video opportunities per day. Along with a wide range of inventory, there's also a large range of targeting options available in Basis when creating a video campaign.
Conclusion
Overall, the training has given the media team at Zion & Zion the opportunity to sharpen our programmatic buying skills. It has also allowed us to take a deeper dive into advanced TV, including how detailed you can get with targeting within Basis. We are excited to put our knowledge to the test when creating our next video campaign for our clients.