In March, I attended Ragan's Social Media Conference in Orlando, Florida. The conference was a jam-packed day and a half of sessions including topics such as:
Addressing COVID-19 and stopping misinformation's spread
Taking advantage of live social media experiences and trends
Achieve the social media 'circle of life' with a solid and holistic strategy
How YouTube, TikTok and Snapchat can help you 'touch the sky' with Gen Z
Become 'best of friends' with your influencer marketing strategy
How podcasting can take social media storytelling 'to infinity and beyond'
Engage with employees and consumers with outstanding videos that won't throw your budget 'topsy turvy'
Savvy social media tips to help PR and marketing pros stay 'one jump ahead' – on a budget
On the second day, we heard from the former director of social media for the CIA—about how she was able to develop social media content that resonated with audiences, even with such rigid guidelines. To lighten the mood, the senior social and digital media manager from The Onion and Clickhole shared how to mix humor with content that respects your social media audience. The social media manager from TSA spoke about strategies for Instagram and beyond that help even unsexy brands. The social media specialist from Johns Hopkins All Children's Hospital also discussed creating videos for storytelling on social media.
Since sharing each topic would make for a very long article, I'll tell you about a few I found interesting and particularly useful.
Taking Advantage of Live Social Media Experiences and Trends
This was the keynote for day one, presented by Alyssa Velazquez, the director of social media for ViacomCBS, specifically MTV.
"The big question everyone asks," she said, "is 'Why aren't there videos on MTV anymore?'" She explained that people aren't watching videos on TV anymore, but rather they are turning to YouTube and Vevo. Clearly, I'm not their target demographic because I had never even heard of Vevo.
She continued to explain how MTV approaches covering live events on social media. It's very important for them to be out first with celebrity and music news. They see the most engagement if they are the first to post. In order to do that, they identify each event as tier 1, 2, or 3 events. Tier 1 events, like the VMAs and Grammys, get the most attention with pretty much all their resources on the ground. Tier 2 events utilize some on the ground resources while Tier 3 events are someone on their couch at home sharing news remotely.
One key point she made was that you must be flexible and able to pivot direction quickly. For example, the horrible Kobe Bryant tragedy happened the day of the 2020 Grammys. Obviously, they couldn't continue with business as normal, so they decided to cover the event a bit differently. Normally their posts are fun, they tell jokes and use lots of emojis, but this night was different; they would report just the facts. The approach was successful with lots of people still engaging with their Grammy coverage content.
In closing she shared some of her Best Practices for social media:
Monitor online chatter: Social listening is important, pay attention to trending hashtags
Be authentic: MTV's demographic is 14-24 year olds so that's who they have doing the posting
Use high-quality images: Imagery is very important so make sure its quality
Be timely but purposeful: Don't post just to post
How YouTube, TikTok and Snapchat Can Help You 'Touch The Sky' With Gen Z
This one I found interesting mostly because it was the hardest category for me to relate to. The speaker was a 33-year-old Emmy and Peabody award-winning journalist, producer and entrepreneur named Andrew Springer. He created and produced Stay Tuned, NBC News' twice-daily show on Snapchat and the first Gen Z news brand.
His message focused on the fact that Gen Z'ers are digital natives. Marketers must go where they go if you want to reach them: YouTube, Instagram, Snapchat and TikTok. You also have to provide them with content they'll be interested in. He suggested making it personal, like a friend giving them the news. Show you care about their interests and be authentic—this seems to be the common thread on social media regardless of the age demographic.
A good example he gave about a brand being authentic and personal is Wendy's. They are snarky and relatable. Here are two tweets promoting their new breakfast that I found to be hysterical, even to my Gen X sense of humor: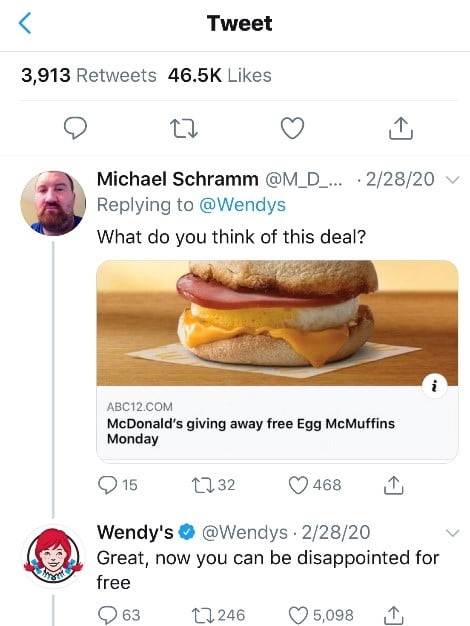 Another important point he made in communicating with Gen Z is that you need to create memorable content. For example, TSA jumped on the Yep/Nope Tik Tok trend and created a video about what Thanksgiving foods you can and can't take on a plane in your carryon. It was a funny, lighthearted, and catchy way to get their message across while following a trend Gen Z is engaging in.
Engage Employees and Consumers with Outstanding Videos That Won't Throw Your Budget 'Topsy Turvy'
Video is one thing that has always scared me. They say that anyone can be a pro in shooting video, but I am still reluctant. After a couple sessions at this conference, I feel a bit more confident that shooting video for social media really isn't that difficult.
Ben Searcy, head of marketing for a California-based video company called Shoosta, really simplified the process for us. He gave us the 3-10-30 rule: you have 3 seconds to grab their attention, 10 seconds to set the scene, and 30 seconds to get your key message across. He also broke the videos down into three components: prep, which explains the steps before starting, middle, the meat of the content, and close, the call to action, where you convert the viewer's attention to take an action.
He also offered some tips for shooting on your phone, which by the way, he says is very good quality:
Shoot horizontal, it gets the most engagement
Make sure you phone battery is fully charged; video eats up the battery
Clean the lens
Hold the phone with two hands—use your elbows to anchor the phone by pressing them against your sides
The subject should cover two-thirds of the screen (you can set up the rule of thirds on your phone)
Headroom is important—if you put your fist on your head that's how much room you should have above the subject's head
Avoid overhead light, outside lighting is best
Your subject should face the light or window
Find a quiet place to shoot, carpet helps muffle noise or echo
Get within five feet of your subject
Conclusion
The conference was well-organized with relevant speakers providing valuable insight. It was also beneficial to hear what other social marketers are struggling with and get some tips and ideas from people in a wide range of industries. Here are a few key takeaways from the conference:
Early bird gets the worm, timeliness is key on social media
Align your social media tactics with a continuity plan (crisis)
Influencer relationships can power paid and owned media
Explore new platforms but make sure you are staying true to your brand
Be your own brand journalists, tell your own story
Your leadership is (most likely) not your audience