In June of 2020, we had plans to attend Social Media Week in sunny Los Angeles, California. However, COVID-19 had other plans. Due to the pandemic and large gatherings being canceled, Social Media Week LA transitioned from a weekend in California to a month-long live and on-demand digital marketing conference renamed to Social Media Week ONE. This conference provided the latest insight, trends, and best practices from leading industry professionals, all from the comfort and safety of our home offices. During #SMWONE topics of discussion included:
Social listening
The state of social media in 2020
Influencer marketing
Social media on a small budget
How to pivot your social media during a crisis
How to create engaging content
The importance of empathy and honesty
Why storytelling is important
How to avoid mediocre social media
Making a brand more "human"
While some of the presentations were sales-driven for the companies presenting, many sessions provided educational and interesting insights we could take back and put into action. Of the four of us that attended, each selected one session that really stood out to us. Here's what we thought.
Instagram and Creativity within Constraints of COVID-19
Whether you're an influencer, blogger, or business, Instagram plays a valuable role in your overall marketing tactics. However, with COVID-19 putting a stop to all travel, closing many businesses, and restricting group settings, companies had to get creative with posts if they wanted to stand out.
Kay Hsu, Global Lead and Director of Creative Shop at Instagram shared how creativity steams from constraints and how to use constraints to your advantage to make a positive impact on your community. Below are her five main takeaways and how some have successfully implemented these tactics into their Instagram feeds.
1. Be Human
In a time where most people are physically alone, it is essential to let them know that they are actually not alone. A brand or business can do this by simply showing empathy and meeting people where they are mentally and emotionally. The example below by Haus Labs shows that in a time where online shopping is at a high, they instead showed interest in how their followers are doing rather than promoting products or sales. The comments were flooded with honest and raw responses like "missing my loved ones, but happy to be working to help battle coronavirus." Letting people know you care and giving them a safe space to be honest can go a long way in social media marketing.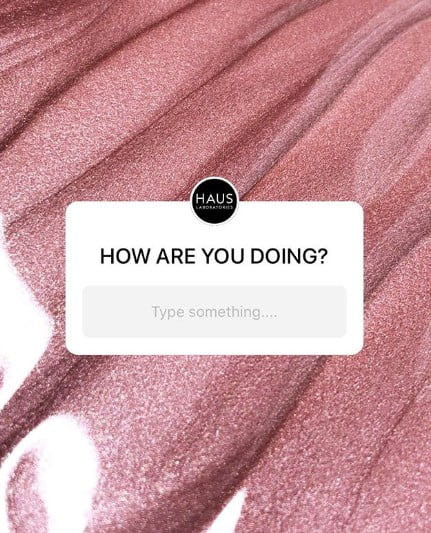 2. Engage
Social media was built on the idea of creating a community. What better way to do so than by engaging with your audience? By posting content that poses a conversation, your followers will start engaging with your brand or business. These simple conversations can then lead to your followers interacting with each other, thus creating a community bigger than just your brand.
Creating a space for healthy and positive discussions paves the way for creating a deeper connection with your followers and their brand loyalty for your business. For example, during the #BLM movement, Nordstrom stepped up to the plate and showed up not only for their employees but for their followers. They asked their employees to share stories and also for their followers to engage and share their experiences. This started a conversation more significant than the brand by having people share their knowledge, which others listened and learned.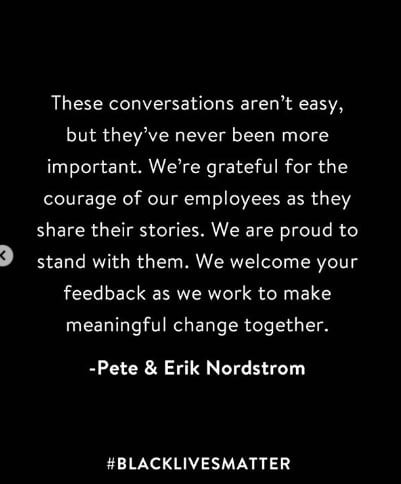 3. Serve
When it comes to being a business or a brand, you have a duty to help support your community in times of need. What better way to do that than through serving? A great example of this is when @kraftpeanutbutter_ca gave their money that they usually spend on ads to support small businesses during the time of COVID-19. By serving, it builds trust, respect, and loyalty with your consumers, which in turn will have a more positive impact on your brand or business than what that ad space would have provided. Customers do not forget those who step up and show up when needed.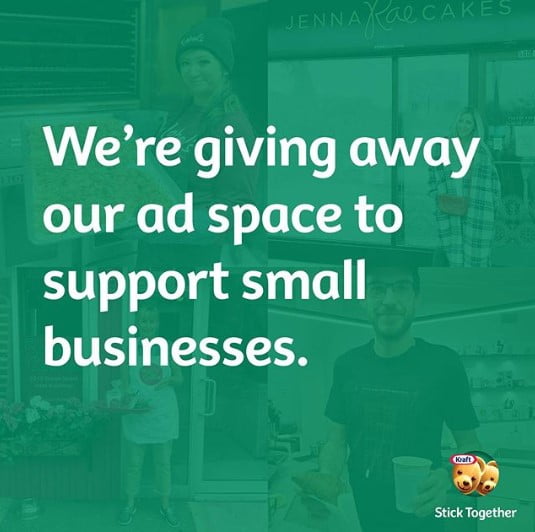 4. Stay Agile
Times have changed, and so should your brand strategy. Sticking to an old playbook isn't going to bring home wins. It's critical to pivot during these times while still being sensitive and empathetic to the issue. Travel influencer @erinoutdoors takes this idea of staying agile to a whole new level. Obviously, with COVID-19 pressing pause on all travel, her job came to a halt. So how did she stay relevant on social media? She created some of her favorite travel sports with FOOD! By making this transition, her following and engagement has taken off, reaching an entirely new demographic during these times.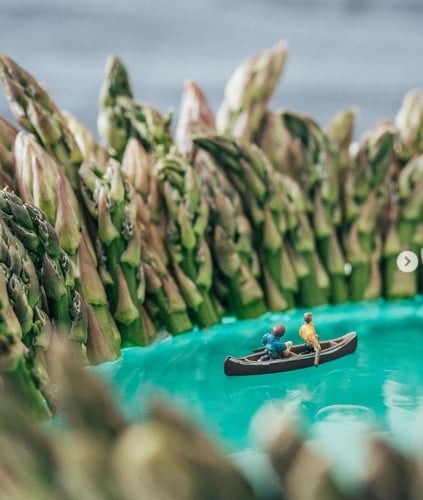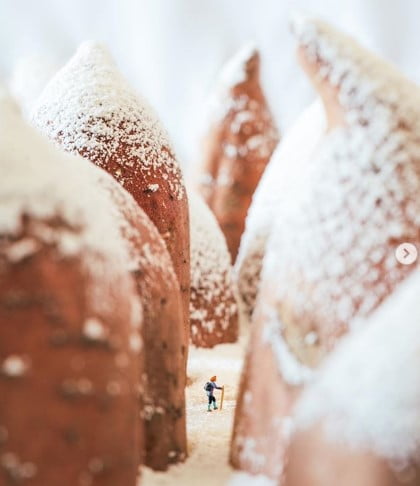 5. Play More
It's easy to get stuck in your ways and stick to "what works" for you and your brand. But it is essential to evolve and play around with new ideas to stay relevant in the space of social media. Take the time to hone-in and focus on what you want to accomplish as a brand or business. Then, experiment with ideas and content that can take your brand to that extra mile.
Take the Getty Museum in Los Angeles as an example. During the Coronavirus, their museum was closed, but instead of just sharing images of their art like they usually do, they went another direction and created the #betweenartandquarantine challenge. This challenge had people dressing up like famous pieces of art located at their museum. With over 22,000 likes on just one post alone where their average was initially 4,000, the Getty Museum has found its new niche when it comes to social media marketing.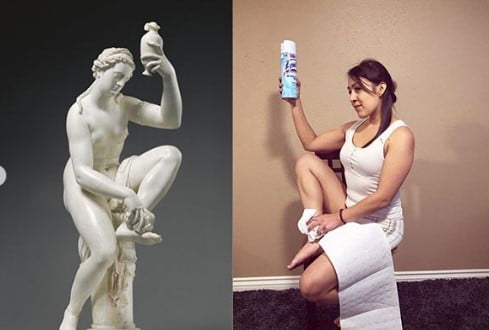 The State of Social in 2020
Steven Bartlett is a 27-year old CEO of Social Chain, a global creative social agency leveraging owned media, technology, and insights to build brand awareness. His session, entitled The State of Social in 2020, was incredibly insightful especially because it came directly from a millennial, the age demographic most heavily influenced by social media.
Live streaming is the new normal. While live streaming was already gaining ground in the digital world, with the presence of COVID, it will be even more prominent and widely used given people's fears of group gatherings. Live streaming also offers an opportunity to grow your audience, giving you access to consumers who would not otherwise have participated in your event.
Consistency and transparency matter. "Consistency matters if you are going to be transparent," said Bartlett. "And those that are transparent are winning in a world of distrust." Messaging is key. If your message changes, people will not believe what you say. The more they can get to know you authentically, the more they are likely to trust you.
Bartlett believes that influencer marketing is dying. He explains that influencers posts are void of truth and emotion. The fundamentals of influence, as it relates to how people are influenced, is that endorsement comes from an authority figure that has reach. As trust has eroded, it's now solely about reach. If you are going to work with influencers, he recommends working with microinfluencers. They are more believable and will respond to comments and reactions more than celebrities ever will. Require them to use video over static images. The narrative should be emotional and brands should allow influencers to be honest about their review of products.
The following tactics should be incorporated into your digital strategy in 2020 and beyond:
Private groups are essential. Facebook users are now engaging with more content from groups as part of the social network's shift toward meaningful communities.
Messaging apps (Messenger, Whatsapp, Viber, KiK, WeChat) have surpassed social networks in becoming the most popular way to connect.
Stories are the number one way we share things with friends. The newsfeed is becoming the "accessory" to stories.
Native commerce is on the very near horizon. Social networks are gearing up to make commerce native on the various social platforms, so you won't have to leave the page to make a purchase.
Influencer marketplaces are launching on social media platforms. You won't have to use an outside vendor to find, assess, and engage influencers. The platforms have more data and brands will be able to choose influencers directly from the social media platforms.
Live streaming on social has to be fundamentally different. In order to keep people watching, there must be context throughout the stream as people will most likely tune in after the stream has started. Viewers don't plan to stick around, so the longer you can hold their attention, the greater chance you have that they engage. Live videos don't need to be live anymore. Audio quality matters and you can stream across multiple channels.
A Look Into The Future: 2.22.22
The consumer habit is constantly changing. From the invention of the internet, to the advent of social media, explosion of the iPhone, launch of Amazon, and now the Coronavirus crisis. During a session titled "2.22.22" Matt Britton, CEO of Suzy, took us to a world of the not so distant future. Throughout his session, he discussed how the post-COVID world would look for how consumers would live, shop, eat, entertain, travel, work, and learn. This session was extremely interesting as it not only did touched on media but also touched on many different industries and how we can move forward to help our clients in a post-COVID world.
How We Will Live
Throughout the years, we've seen a massive boom in cities like New York, San Francisco, Seattle, and Boston making them and the cities around them massively unaffordable. With a post-COVID economic downfall, Matt predicted that large companies like Google will start having a more distributive workforce and pushing smaller offices to secondary and tertiary markets to making living expenses more realistic for millennials. Below, are some of the cities he predicted to grow.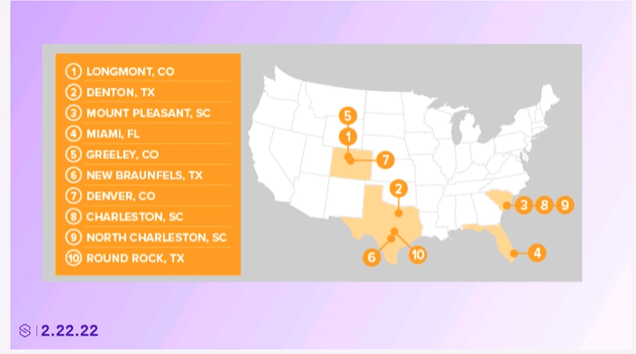 How We Will Work
As many companies have shifted to work from home during the COVID-crisis, 32% of workers have stated they are more productive while working from home. As well, 90% of people have said having a more flexible work schedule would boost morale moving forward. Although Matt did not believe companies will shift solely to work from home, he does believe that there will be fewer people in offices at certain times and a more flexible work from home environment when needed. As well, as I had stated above, he predicts that larger companies will start opening smaller offices across the country to have a more distributive workforce.
How We Will Shop
Throughout the COVID-crisis, it became obvious that stores that did not have a good eCommerce model weren't able to last. For instance, J.Crew filed for bankruptcy because their business model focused more on brick and mortar stores than it did on an eCommerce mode—not allowing consumers to purchase goods. Something I found interesting was that Matt said he believes influencer marketing is here to stay, due to people being on their phones more than they were pre-COVID. Matt predicts that due to its personalized manner influencer marketing will help build brands more in a post-COVID world.
How We Will Eat
Many people posted on social media about cooking during the coronavirus, as many restaurants were closed and only a few offered takeout. Before coronavirus, 50% of meals were consumed in restaurants and now we see people constantly cooking at home. Matt reported that over 75% of consumers believe they are now more skilled in the kitchen because of coronavirus. We have seen restaurants shift their focus on social accounts to educate and teach people how to cook during this time. Although we have seen consumers shift to eating at home, Matt reported how many consumers have expressed how they are looking forward to getting back into restaurants and dining out. He predicts that not all dinning establishes will make it out of coronavirus, but the big names will.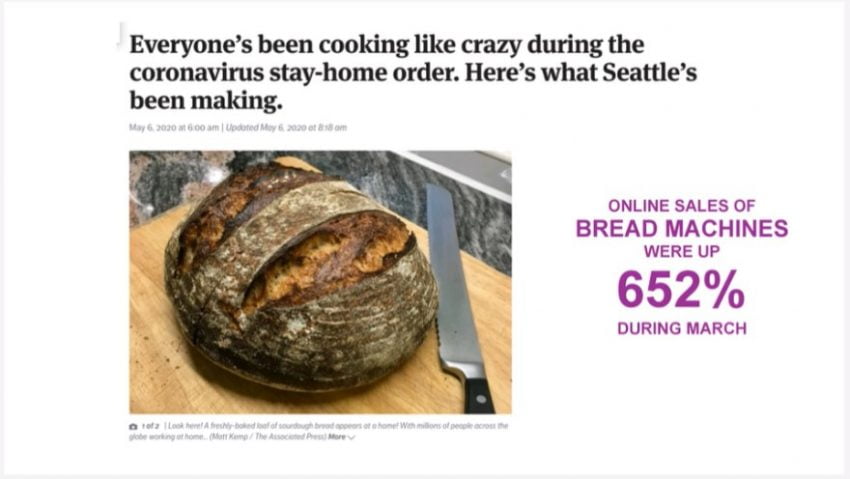 How We Will Entertain
All professional sports were put on hold, movie theatres were closed, concerts canceled, and more. This led people to get creative on how to entertain themselves. E-Sports, video games which are played in professional competition, became extremely popular on ESPN. One NASCAR driver, Danny Hamlin, said he did more interviews after a virtual race than a real one. As well, DJs performed concerts virtually, fitness and trained virtually, and more. Along with Netflix coming out with new shows like Tiger King, we have also seen new social platforms like Tik Tok take off. Matt expressed how Tik Tok and even Houseparty have allowed people to create content where they feel connected and feel less lonely in this isolated time.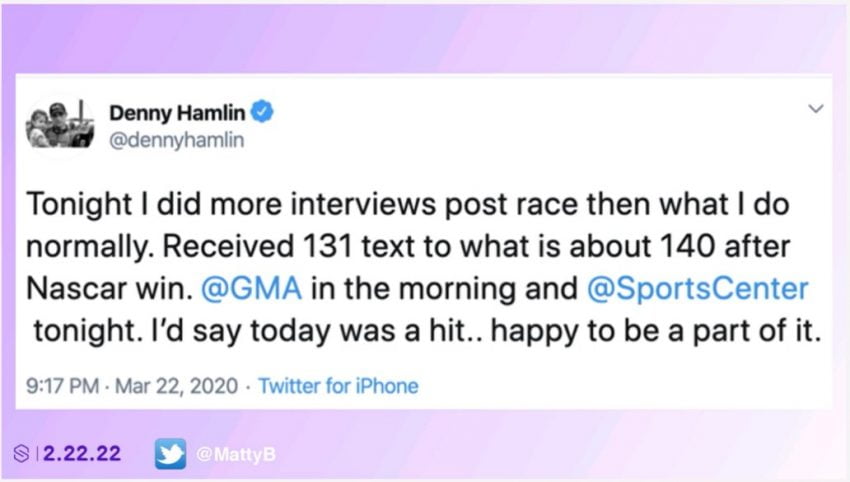 How We Will Travel
Traveling is a very interesting topic during COVID-crisis. With the virus being spread from place to place we have seen travel bans everywhere. Many businesses have stated they have stopped travel until 2021, due to not wanting liability of workers getting sick. Although, consumers will still want to travel when they feel it is safe. Matt predicted that businesses like Airbnb, although they have slowed down and had lay-offs, will boom when travel is safe. He stated that he believes that people will more likely take road trips then fly places and would feel safer if they stayed in a home rather than a hotel where they share common areas with others.
5 Key Steps to Make Influencer Marketing More Effective
Headlines that say "the end of influencer marketing is near" have become more prevalent in recent months. While I personally don't see influencer marketing going anywhere (people are spending more time on social media than ever before and influencer marketing is one of the key ways to reach people on these platforms), the sentiment behind these headlines is that there is a lack of trust in the industry. This isn't far from the truth unfortunately, with influencers who post product after product losing credibility with their followers and with metrics being inflated with fake followers and bot engagement.
In this session, Neil Waller, the co-founder and CEO of Whalar the world's largest dedicated influencer marketing company, discussed the steps we can take to make our influencer marketing campaigns more trustworthy, more accountable, more measurable and above all, more effective.
1. Audience Size Should Never Be The First Proxy
The number of followers an influencer has shouldn't be the main selection criteria for your campaign. Fraud can happen with audience size and followers do not equal reach. More important than the number of followers is WHO the followers actually are. The demographic of the influencer's followers should be your target audience.
2. Engagement Doesn't Equal Effectiveness
Looking at an influencer's engagement can help you understand an influencer's connection with their audience, but it isn't the end-all-be-all metric to look at when choosing an influencer to work with. The most important factor is brand alignment and, above all else, context is key. If your brand and the influencer's brand doesn't align, the campaign will fail.
3. Trust Isn't Typically Built in a Single Post
Many influencer marketing campaigns consist of one-time individual posts. While that can be right for certain campaigns, to be most effective, you need to continue the conversation with the audience over time. Trust takes time to build and a long-term collaboration is more authentic. Authenticity will drive affinity for your brand.
4. All Messages are Not Equal
When it comes to the content that influencers create, you don't need to hand over ALL control to the influencers; you should provide a brief so they can gain a clear understanding of your expectations. However, being too controlling isn't the answer either, because the message needs to come directly from the influencer to their followers. Ultimately, influencer marketing is a partnership between two brands. It is essential to find an influencer whose content and aesthetic matches your brand voice and style. If you do your homework, you shouldn't be surprised by the content and message that is produced.
5. You Can't Truly Invest in What You Can't Measure
When measuring influencer marketing, there are some limitations compared to measuring other types of advertising. However, we need to be going beyond just reporting on engagement rate and reach. Measurement capabilities in the influencer marketing space are expanding—brand awareness, purchase intent, add-to-cart rate, and ROI are all figures that can be captured with the right tools and tracking in place. In order to scale, you need to optimize. And in order to optimize, you need to measure.
With these five steps in place, you'll improve the effectiveness of your influencer marketing campaigns and will no longer have to worry about the dreaded "end of influencer marketing."
Conclusion
Attending the #SMWONE conference, although virtually, was very valuable for our team. We learned how to get creative on Instagram during the current health crisis and how to make influencer marketing campaigns more effective despite the lack of trust in the industry. We gained insights about the current state of social media and even got glimpse into the future with a look at a post-COVID world.
As the current state of affairs continues to rapidly evolve, we know that as marketers, we need to continually grow our knowledge and adjust our approaches. Attending conferences like #SMWONE allows our team at Zion & Zion to stay on top of trends and developments that affect businesses and consumers, so we can continue to lead our clients in an ever-changing world.