As the digital landscape continues to evolve, advertisers and publishers alike should be aware of a seemingly lesser-known form of advertising that is fueling massive growth in digital ad spend: native advertising. According to eMarketer, native advertising spend in the US jumped 37% in 2021 and is expected to reach upwards of a whopping $99 billion in 2023.
Despite that prediction, there is a major issue that needs to be addressed when it comes to native advertising. Is it deceptive?
This blog examines consumer perception and how the recognition of native advertising – or lack thereof – influences attitudes around the quality of the content, the publisher, and the sponsor. It references research conducted by Dr. Bartosz W. Wojdynski.
Before we dive into consumer perception, let's take a step back and define what native advertising is. Native advertising is a non-disruptive paid advertising format in which the ad seamlessly integrates with the look and feel of the media platform. A couple examples (that you might not have known are native ads) are Facebook and Instagram in-feed placements. The design of these paid placements mimics the design of the platform's organic content, therefore creating an uninterrupted user experience.
Ad Disclosure Principles and Influence on Interpretation
Although native ads can be a subtle and effective solution for delivering branded content, due to the large variety of formats, it can be hard to recognize an ad as advertising causing consumers to distrust or feel deceived by the advertiser (who is sponsoring the content) and/or the publisher (who is hosting the ad). To combat misleading advertising, regulatory bodies like the Federal Trade Commission (FTC) and Interactive Advertising Bureau (IAB) have implemented recommended disclosure principles.
Dr. Wojdynski's research explores four disclosure characteristics and how they influence the consumer's ability to recognize the native ad as branded content:
Proximity – where is the ad positioned?
Visual prominence – do the visual cues (image, text size, color) make the ad distinguishable?
Wording clarity – is the ad content clearly labeled as "sponsored"?
Logo presence – does the ad include a logo?
So how are these labels interpreted, or misinterpreted, by consumers? The results of the study suggest the following:
Most participants failed to recognize native ads as paid advertising because they missed the disclosure labels. Approximately 68% of participants reported they either saw no advertising or thought they saw an unmemorable display ad.
While visual prominence and logo presence increased the consumer's ability to recognize the ad as advertising, the logo presence also influenced the consumer to misinterpret the native ad as a display ad.
The increased ability to recognize the ad as advertising decreased the consumer's attitude around the quality of content, the sponsor, and the likelihood the consumer would share the content.
Despite the unfavorable results, the research also suggests that advertisers and publishers can minimize perceived deceptiveness by creating distinguishable native ads – making it harder to miss or misinterpret disclosures.
The Bright Side of Native Advertising
When done right, native advertising can be extremely effective for reaching and influencing your target audience. Here are some important benefits of native advertising based on key findings from a Sharethrough/IPG Media labs survey:
Native ads are more visually engaging than traditional display ads.

Consumers looked at native ads 53% more frequently than display ads.

Native ads drive higher brand lift than traditional banners ads.

Native ads registered 18% higher lift in purchase intent and 9% lift for brand affinity responses than banner ads.
71% of consumers say they personally identify with brands that launch native ads.
32% of respondents said the native ad "is an ad I would share with a friend of family member" versus just 19% for display ads.

Native ads are consumed the same way people view editorial content.

25% more consumers were measured to look at in-feed native ad placements (the most common editorial native ad format) than display ad units.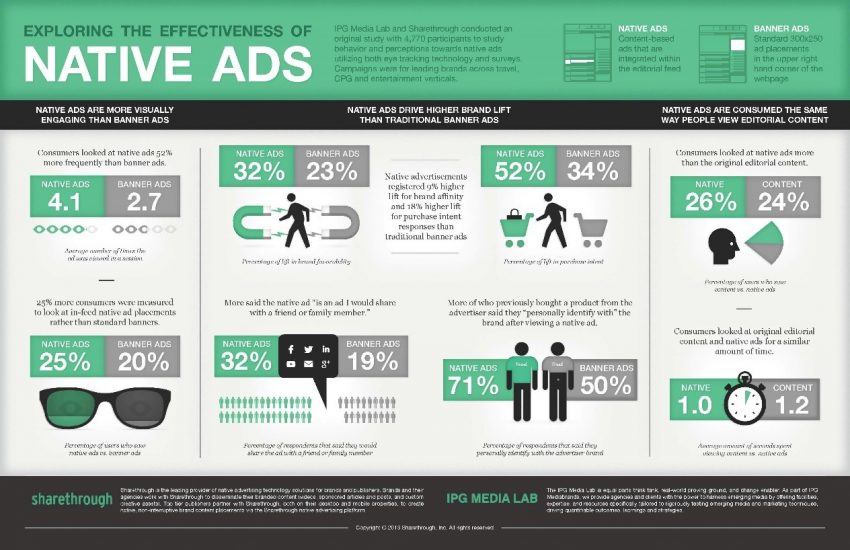 Conclusion
As the need for consumer protection continues to increase, advertisers and publishers can decrease negative perceptions around native advertising by emphasizing disclosure characteristics. Creating more transparency gives advertisers and publishers the opportunity to prioritize the user experience so they can build trust with their consumers and positively influence brand and perception.