What is Interactive Web Design?
There are countless types of design, from graphic design and interior design, to fashion design and industrial design, the list goes on and on. Add to those, the multiple facets of each (e.g. graphic design branches off into print design, type design, logo design, and interactive design) and you can quickly see how it starts to become unclear for some as to what the differences between each type of design are.
Since interactive design is an extension of graphic design, an interactive designer is well versed in the fundamentals of graphic design. For example, a web designer is a color theory, layout, hierarchy, contrast and typography expert, but goes beyond knowing the principles of graphic design and branches out into digital, UX/UI (user experience/user interface), strategy and even a little bit of psychology.
According to usability.gov, the definition of interactive design is:
The focus of creating engaging interfaces with well thought out behaviors. Understanding how users and technology communicate with each other is fundamental to this field.
What it Takes to Be An Interactive Web Designer
An interactive web designer must understand and consider quite a few things to be able to create the ultimate blend of purposeful visuals and functionality. Of course understanding color, typography and layout for the web are important, but also understanding the technology a website is built on, browser(s) being used, development (coding), accessibility, usability, intuitive user experience, target market, search engine optimization (SEO), and mobile browsing experience are key. Things change fast in this industry so it's important for an interactive designer to keep up with the latest technology and trends. On top of all of this, a designer must also make the design *look* appropriate for the intended user(s) and conform to brand styles.
Communication and Collaboration
In order to create designs that work well and look good, an interactive designer must not only know all of the above, but also be able to communicate well with others. Why? Because it takes more than one person to create a successful website. An interactive designer should be very familiar with everything listed above, but this doesn't mean they will be the one to implement everything (i.e. development, content, photography). However, they should be able to communicate and collaborate primarily with the client, whose ideas they are realizing, and the developer(s), since they will be the ones building the designer's vision. Other people an ID (interactive designer) needs to be able to communicate and collaborate well with are copywriters, content developers, user experience & information architecture strategists, and photographers. The copywriters and content developers will be writing and helping to determine layout based on messaging and strategy.  Photographers may need to do a custom photo shoot to capture the brand's look appropriately, so the ID needs to choose a photographer who can create the look they are going for. Don't forget about project managers! They are the ones who keep everything running smoothly, from meeting deadlines to communicating directly with the client, account managers are invaluable.
Thoughtful Design
Not only does an interactive designer make websites beautiful, but they also make websites more useable. We put thought into every color, photo and type treatment to make sure that the mood and messaging is accurate and that the experience for the user is intuitive. Blaise Aguera Arcas – Software architect, designer, and imagery authority at Google states:
When an interaction really works, then that extension of yourself feels natural and beautiful, does what you want, and doesn't get in the way.
I'd Say Things are Getting Pretty Serious
The days when you could hire your friend's cousin to build you a website for a hundred bucks are over. The internet has become much more sophisticated and interweaved with social media, marketing and brand strategy that there is much more to consider than there used to be. The world of web interaction is constantly changing and hard to predict. The best interactive designers are intuitive, but not afraid to experiment a little. They are constantly learning and testing different ideas to get the best results (we didn't get into this business because we wanted a boring job). Time and practice shape an interactive designer, and it takes professionals with all this knowledge to know how to create and implement a successful interactive experience.
Good Design Is Good Business
"The design consistency of the web components will influence the credibility and authenticity of the site."

Indhira Rojas, Art Director, Creative Services at Medium.com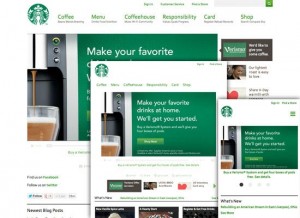 When a company puts time and thought into their interactive designs, you probably won't notice, and that is a good thing. The interactions you make with a company's website or app will be seamless and consistent and you will feel confident about the visit. I like to use Starbucks as an example. You know when you are interacting with the Starbucks brand, whether you're in a Starbucks store, on the Starbucks site, or using the Starbucks app, (or drinking your Starbucks latte), because they all have the Starbucks voice, look & feel, and interactions, which makes you feel confident and trust that the wonderful experience you had previously will be the same wonderful experience you will have again.
This seamless and consistent interactive experience is created by applying the brand standards to a user interface guide. That way no matter how you are interacting with a brand, it's always the same experience. The user interface guide stems from the company's brand standards guide and includes things like button styles, CTA (call to action) styles, link colors, typography and design elements that are to be used across all interactive platforms.
The Future
Well as you can see, mobile is here. Just look around! How often do you see other people on their phones? How often do you use your phone? Since mobile is here, what's next? It's called "the internet of things" (go ahead and google it). So, wearables like FitBit and smart appliances like LG's Internet Refrigerator will all be talking to each other. There is going to be software in everything, and countless connected sensors. With the future looking like this, it is becoming increasingly important to have seamlessly designed interactions and interfaces so that the experiences are not difficult or annoying, but beautiful and helpful.
I'll leave you with "Botanicus Interacticus" or as I would call it… Interactive Plant Technology by Disney Labs.