Back in 2018, Zion & Zion published an article called, "What Does TV Mean in 2018?" where I discussed the changing landscape of consumer video consumption and how advertisers should approach the use of screen-agnostic video as part of their media campaigns. A year has gone by, and in this quickly-changing sector, some things are clearer, and some are more complicated. What's clearer is that video is here to stay, and consumers are rapidly adopting Subscription Video on Demand (SVOD) and Transactional Video on Demand (TVOD). What's more complicated is the technology itself and the number of options for content delivery.
As a marketer, it's challenging to stay on top of everything, so here's what you need to know today about how people are consuming video, the myriad ways content is distributed, and the latest on how to get your ad message in front of consumers.
Video consumption today
eMarketer has predicted the number of people who watch digital video at least once a month in the United States will reach 248.9 million by 2022, up from 228.8 million in 2018, whereas the number of TV viewers in the United States is expected to drop 0.2%. Additionally, Nielsen recently reported the latest information about how individuals consume video content, including these facts:
During Q3 2018, the average time spent per A18+ on video is 5 hours and 24 minutes per day.
One hour and eleven minutes of that time is watching video on TV-connected devices or other connected devices.
Just selecting what to watch can be time-consuming. Fifty percent of streaming video users are influenced by the recommendations provided by video sites, and 66% take recommendations from family/friends.
The variety of available content is the number one reason consumers select who to pay for streaming.
Thirty-six percent of people are satisfied with their cable/satellite service and do not intend to move to streaming.
Only 16% of people are not sure how to connect their TV to the internet.
Sometimes called, "video everywhere," or OTT (over-the-top, which simply means video that is distributed over broadband, instead of over the air or through cable), US adults are indeed watching the screens everywhere, but mostly in bed!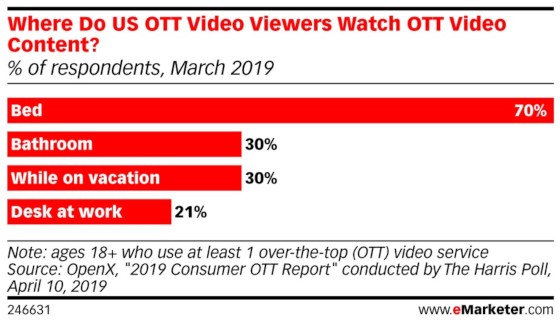 Content distribution
This increase in digital video consumption can largely be tied to low-cost availability of streaming technology, like smart TV's and inexpensive streaming plug-ins (think boxes, sticks, cubes, gaming systems, etc.) intersecting with a long list of subscription services, including the big dogs: Amazon, Netflix, and Hulu. As of May, 2019, a new and notable player enters the space: Apple TV+, and Disney and Viacom streaming are expected to enter the market this year, too. There are also rumblings that Netflix might support advertising in some form within the year, which may be a way to lure back customers who left due to price increases and may be interested in an ad-supported Netflix model.
This combination of accessibility, rich content, and consumer control means that for the first time ever, more people pay for a video streaming service than pay for a traditional cable and satellite subscriptions. The consensus seems to be that SVOD makes it easy for a consumer to access more movies, TV network content, and original programming than ever, and that consumers like control. This easy access to so much content does not come without a downside, though. Deloitte Insights reports in their Digital media trends survey, 13th edition that consumer frustrations are growing with the need to "piece together" their media experience across multiple services to connect all of their favorite programming. The fact that there are many dozens of video streaming service options and combinations, this is a challenging puzzle. Smart video content providers will simplify this to make a better user experience.
How to get your ad message in front of consumers
Advertisers have been slower to adopt Connected TV than consumers have. Media planning is a challenging combination of art and science, but never has it been more complicated than today with the incredible fragmentation that exists. Navigating the placement of video buys requires analysis of many factors: target audience, data, timing, geography, device, etc. Digital video addresses these in a way that traditional video/TV cannot. It also requires knowledge in HOW to put a digital buy together, while making sure that you keep your KPIs in mind during the process.
Digital buys can be placed programmatically, through a trading desk (Zion & Zion has experienced traders), directly through a publisher (Hulu, for example), or through a managed service aggregator who has inventory across multiple publishers and partners. Any of these options allow the buyer to select data layers to apply to audiences, but also allow for metrics like measuring frequency across devices, retargeting, and analysis of in-store conversions after being presented ads. There are dozens of data suppliers and data aggregators, each with their own costs and unique information. Data can include things like age, gender, zip code, etc., but can also include more specific indicators of behavior, like credit card purchases, geolocation of work or events you have attended, or even relate to questions you have answered online about things you're interested in or want to hear more about.
Data is not only a huge consideration, the device you place your ad on is important, too. Digital video can run across your potential customer's living room TV, their tablet, or their phone—and your creative view should match the device. The tolerance for sitting through a :30 ad from the couch on your big screen is far higher than it would be is that ad is served on your phone, and a large, horizontal format is perfect for living room viewing. But, according to eMarketer, 78.4% of the worldwide video viewing is happening on a smartphone, and smartphone are held vertically 94% of the time, so there's a place for vertical video, too.
While digital video combines everything that is great about video and the advanced targeting of digital, it's important to set your expectations, and your KPIs, according to the type of digital video you are running. You should not run a connected TV campaign with the expectation that people are going to click through and download a coupon, thinking users will stop watching their long-form video to click through your video ad. They won't. (But, the idea is that they will be inclined to interact with you later once they know who you are.)
Conclusion
Digital video, as a whole, only enhances what we already love about TV, both as consumers and advertisers. As a consumer, you have control over the content, and when and how you watch it. As an advertiser, you have the opportunity to harness all of the great things about video, like showing your brand in motion and creating an emotional response from the viewer, but on top of that, you have the ability to add data and targeting layers, reduce audience waste, and track key metrics. Most advertisers should consider digital video as part of their media mix in 2019, and going forward.