As marketers, our goal is to deliver the right message, to the right person, at the right time in order to give a customer an extremely personalized experience. Customer journey mapping has been a standard process when trying to reach this goal, but as more technology emerges, so do additional methods. Customer data orchestration is a newer method that allows marketers to use technology to influence the journey as it is happening rather than visualizing the journey. This is where Tealium's AudienceStream technology comes into play, allowing marketers to collect customer data and influence them in real-time.
Pros and Cons of Customer Journey Mapping
Customer journey mapping has long been the popular method for understanding the customer experience, which has both advantages and disadvantages. For instance, to be able to understand your customer's needs, you must be willing to empathize with their perspective. What is happening in their lives that they are looking for your product or service? How can they find your product or service? How can they learn about your product or service? Customer journey mapping is an effective way to adapt a customer-first mentality and understand what your customer may be feeling, doing, etc. during each touchpoint of your marketing funnel. The biggest advantage is that it helps identify gaps in the journey and results in a visual map that breaks down the experience in a digestible way so it can be shared across many different teams in an organization.
While customer journey mapping has been a very useful tool to marketers, like many tools, it does have disadvantages. Customer journey mapping has limitations with how and when it defines its customer. For example, many journey maps are creating around "one" customer scenario or persona. In reality, every customer is different, and their journey is constantly evolving and changing. This "one size fits all" approach does not allow for a one to one hyper-personalization that customers are looking for today. As marketers, we must leverage customer journey mapping and evolve it into customer data orchestration to allow the data we're collecting to be used in a way to serve a more customizable and personalized customer experience.
Customer Data Orchestration Evolving from Customer Journey Mapping to Customer Data Orchestration
So, what is customer data orchestration? Customer data orchestration is the act of leveraging technology to see the touchpoints a customer may be taking in real-time and drawing insights from this data. The difference between customer journey mapping and customer data orchestration is technology. While a customer journey map allows us to visualize the journey, customer data orchestration allows us to influence the journey as it happens in real-time. A marketer is able to see the actual steps a customer is taking on a website or an ad and can then serve them extremely personalized content at the right stage of their journey – the right message, to the right person, at the right time.
The key point to customer data orchestration is using technology and data to understand what customers are doing and trigger the next best actions.
Cue Tealium's AudienceStream
As stated before, technology is the key point when evolving from customer journey maps to customer data orchestration and this is where Tealium comes in. Tealium's AudienceStream Customer Data Platform (CDP) allows an organization to understand customer data and engage with customers in real-time.
Through visitor stitching technology, the AudienceStream CDP allows an organization to collect data to get a full picture of their customers. Tealium collects customer data from many sources whether that be web, mobile applications, kiosks, servers, etc. and helps standardize it to create customer profiles. Using this technology, Tealium's AudienceStream CDP can create comprehensive and actionable customer profiles with custom attributes that will constantly stitch data together as new devices become known.
Once unique customer profiles are created within Tealium's AudienceStream CDP, you can define customer values, engagement insights, and milestones – which then can be used to create audiences. Once audiences are integrated, this enables the opportunity to serve extremely personalized content to users that are within the AudienceStream audiences in real-time action. Through Tealium, you can trigger actions based on real-time customer data signals and engage with your customers like never before in a one-to-one hyper-personalized manner. These audiences can be used in a multitude of ways, but some of the most important when thinking about customer data orchestration is integrating with email, marketing automation tools, social platforms, customer relationship management (CRM) platforms, and more.
Traditional Audiences vs. Tealium AudienceStream Audiences
Differentiating Tealium's AudienceStream audiences from a traditional audience segmentation is data. Traditional audience segmentations are very rigid, simplistic groups that do not allow for a customizable customer journey. This ultimately results in a clumsy customer experience that does not allow a customer to receive personalized content.
Through the data that Tealium AudienceStream collects, a marketer can understand the multifaceted nature of their customer. Within AudienceStream, customer profiles are assigned attributes and badges which leads them to be placed into audiences you create. As discussed before, there are endless attributes and badges that can be created and assigned to a customer profile. For example, badges can be anything from the preferred airport a customer may fly from, to their favorite product on your site. While attributes can be anything from lifetime value, to last purchase, to a customer's birthdate.
So, although you can create audiences in Tealium's AudienceStream – these audiences are extremely dynamic and are created based on a collection of visitor profiles that share a set of attributes and badges that trigger real-time actions, ultimately resulting in a personalized customer experience.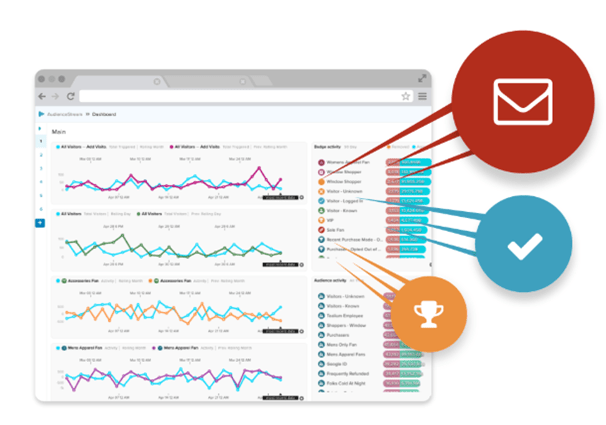 Conclusion
Customer data orchestration stands out as it gives an organization ability to achieve a true multi-channel personalized customer experience. Utilizing tools like Tealium's AudienceStream, an organization can go from optimizing individual touchpoints to personalizing the entire customer journey. The most important marketing element is that organizations can evolve beyond segmenting personalization and achieve the one-to-one personalization that ensures the right message is sent to the right person, at the right time.