When I began my career, I worked solely in SEO, and I used to think that I was doing something completely different than those people that concentrated on PPC (pay-per-click). My sights were solely set upon the organic results in search, the area on a search engine results page that carried a healthy reputation of mystique. With Google AdWords and Bing, you could simply buy your way to the top of search results—not so with SEO. There was no easy solution for what I was doing. My job was profoundly different than pay-per-click marketing in terms of execution.
Boy, was I wrong.
There are a few 'aha!' moments that stick out to me over the course of my time in SEO—somewhere in that shortlist is something that seems so obvious to me now. You need to align your SEO and PPC goals if your business utilizes both channels. Shout out to Bill Hunt for that metaphorical splash of cold water to the face.
Let's say your business has an active PPC campaign, spending thousands of dollars annually on a few keywords highly relevant in your industry. If your business is making such a massive investment to capture those keywords in paid search, it sends a clear signal: these keywords are valuable to our business. How much of a priority are those same keywords within your SEO department? Better yet, are those keywords even on their radar?
My earliest perception of SEO was wrong. I wasn't special just because I took a different approach to generating website traffic. By considering myself on an island apart from paid search, I lost sight of the bigger picture. Our goal was ultimately the same—we were both aiming to lock up as much real estate as possible within search engine result pages.
The Real Estate of SERPs
I tend to think of Google's SERPs, or search engine results pages, in terms of real estate. The first page of results is the neighborhood everyone wants to live—the place where nearly 90% of keyword traffic exists, both paid and organic. The first overall results are the nicest houses on the block, the area that receive the lion's share of traffic. These properties have the most value but few people have the means to snatch them up.
Just like the housing marketing, the more people covet a keyword drives up the asking price. Search for something like '4K TV' and you can see this in action: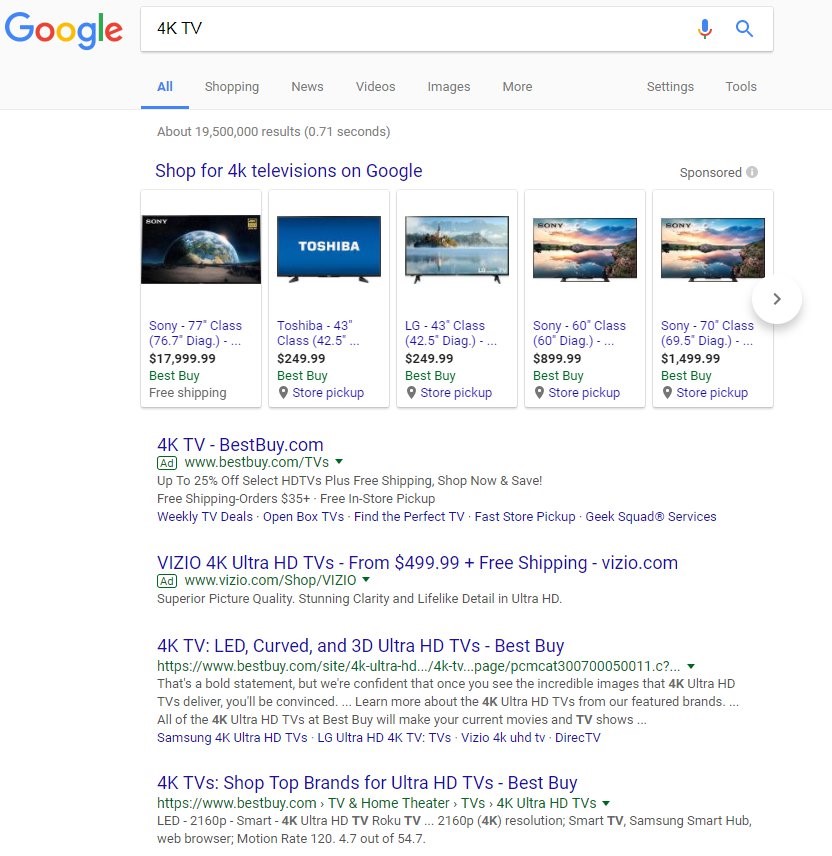 The SERP is dominated by big name retailers like Best Buy and familiar manufacturers like Vizio. This is no coincidence. These brands pay a lot of money to monopolize real estate on high value keywords. Best Buy have their SEO and PPC goals aligned, allowing them to own more real estate in a highly coveted 'neighborhood'. You see their paid ad and their organic result, prominently within the SERP. This type of dramatic exposure greatly increases the likelihood that you potentially give them your business if you're in the market for a new television.
Aligning your SEO and PPC goals is the best way to corner the market, regardless of the keywords you target. Pulling these forces together can help you monopolize more of that limited space.
How SEO and PPC Can Help Each Other
Search engine optimization and pay-per-click are different in approach but similar in execution. Both approaches require analyzing data to make informed decisions about keywords. Here's how these two forces can work together to give your business an edge in search marketing.
Keyword Research
SEO and PPC people have their own tools to conduct keyword research. As an SEO analyst, I frequently use sites like Ahrefs to analyze my competitors' keywords and find some additional targets. AdWords people typically use Google's Keyword Planner to build exhaustive lists of keyword groups, essential to building out campaigns.
You can diversify your keyword research with a little cross examination. You can utilize SEO tools to find new keywords to add to PPC campaigns and even analyze what keywords your competitors are running ads behind. On the other hand, you can use PPC tools to assess how valuable certain keywords might be as organic targets. For instance, a keyword with very little traffic with a $40 cost-per-click (CPC) implies some good value—advertisers are willing to pay a lot of money to receive a potential lead from that traffic.
Align your keyword targets in SEO and PPC—meet regularly to discuss new opportunities and priorities.
Copywriting
Consider your top performing content. What pages drive the most organic traffic? What ads drive the most clicks and conversions? You can leverage top performing content across the aisle to optimize SEO or PPC campaign performance.
It's a huge missed opportunity if you aren't taking advantage of this data. Considering you always need to be churning out new ad copy for PPC, make SEO performance analysis a part of that process. Whenever you need to write a new blog or expand existing content, identify your best ads and see how you can inform the writing process. It's also wise to consider these top performing areas as potential landing pages.
Experiment
SEO takes time, PPC can give you instant results. Meaning, you have the ingredients you need to perform some pretty great experiments.
Long term success with SEO can suggest some keywords are more sustainable than others. You may shift your priority PPC terms based on your success here.
Overnight success in PPC can help guide your SEO efforts—you can write an article about a high-performing keyword or find backlinks that support the subject matter.
If you have a question about how to optimize your campaign, see how running an experiment on the other side of the search wall might benefit you.
Conclusion
I used to look at SEO as its own thing, a strange little alchemist shop tucked away in a dark corner of the marketing district. It wasn't until I started thinking about SEO as something that could benefit PPC and the other channels of my agency that I felt like I'd graduated into an actual marketer.
At the risk of sounding a little too camp counselor-y, we're better when we work together—both in marketing and in life. Combining your SEO and PPC efforts is a great place to start.