How to Optimize for Local Search
Many businesses and websites often target users in a particular region or regions. For these companies, the search results for specific areas can drive substantial traffic, leads and business. There are many ways you can optimize your site for local areas—in this comprehensive how-to guide, all will be discussed.
Google's Local Search Video Series
What is Local Search?
A local search is one that the search engine interprets as needing location based results. This can be due to the actual search query containing a location keyword. For instance, "hot dogs Tempe." A local search can even be something as simple as "food" in which the search engine feels that the query had an intent of finding that term nearby. When a search engine decides that a query should display local results, the Search Engine Results Page (SERP) will contain different items, focused on local.
Local Carousel

Google's local carousel is a strip of image and review heavy results that span across the top of the SERP. This is displayed for local results like dining, nightlife, hotels, and other local attractions. The images for the carousel are taken from the Google Plus Business page photos section.
Map Pack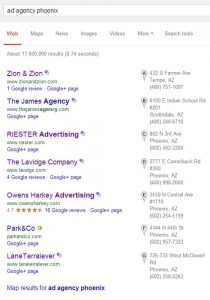 The map pack is a group of listings, usually seven, all of which come from the Google Map results. In the corresponding map you can see each listing highlighted with a pin to show where that listing is located in relation to the local area.
Map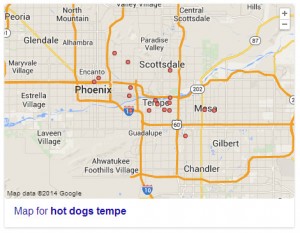 The map is a small interactive map that is displayed to the right of the results. This map is similar to the results that would be seen when selecting the maps search option.
Images
An image block, typically around four images, will appear within the SERP on occasion, showing related images to the search term.
Organic Search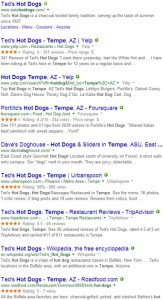 Organic search is not unique to a local query. It is what would be displayed regardless of location intent.
On-Site
First and foremost, to rank in any search, it is best to follow SEO best practices. Once a site has been optimized properly, you can use these techniques to target local terms.
Keyword Research
Keyword research should be done to analyze where the site currently ranks, what type of results are displayed, what the competition is doing and how competitive a term may be.  Once research has been done, current pages can be optimized for the target sets of terms or new pages can be created on the website that target these term sets. Keyword research will help create the blueprint for the execution of the strategy by creating a list of term groups that need to be improved upon or newly targeted.
A few specific tools can be very useful in this keyword research:
This tool is a great way to find the competition and the value of a keyword. Keyword suggestions can also be found using this tool.
This tool allows you to see what terms a site is currently ranking for in Google. This is very helpful in determining where to start a strategy, as you can focus on moving terms up in the SERP or focus on terms that you are currently not being ranked for.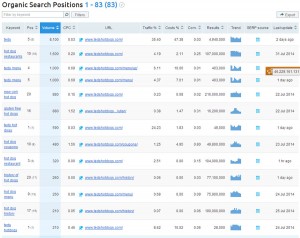 This tool is a great way to see what your competition is ranking for and what is driving traffic to their site. If you can find a similar business to yours and see where they are doing well, you can invest time and effort into a similar strategy as well.
Many people overlook searching in google as a tool for keyword research. Google often provides suggestions and related searches towards the bottom of the SERP which can be targeted. Another benefit of actually googling something is that you can see what the results look like and identify trends that other tools may miss.
Local Optimization
Once the keyword blueprint has been created, an inventory of the current sites' content should be done to find which pages do or could target the set key terms. Whether creating new or improving content, these best practices should be implemented:
Use the target location in the title, description and header tags of the page
Talk about landmarks, areas and other points of interest nearby
Place the address of the business on every single page of the site
Wherever this address is placed, have it link to the Google Maps listing so users can quickly get directions
Place the phone number of the business on every single page of the site
Wherever the phone number is placed, have it be a click to call link so mobile users can quickly call the business
Use a Google Maps instead of an image of the map, allowing users to interact with the map and quickly get directions
Localized Content Types
There are various types of content that can be created to target local search.
Location Pages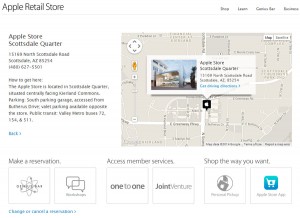 Each location of a business should have a standalone page dedicated to it. This page should contain:
The address
The phone number
Hours of operation
Images of the building
Contact form
A couple paragraphs of text that describe the location, surrounding area and directions
Testimonials
Testimonials are an underutilized way to optimize for local search. If a client or consumer has provided you with a testimonial, help tell the story by adding where they are from and what location they visited. These are particularly useful in service based businesses where multiple cities are served from a single location.
Employee Stories
When exceptional work has been performed and the client is unwilling to provide a testimonial, have your employee tell the story. By coaching your staff to use the location and other references to the area in their summary, these pages can be fine-tuned to rank for a location and type of services.
Discuss Local Issues
By covering topics that occur in your area, you can acquire traffic that is researching topics in your area. These users may not have known about your business previously, but will now because you have provided information that helps them answer a local question.
Events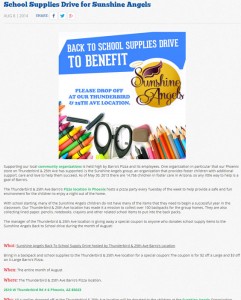 A dedicated page can be created for each event that touches upon the location the event is being held at.
Image Optimization
There are five ways to optimize an image for local search. All can be done by using the location the page is targeting.
Location used in file name of the image
Location used in alt attribute of the image
Location used in title attribute of the image
Location used in caption for the image
Location inserted in the meta data of the image using a photo editing tool
Schema
Schema Micro Data is a great way to help the search engines digest a website and break down the code so it can be interpreted the way it was envisioned.  Schema can be implemented on the site as a whole for local business. There are even industry specific Schemas. Some basic types of Schema should be implemented on all sites to help local search:
Off-Site Optimization
Google Maps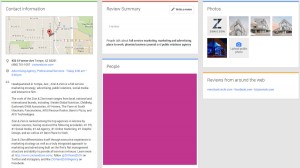 A Google Maps Listing is the most important off-site property for local search. This listing is displayed in the SERP in the Map Pack and the Map. The Map Pack listings sometimes appear at the top of the search, making it as important as the organic listings. Ranking well in these listings is completely different than organic search. These listings are partially reliant on Google Reviews and Google Plus Business pages, unlike the organic listings. Some best practices for optimizing these listings are:
Regularly post on the Google Plus Business Page
Have clients review the business on the companies Google Plus Business Page
Fill out all company information

Address
Phone Number
Website Address
Hours
Business Categories
Description
Photos
Trusted Local Directories
Local directories area a great way to take up more listings in the SERP. Be sure that all of the information on these listings is accurate and matches what is listed in the Google Plus Business page. Information from these listings is used in the Google local listing for a location.
Some recommended directories for all business to be included on are:
Enhanced Content Providers
Enhanced content providers are another great way to increase real estate in the SERP. A fine-tuned and engaged profile can rank very well for a brand or category search. The information from these websites may also be used to improve the Google Local Listing for a location.
Some recommended enhanced content providers for all businesses include:
Social Media
Social media sites often will rank well for brand searches. When creating these profiles, be sure to use services or product terms so search engines can associate the profile with the niche. To prevent other businesses from encroaching on your brand terms, it is a best practice to have active profiles on the major Social Media platforms. Be sure that all the information on these profiles is accurate and matches what appears on the Google Plus Business Page.
Some recommended social media platforms for all business to be active on include:
Media Hits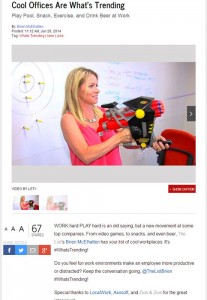 Both national and local media hits are great for a business (especially if you can get a link). These instances often rank very well for a brand or category. This is especially true for local search; if a local news entity can write something about a business, this article can rank very well for local queries. Being in an article like "Ted's Hot Dogs in Tempe named among country's best for a frank" is local search gold.
Reviews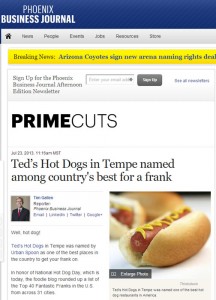 Reviews on any platform help build credibility for a business. These reviews may be shown in the SERP as an average rating. In the case of Google Plus Business reviews, they may help improve a location's ranking.
Getting reviews can be difficult. Here are some tips to increase the reviews for your business:
Place signage in-store asking for reviews on certain platforms
Place a button on the business website asking for reviews
Place texts in email signatures asking for reviews
Send out a customer satisfaction survey, then if a person is positive in their survey, automatically follow up with a link to the review site of your choice
Maintenance
After all these strategies have been implemented, it is important to track what is ranking well and why. Every industry and location is going to be different, so finding the cause for something ranking well or poorly is imperative. Use this information to test and refine strategies until something works.
Using tools like Google Analytics and Google Plus Business pages insights to see where traffic is coming from and what is working best will help you maintain your local search strategies. The data from these tools will tell a story of where customers are coming from and how they got there.  Use this to your advantage when formulating your continued strategy.
Tools
This tool will find all of your current listings on local search engines to find if they exist, are completed and are accurate.
This tool helps determine what business category to choose.