How to take pictures at an event
Successfully photographing an event is something many advertising agencies and photographers need to do for their clients. The difference between shooting an event and shooting in a studio or on location is that there is rarely a chance for a redo. The amount of time, money, and resources put into most events is way too high to do the event all over again, just for another chance at capturing better pictures. You wouldn't expect a famous singer to perform their concert all over again because the photographer messed up, just like you wouldn't expect a company to hold their day-long seminar a second time only because the right pictures weren't taken. In this article, we'll give you some tips and guidelines on how you can successfully photograph an event and have a happy client in the end.
Planning
What is the event about?
So you've been asked to shoot an event and have your calendar all marked off for it, now it's time to plan. Unfortunately, new photographers often miss a very important step; they don't plan ahead of time to ensure that things don't go wrong. Those who don't have a plan show up to the event assuming they know what it's all about and what gear they may need. To start your planning, you'll want to find out all you can about the event. Here is a great checklist for you to go over with the event coordinator to get a good sense of what you should expect.
What is the event about? (history, why and what)
Who are the important people? (leaders, founders and guests)
What will the attire be? (black tie, formal, business or business casual)
Is there an event schedule?
Is there any important information you should be aware of?
What is the venue?
Once you have a good sense of what the event is about, it's time to check out the venue. Every venue is different when it comes to lighting, size, and even rules regarding photography. For photographers unfamiliar with a particular venue, it's a good idea to try and get a tour at least three or four days before the event. This will help you plan what lighting and equipment you may need and learn whether or not they have rules regarding flash photography or photos taken in certain areas. Some venues may even set up the lighting the exact way it'll be the day of the event, allowing you to take some test shots to help determine the proper equipment you'll need.
Gear
Now that you have a sense of the event and venue, it's time to make sure you have all the right equipment necessary to get the best shots possible. Without the right equipment, you may be left with hundreds of unusable images and a very dissatisfied customer. We'll go through a few pieces of gear you'll want to make sure you have, but keep in mind it'll vary for each photographer, so we'll keep it basic.
Camera
The first piece of equipment should be fairly obvious, and that's a camera. You'll want a digital SLR with the capabilities of shooting in high ISO while still producing good quality images. You'd be surprised how many people think they can shoot an entire event on a little, most often out-dated, point-and-shoot camera. While point-and-shoots have come a long way over the years, you'll hardly ever find a successful event photographer using just that. Being able to shoot in high ISO, while maintaining high quality, will help for indoor events where flash photography may not be the best option. If you are a photographer just starting out or are a part of an agency with limited resources, finding an SLR with high quality ISO capability can be difficult, but with additional pieces of gear, you can help make up for it. If you're able to, having a second camera is a great idea. Having a second camera allows you to have two lenses set up, so you can quickly switch between the two, allowing one to serve as a backup in case the other camera fails.
Lenses
Now that you have your camera, it's time to check your lenses. Here is where opinions will vary from photographer to photographer on what lenses are best and which you should use for specific shots. To keep it simple, picking your own lenses requires you to do your own research. To help, here are a couple tips on selecting the right lenses to use for events.
Large aperture

Lenses with a large aperture (1.2-2.8) will help you the most in low light situations by bringing in more light. These lenses also help you with focusing in on detail shots.

Prime lenses

Prime lenses are lenses with a fixed focal length like a 50mm or 85mm. Prime lenses also help keep your shots looking uniform so you'll spend less time zooming in and out.

Telephoto Zoom lenses

Telephoto lenses gives you a large range of zoom, allowing you to be at the back of a venue but still get a good shot of the speaker. These lenses also allow you to experiment more with different angles and give you a different feel and depth of field in the images.
Flashes
The next piece of equipment for you to consider when shooting an event is an external flash. Having an off-camera flash allows you to add light to a scene in a more pleasing way than a typical built-in flash would. Flashes are used by most event photographers because they can simply be placed on top of the camera, have easily changeable settings, and can evenly light a subject. They come in handy when taking group shots and portraits during a busy event and can also be used as extra lights around a venue.
Additional Lights
After getting a feel for the event and venue, you may realize you're going to need extra lights to get the right images. There are many different lighting systems out there photographers go to for events. One popular setup is using a couple flashes set up on umbrella kitsusing wireless sync systems. These will give you the chance to set your lights up practically anywhere in the venue and have them go off only when you want them too. Since the lights don't require any plugs, photographers are able to move them wherever they'd like and easily store them in equipment bags. Aside from umbrellas, you'll find other systems like ALIENBEES or ProFoto that allow you to set up more professional lighting in various areas while still being able to control the light. Overall, your lighting choices will all depend on what you already have, what your budget is like, what event you're shooting for, and what equipment you're comfortable using.
Accessories & Extras
Last on our event gear list is accessories and extras. Before you head out of the house, you'll want to triple check this list so you don't run into any frantic moments during the event.
Extra batteries (camera, flash and wireless sync system)
Extra memory cards (lots of backups in a protective case)
Dust cloth for your lenses
Water and snack (you'll be surprised how thirsty you'll get and how little time you may have to eat)
Tissues (hey, you never know)
Dental floss and pocket mirror (your subjects will thank you for this)
Shooting
Tips for Shooting
So it's finally the day of the event and the best part has arrived, shooting! Like the other categories, this one will also vary depending on you as a photographer, the event, and what the client may want and expect from you. Here we have a list of shots for you to consider when shooting at the event.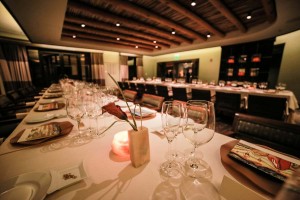 Venue

If possible, get a large shot of the entire venue. You may want to arrive early to get these shots before they're full of people. You'll also want to get another shot after the people have arrived to capture the venue full of guests enjoying their time while attending the event.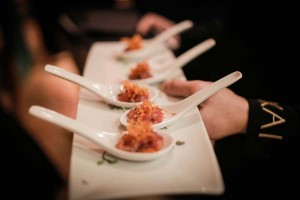 Details

Grab detail shots of everything! It may seem a little silly, but you'll want to get a shot of all the tables, the name cards and tags, menus and centerpieces, and even the entrance to the venue. After all is said and done, your client may want to remember some of the smaller details for future events, or their event planner may want them to show their work to future clients.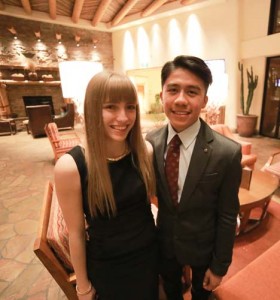 Posed

Pull together little groups of people at their tables or during mixers.
Make sure you get a shot of every important person at the event.
If possible, try for a large group shot of everyone attending the event.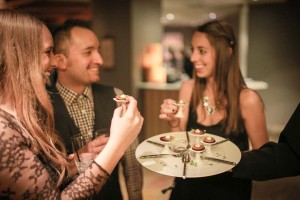 Candid

Get candid shots of people signing in and as guests are mingling and meeting each other.
Take shots of the presenters as they are presenting and also shots of the audience during this time.
Don't get pictures of people eating. These hardly ever turn out good and you'll quickly get on their bad sides if you get a shot of them looking unattractive with their mouths full of food.
Be Comfortable
As a photographer, the need to be comfortable and presentable around others is very important. You want to be comfortable approaching people and asking to take their picture, which in return will make them feel comfortable with you. A lot of people get nervous in front of cameras and sometimes rely on the photographer to make them feel more relaxed by talking to them. Be polite when photographing and don't interrupt conversations that look important or, like mentioned before, take pictures of people eating.
Conclusion
With every event and clients' needs being different, you'll get to learn and grow from each one. Being able to successfully photograph an event allows agencies to keep things in-house and allows photographers the chance to grow their portfolio and experiences.