Who are we talking about? And what are we selling?
Senior Living has become a catch-all buzzword. It encompasses a wide range of senior-targeted residential and healthcare options such as 55+ age-restricted communities or master-planned communities with 55+ designated neighborhoods; independent living, assisted living, memory care, rehabilitation or skilled nursing communities, or life plan communities that offer some or all aforementioned options; at-home services that provide either medical or non-medical support allowing people to live in their homes; and ancillary support services such as respite care, hospice care, or wellness classes and programming.
Confused yet? Imagine being 55 or older and feeling bombarded with all these choices.
The ultimate sales job
Very few products cost more in emotional decision making and hard assets than purchasing a home and moving. People have emotional ties and memories to their current homes. They have frequently made personalization or improvements to their home to which they feel monetarily tied.
Ideally, a move to any style of retirement community is made from choice, not necessity. The product for sale goes beyond real estate; it's a lifestyle, and many times, the unforeseen peace-of-mind for the future. People may assume it's going to be expensive and restricted, and many also believe they are "not ready." Engaging prospective buyers/residents and nurturing leads through the sales life cycle can be task heavy and time consuming. Here are five considerations to keep in mind.
1. Avoid overgeneralizing the 'senior' consumer
The first lesson in senior living marketing is to not label the consumer as 'senior.'  By nature, people don't like to be categorized by a generation or bucketed together with others they may not associate with (as a 'millennial,' I relate to this). Furthermore, people view themselves as being younger than they are perceived. By overgeneralizing the older adult audience in photos and language, those communications may turn-off or cause someone to self-disqualify for the product or service they perceive themselves 'not-ready' for.
However, for the sake of identifying a target market and therefore marketing considerations, we must internally consider who our audience is – including age, motivations, buying habits, socioeconomic status, and geographic location.
We are currently in a crux, where the Silent Generation (those born before 1945) and Baby Boomers (1946-1964) are reaching or are beyond the retirement age and making plans for how they will live for the remainder of their years. Those generations have very different buying habits and define value differently. For the time being, communications messaging and channels need to be diverse in order to relate and attract both consumer markets.
2. Assume your consumers are undereducated
Navigating the world of retirement living offerings and services for older adult consumers is confusing. The mix of communities, care levels, agreement/pricing options, and types of services and amenities available make it hard for apples-to-apples comparisons between options.
For professionals who have dedicated their lives serving older adults by working in retirement communities, or for services that support aging individuals, terminology not understood by the general consumer starts to be used in an assumptive "buzz-wordy" way. Consumers may be confused by industry terms they're unfamiliar with. And they may have outdated misperceptions of what retirement communities offer.
Printed brochures and direct mail invitations (as well as digital ads, websites, and emails) should serve as tools to educate prospective leads as well as promote a specific product or service. If communications do not speak the language of the consumer, value cannot be created and the likelihood a connection will be made is diminished.
3. Older adults are actively using the internet and so should you
Everett M. Rogers, a communication scholar and sociologist, explained five types of adopters for products and innovations:
Innovators
Early adopters
Early majority
Late majority
Laggards
When it comes to technology use, the majority of older adults usually fall in the late adopters or laggards stage.
But times are changing. Basic online searching and researching, using email and social media platforms have reached those later phases. In May 2017, the Pew Research Center reported that roughly two-thirds of those 65 and older go online daily. The adoption of internet, smartphones, tablets, and social media has been on a steady incline for the last 10 years with projections continuing to rise.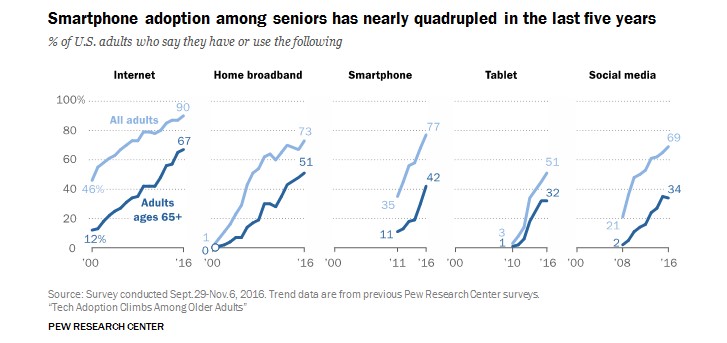 It's clear that older adults are using the internet, and if you are selling products or services to this demographic, you should be, too. Gone are the days of creating a brochure website that sits for five to 10 years with static content. Modern websites should serve as marketing strategies with lead generation forms, visual and interactive features, dynamic content, and resource tools – such as blogs, news articles, and event listings. User experience (UX) research should be utilized to ensure that websites are user-friendly and easy to navigate. A sample of common tools available include heatmaps, click tests, and task completion tests. A full list of user tools and how the results can help you improve the user experience can be found in our article 7 Critical User Experience Research Tools and How To Use Them.
4. Customize communications for lead nurturing
It can be cumbersome for an onsite marketing team to take the necessary time and to balance mass communications prospects within a leads management system and personalized communication.  Blanketed direct mail and email efforts can be sent to a database. However, marketing automation is a digital tool that can bridge the gap and simplify the process. If you're just getting started with marketing automation, check out our article Choosing the Right Marketing Automation Platform to help you determine which is best for your needs.
Leads generated from website contact forms will receive a score based on their interaction with the website – number of pages visited, length of time, etc. Based on their score, a lead will receive dedicated email flows – starting with introductory information moving toward more specific content that supports a purchase. When someone's score rises and hits a specific threshold, a trigger will notify a sales counselor that the consumer is ready to be engaged. Leads who are entered into the CRM system by calling, a referral, or walk-ins are not excluded from the lead-nurturing program and will still receive a lead score and email flows.
Because most CRMs or lead management tools already classify leads using a scoring or categorical system of cold to hot, application and integration to marketing automation becomes simplified.
5. Review lead generation and buyer data, then optimize
As with marketing any product or service where advertising dollars are being allocated, frequent reviews of results may support tactics or introduce opportunities to make changes to improve ROI.
Industry benchmarks such as cost per lead/prospect or buyer and geographic analysis may be evaluated annually. While more specific local KPIs such as leads generated by a specific source – TV, digital ad spend, or out-of-home media – may be evaluated in shorter monthly or quarterly sprints, so adjustments may be made.
Having a capable team of marketing and sales professionals actively nurturing leads is only the start when it comes to successfully marketing any product or service. At the end of the day, it's a numbers game, but one in which you can dramatically improve your odds.