By and large, if you can think it, you can buy it – online. Sales and services that were traditionally an in-person transaction have quickly moved to be supported online. Thanks to the Coronavirus, lagging industries who had not yet jumped onto a fully digital sales process have also made the shift.  For these products and services, it's a no brainer that technology and marketing would merge to support the customer journey.
Now, let's really think about it. Will we ever live in a world where haircuts are completed 100% online? Or how about an A/C repair on your home? Could you imagine a fully automated home sale? Like many, you may order and receive dinner through an app on your phone, but the food isn't cooking or delivering itself. Sure, portions of the sale may occur online without human interaction, but the human-service element is essential.
Whether a transaction takes place 100% online or with a mix of online and in-person interactions, it's necessary to consider how your customer's journey is complemented by a blend of marketing and technology.
Marketing and Technology blended to support your business goals – MarTech
MarTech is the newest marketing jargon for describing the combination of technologies companies use to support their marketing goals.  Examples of MarTech covered below include:
Customer relationship management
Customer data platforms
Digital marketing channels including marketing automation, paid search and paid media.
If you only recognize a couple of those terms, don't be intimated.  While it's important to know what tools benefit your marketing efforts, leave the sausage making up to the professionals. The image below demonstrates an example of a MarTech stack. Each technology serves an important part in customizing the advertisements your potential, current, or past costumers may receive to encourage engagement with your brand.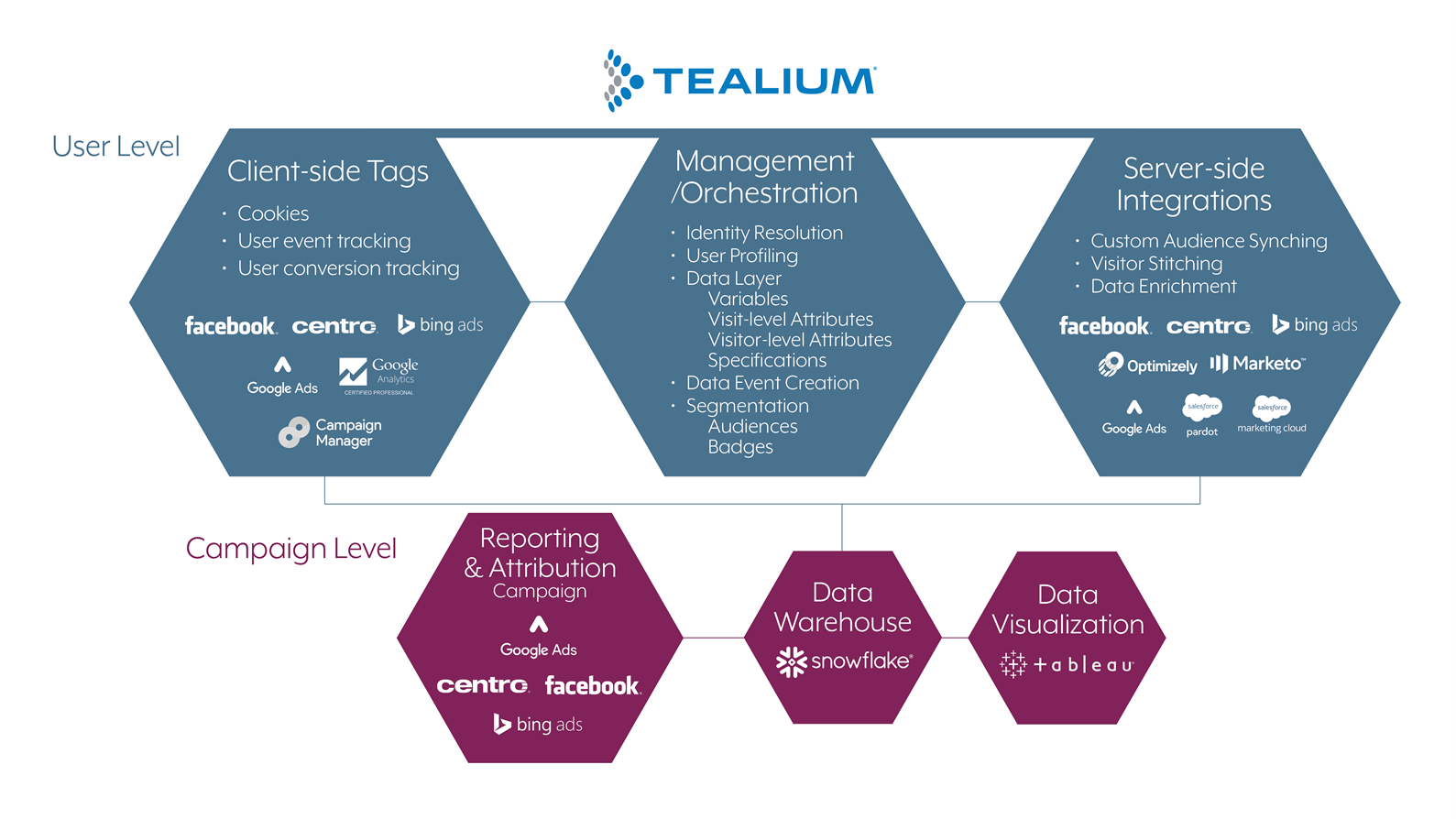 Integrating several technologies for your MarTech stack will require several disciplines with deep knowledge of your CRM, CDP, marketing automation specialists and/or digital marketing specialists. It's not essential to launch your MarTech stack at its maximum capacity. However, it's important to choose tools and technologies with an opportunity to integrate and build from. Using out-of-the box technologies specific to only one channel or industry may have limitations requiring work-arounds once you are ready to expand your MarTech stack.
Every customer has a journey
The customer journey is unique for each individual once they have a need or desire for any product or service. What is the trigger for someone to gain interest in the product, service, or brand? How does the customer research and compare brands? Once the decision has been made to purchase, how does that transaction take place? What is the post-purchase experience? For some large items like a home, the purchase may only take place a handful of times in a lifetime. For other brands, the lifetime value of a customer could grow, potentially indefinitely.
While each journey is unique, it's important to define and map out the general customer journey that may take place for your brand. Take into account the length of the journey from the initial trigger to the final purchase. How many touchpoints are there along the way? Is it possible to weave together digital and in-person touchpoints, or will the customer avoid or reject any personalized interactions? It's important to define the actual customer journey through qualitative and quantitative research as opposed to defining a strict desired journey that may not reflect the true experience.
The customer journey below demonstrates the journey an individual may have when scheduling a home service appointment.  In this example, there are both digital and in-person interactions with customer service representatives and technicians. Furthermore, the journey is broken into two phases: new customer acquisition and re-engaging customers to increase their customer lifetime value.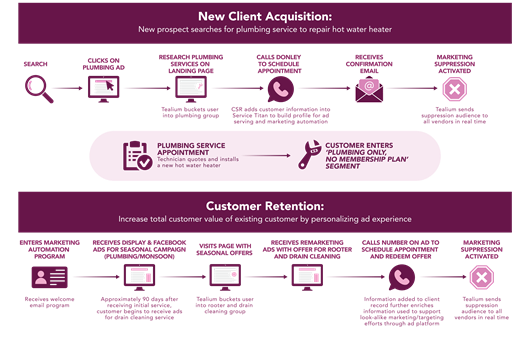 The remainder of this article is dedicated to defining and providing considerations for the marketing technologies that power the customer journey.
Of course you already have a CRM
Definition: Customer Relationship Management (CRM) allows business to enter valuable information on prospective, active and past customers. The database may (and should) be used for recording customer interactions with your organization, reporting on valuable insights, supporting onsite sales activities, and communicating appropriately to segments within your database.
Considerations:  Aim to use a CRM that allows third party applications, tools, or application programming interfaces (API). If this is starting to sound too complicated, think of an API as a bridge for data, connecting two separate technologies. The ability to pull data from your CRM to other technologies allows for parsing and segmenting your records to better customize your communications in real time. Furthermore, the reporting and insights generated will paint a clear picture of gestation periods before a purchase, effective marketing channels and campaigns, and give a clear indicator of ROI. Using a CRM without the ability to directly connect to other marketing technologies within your stack will require manual infrequent transfers of data – potentially missing sales and revenue opportunities.
Customer Data Platform – The centerpiece of your MarTech stack
Definition: A customer data platform, or CDP, allows you to manage customer data. Potential or existing customers may be interacting with several platforms – such as your website, Facebook page, or digital ads they click online. By using a customer data platform, you can track customer interactions and customize the next piece of content they receive.  A CDP can stich together what you know about your customer within the CRM and their interactions online to create a fuller picture of their customer journey and help predict their next step.
Consideration: Using a CDP is the next big thing. The most advanced marketers are using a CDP to ultra-customize marketing communications across every digital channel. However, this technology is not out of reach for organizations who may consider themselves less sophisticated. The customer journey example at the beginning of this article is powered by a CDP. And yet the example shows the integration of just a few of the many available marketing channels.
Digital Marketing Channels
Definition: When defining digital marketing channels, think of the traditional channels and their digital equivalent. For example: snail mail vs. email, yellow page ads vs. Google paid search, newspaper ads vs. display/banner ads found on your favorite blog or online edition of the paper. The opportunity for organic and paid digital media opportunities are endless.
Considerations: The digital landscape is rapidly evolving. The previous upper echelon of having an 'integrated marketing strategy', utilizing email marketing or more advanced marketing automation, social media, traditional or advanced TV commercials, radio or streaming spots, or banner ads with cohesive branding and campaign messaging, considered the traditional sales funnel, but by and large ignored individual customer journeys.
Visualize the results of your marketing communications in real-time – and act now!
Definition: Data visualization uses graphs, charts and other visual tools in order to tell the story for how effective your marketing strategy is at converting customers and generating revenue.
Considerations: Every individual marketing channel and your CRM is likely using data visualization to show insights. However, reviewing all the data through silos will make it difficult for even the most data savvy analysists to receive the answers to the question: Is it all working?
Real-time reporting tools allowing the merge of several data sources will allow marketers to get to the answer more quickly. Traditionally campaign reporting periods are done post implementation or following a lapse in time. Using real-time reporting allows for fast decision making while you still have the dollars and time available to make optimizations.
The future in marketing is here – but not for long
The continued innovation for marketing and technology requires marketing professionals to continue immersing themselves in the next big thing. Often done so by getting in the weeds and learning the technical and tactical capabilities of new applications and then taking a step back and fitting those new capabilities within an existing marketing strategy. Intimidating – absolutely! But not impossible. Having a general understanding of what is possible can open the conversation for MarTech solutions that fit traditional and digital products and services – and complement, not replace the human component.