We have all seen the ever-expanding marketing technology (MarTech) landscape. A wide pool of software, including platforms like Tealium and Airship, all aim to make the marketer's job a little easier by sending consumers the right messaging at the right time. Without a strategy, it rarely works out that perfectly. Quite often, that landscape can start to look like a wasteland of underutilized, fragmented, and siloed tools with no ROI in sight.
This chart from Scott Brinker's piece in Chief Martec – demonstrates the balance of business effectiveness and technology stack expansion.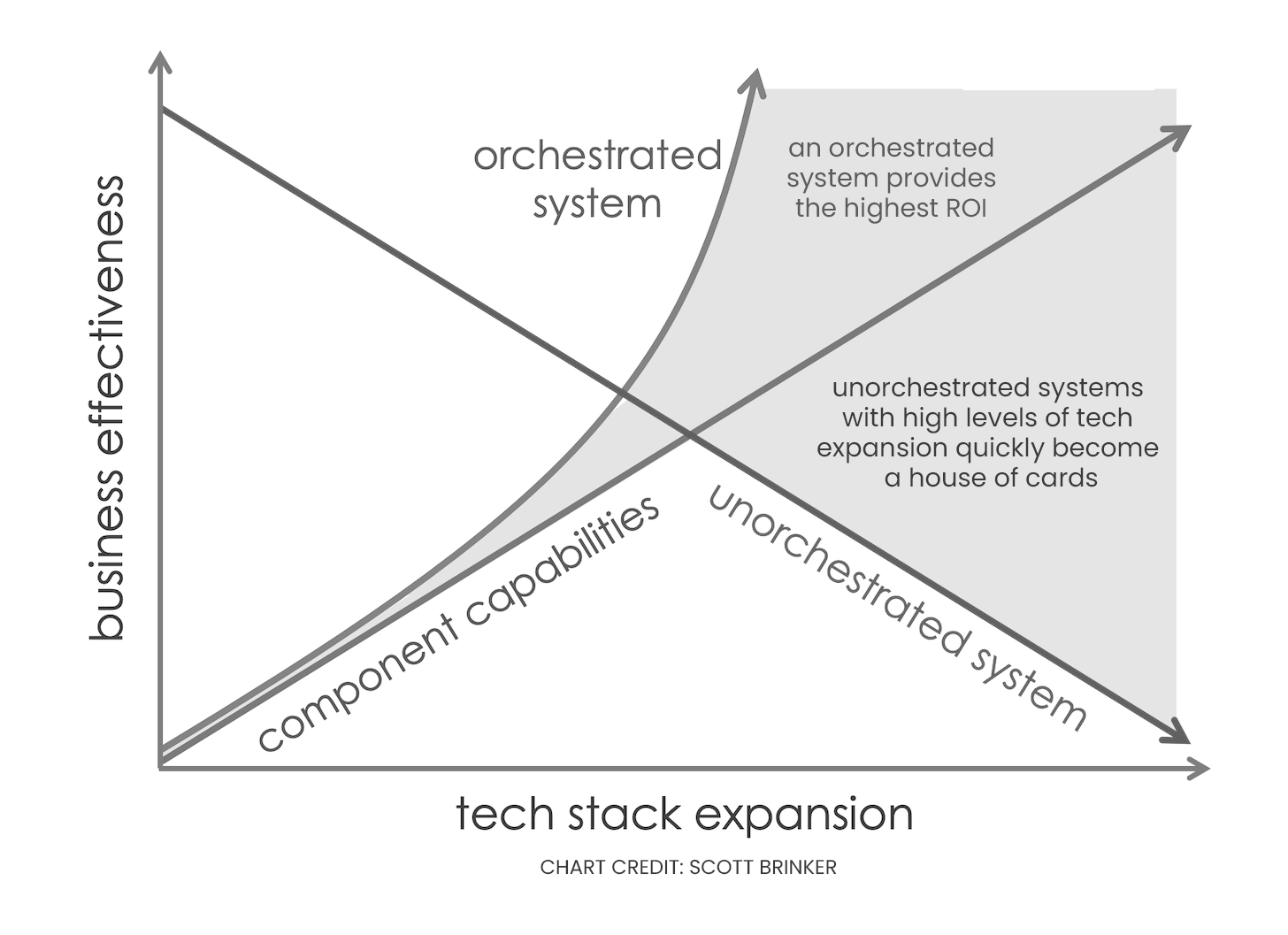 Business Effectiveness: the positive value that high functioning people, processes, and technologies have upon the business
Tech Stack Expansion: the growth of tools used to solve business problems
Orchestrated vs Unorchestrated Systems: like a good orchestra, various technologies work better when they are integrated and used together vs independently
Growth of the technology stack without a strategy-first approach will sacrifice your business effectiveness by generating an unorchestrated system. Quite often this is where a main point of failure in new marketing technology programs is seen. Teams are quick to add a new tool into the mix, fail to get it launched and/or integrated with the other tools in their stack, and end up with technology debt where they are doing vendor evaluations as soon as their contract period is up. Or they are left trying to explain the ROI that tool provided in order to win budgets for next year.
As a MarTech partner agency, we strive to mitigate this risk by:
Only recommending tools when they are truly needed
Deploying a strategy first rollout starting with realistic and achievable crawl, walk, run use cases especially when exploring an interconnected solution approach
The key? Building a sustainable marketing technology stack that start with use cases.
Sustainable Marketing Technology Stacks
Implementing a sustainable marketing technology stack is the foundation of running a successful marketing technology program that is effective for your business. A sustainable marketing technology stack is, itself, an orchestrated system by design. Technology stack expansion is positively restricted, i.e. there needs to be a use case and a limitation with the existing stack. But what is a sustainable marketing technology stack?
A sustainable marketing technology stack…
Eliminates unnecessary redundancies
Is interconnected with other parts of the stack
Is use case driven
Is well documented and maintained
Has an owner and is evangelized
Is constantly being reviewed
Comes with training and onboarding materials for all teams at all levels
Let's take a quick look at a platform like Shopify. Shopify has taken the e-commerce world by storm by offering a plethora of tools and integration points that historically required 2+ systems.
Popular conversion APIs (ex. Facebook CAPI)
Customer list integrations with top players like Google and Facebook
Integrations with popular tools such as Google Analytics and various 3rd party marketing pixels
An expanding marketplace for 3rd party tools and add-ons
With the acquisition of Klaviyo, marketing automation (and maybe a CDP on the horizon?)
It used to take several technologies to achieve what Shopify offers. With brands switching to Shopify, we have seen consolidation of their marketing technology stack because Shopify provides a well orchestrated system of interconnected parts allowing for the execution of complex use cases.
A Use Case Driven Start
Many organizations will be quick to add a new tool or technology to relieve a broken process, automate a specific job, engage better with the customer etc. Quite often we see this failure as the tool or technology is added to fix one broken cog in the wheel, versus understanding the bigger picture of how that "broken cog" impacts the business both upstream and downstream. When we engage with clients who are at this step of the process, we quickly ground them and bring them back to the main problem they are trying to solve. It is essential that their MarTech tool fits in with other parts of the business and technology.
Developing Your First Use Case
Always start with your crawl use case. Keep it simple and limited at first. Once you have it developed, circulate it with the team and ensure alignment across all required stakeholders. Once it is refined and agreed upon, it is time to execute. By starting small, and with a crawl use case, you will prove early success of the technology that will boost confidence, before proceeding to more advanced use cases.
It is important to ask the right questions to ensure the first use case can be a success:
Is the use case realistic and achievable in a timely manner?
Do we have the right people/teams? Is everyone aligned and do they all have buy-in?
Do we have the right processes in place to ensure proper execution of the use case?
What does success look like for this use case?
In Practice
Acme Co is an ecommerce site with a strong loyalty program with customers purchasing multiple times per year. Currently, Acme Co's media spend is mostly on Facebook acquiring new customers and they are excluding purchasers from their targeting (or attempting to). There are plans to launch on Snapchat, TikTok, and other platforms in the next quarter. Recently, they have noticed in Facebook Business Manager that their return on ad spend (ROAS) and purchase conversions are falling sharply.
Mark, the marketing manager, has a theory that purchases are not properly tracked by Facebook due to customers restricting cookies and the rise of ad blockers leading to previous purchasers seeing ads. Acme Co has Google Analytics, and they are seeing more purchases attributed to Facebook there than in Facebook itself, confirming his theory that Facebook is not properly capturing conversions. Mark has identified his first use case – ensuring that conversions are properly tracked for suppressing purchasers from seeing ads.
Mark has brought together Acme Co's ecommerce platform team, IT team, and their marketing/analytics agency to review the use case and gain alignment. Upon reviewing with the different teams, the marketing/analytics agency identified that solving the leak with Facebook will not solve future leaks with other conversion API dependent channels such as Snapchat and TikTok. The resolution will need to be far-reaching and not a bespoke solution for one platform.
The IT and ecommerce platform teams have agreed to start reviewing technical solutions including server-side tag managers and customer data platforms (CDPs). CDPs often have elements that help facilitate the suppression of purchasers as well as Conversion API solutions for popular platforms. Acme Co is a brand with strong loyalty and repeat purchasers; a CDP is a potential fit for this use case and many others including: LTV look-a-like activation, email and omni-channel campaign execution, nurture campaigns for previous purchases etc.
Breaking down Mark's use case
Is the use case realistic and achievable in a timely manner?

Yes, suppression is often a starter use case for many brands expanding into building their marketing technology stack.

Do we have the right people/teams? Is everyone aligned and bought in?

Yes, Mark has gotten participation from all the right teams and stakeholders and gained alignment.

Do we have the right processes in place to ensure proper execution of the use case?

Yes, the right teams are involved, and their marching orders are understood. By bringing in multiple teams all viewing the problem at different angles, the teams can identify the potential addition of tools which would influence an orchestrated system.

What does success look like for this use case?

Success looks like proper suppression of previous purchasers leading to less wasted ad spend and a higher ROAS by leveraging Conversion APIs.
Continued Evolution
One final part of a successful marketing technology stack is that it is continuously evolving and being reviewed. If tools are underutilized or redundant, review it and possibly eliminate it. Do not let these tools linger as they can become compromised (unmaintained technology poses a security risk and a risk of PII data being leaked). Is there a new tool out there that can possibly replace two or more existing tools? Great, review it thoroughly and bring in all stakeholders before jumping to sign. Is there a manual process that is becoming a time suck or is faulty and leading to impacts downstream? Area of opportunity!
Looking to (re)build your MarTech stack as part of your 2023 New Year's resolution? Contact us today to discuss architecting a sustainable, business-effective, marketing technology stack.