How much time do you spend on your mobile device? IAB.com reported that 257 million Americans accessed the internet via computer or mobile device in December 2016, spending 1.5 trillion minutes online.
Consumers with Mobile Devices: How Many & How Often
According to Pew Research Center, roughly three-quarters of Americans own a smartphone. That's about 77%. Here's another stat for your noggin: 70% of Americans are on social media. Aside from simply owning a mobile device, one can also interact on social media or the web through their Android, Apple, or Windows. The audience is there—that's your cue mobile marketing!
In 2016, mobile represented almost seven-in-ten digital media minutes, and smartphone apps alone accounted for half of all digital time spent, according to comScore. Growth has been more consistent on mobile. In 2017, mobile phone internet users went up 6% and mobile social network went up 5% from 2016.
Will a person use their smartphone as much or more than other platforms? In Q1 of 2017, The Nielsen Company provided metrics showing smartphones are used nearly every day for adults, persons 18-34, persons 35-49, and persons 50+ compared to TV, radio, TV-connected devices, PC, and tablets. Between the four demographics mentioned, people spend an average of 16.8 hours a week on their smartphones—that's 2.4 hours a day! In Q3 of 2017, Flurry analytics released data that stated the time spent on mobile devices is now at five hours a day.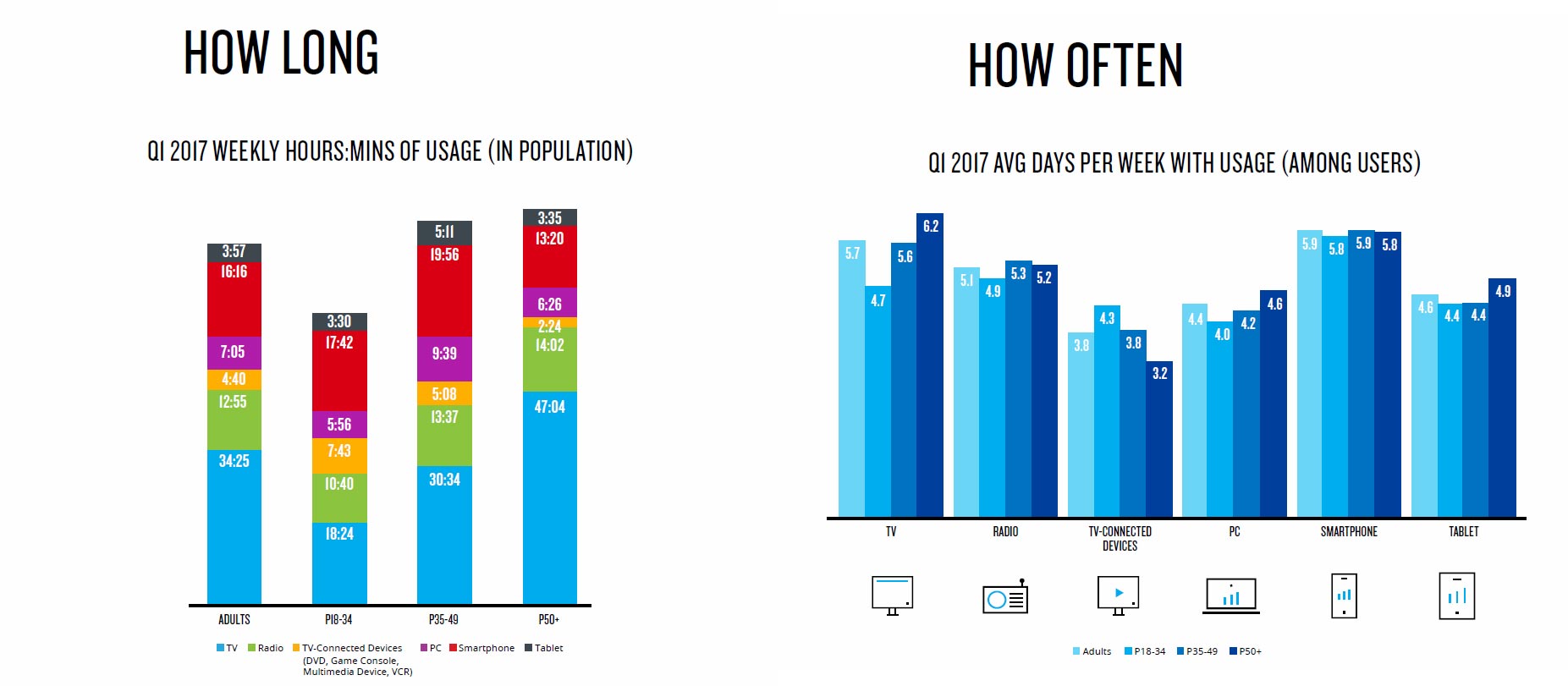 The Nielsen Company metrics also showed that adults over 18 spend about one hour and 41 minutes per day on their smartphone (app and web) and about one hour and four minutes per day on their smartphone (social media). The average reach between the two is 78%, which is about 191,691,046 adults over the age of 18. Mobile ad spending has gone over $58 billion this year, accounting for 70.3% of digital ad investment. It has been predicted to reach 79.2% by the year 2021.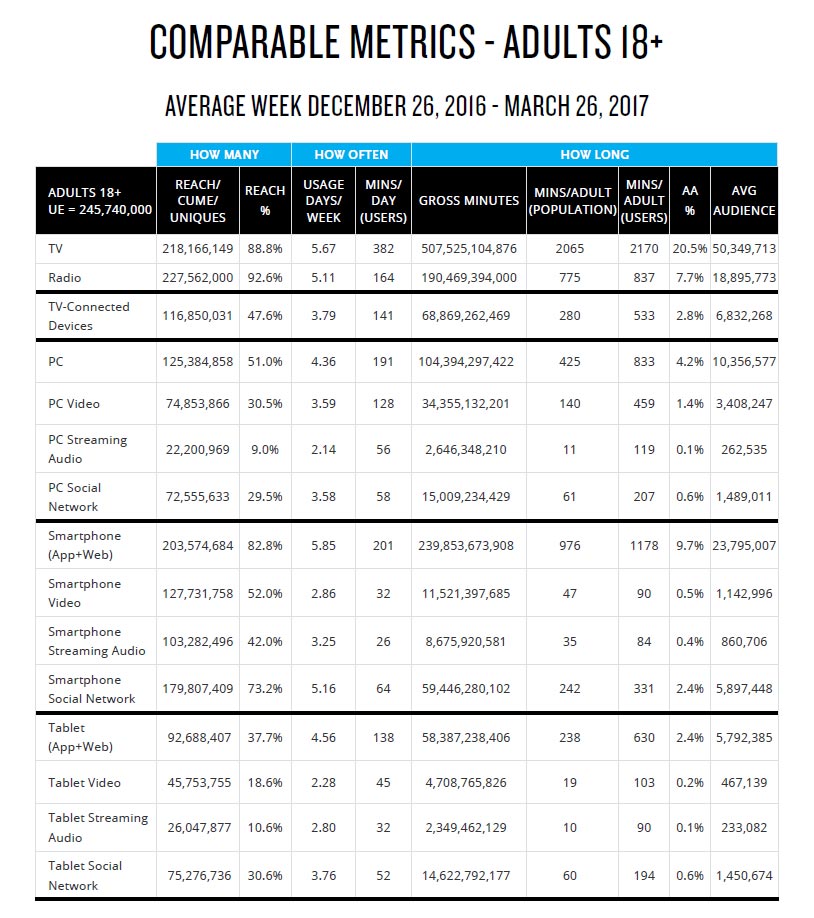 Per comScore, smartphone app usage time has increased among every age group in the past two years and is the highest among millennials. While every age group's population use their smartphone apps more over time, those 55-64 saw the greatest year-over-year increase with a 37% growth.
Mobile Devices vs. Desktops/Laptops
A mobile phone is typically not shared. In earlier digital marketing, a family might have a computer shared in a household. This limited knowing who your ad was being served to. Phones are more individualized, so you're more likely to reach the person you're targeting. There's less waste.
In 2015, Google stated that "more Google searches take place on mobile devices than on computers in 10 countries including the US and Japan." This hasn't changed. Desktop/Laptop-only users have gone down 11.8% from 2016, while mobile-only users have gone up 11.2% from 2016. Digital ads are more effective on mobile and tend to have a higher click through rate than desktop ads. Your ad spend will likely stay the same, but the time spent on designing mobile ads will pay off. One option available for mobile devices only is none other than Geofencing. It's a tool that shows ads to mobile users who are near your business. It can help businesses reach their targeted audience.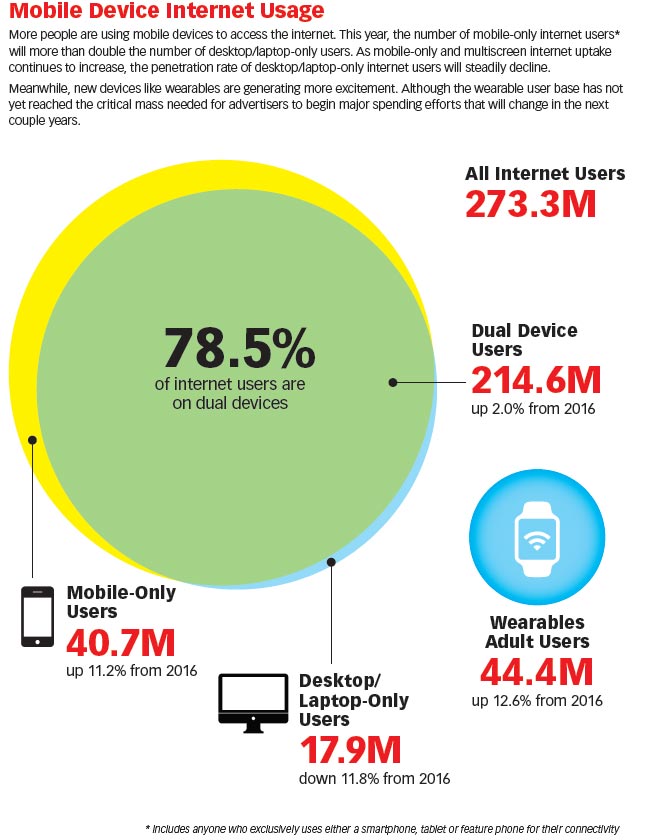 Emails, Push Notifications, and Analytics, Oh My!
We're in a day and age where people forget that their smartphone's main function is to make calls. EmailMonday states that 51% of email is now opened on a mobile device. The percentage of overall opens happening on a smartphone has gone up about 7% from 2015 to 2016. Another way for a business to interact with a user via smartphone is through their application's push notifications. A business can send an alert to invite users to a sale or gathering within a 50-mile radius. A business can also provide offers or encourage users to opt in by offering incentives. Push notifications get insight on customer behavior through an analytic tracking system. This means that the messages are tracked, along with the interaction times, devices, and situations which created the most engagement. While analytics are important for improving your app's performance and better understand user behavior, it's also important to write compelling push notifications that drive users to interact.
Users are more likely to recommend and buy from the business that has a better mobile experience. Would you recommend a business with a poorly designed mobile site or even a site that takes 19 seconds to load? One can't sacrifice content for speed or vise-versa. Sites that load in 5 seconds on mobile have observed more ad visibility and longer average sessions. The quality and quantity of content on a site both play a big role to why mobile traffic is on the rise.
If you're a business and don't know where to begin, there's a helpful tool with Google—PageSpeed Insights. You can enter a webpage to analyze and go from there. Once the analysis is complete, you'll have a separated mobile & desktop report that'll generate a score out of 100 and give you possible optimizations and a detailed guide on how to fix them.
Best Practices for Mobile Marketing
Make the most of mobile marketing by following these guidelines.
Simplicity is Key
Mobile devices have small screens. Remember that less is more. Crowded ads will drive users to scroll past. For digital ads and banners, keep the copy under 10 words. For text ads, stick to a character count of 30-30-80, which consists of two headlines up to 30 characters of text and one condensed description line of up to 80 characters.
Location, Location, Location
Earlier, I mentioned the Geofencing tool. Users often use their mobile devices to search for a nearby business, so be sure you're taking advantage of this. A business can show ads to mobile users within a radius. Aim for local marketing so you're aligning with users' searches.
Know Your Audience
The audience you're targeting should influence the kind of mobile ads you use. For example, if the you want to reach out to an audience interested in real estate, you may want to take advantage of in-app advertisements in Zillow or Trulia. If your audience is into gaming, utilize in-game ads.
Have a Lot of 'Back-Up' Plans
Experiment with multiple mobile marketing strategies. There are no set rules. Try experimenting with different strategies by tweaking your copy, images, or the timing to see what combination works best.
Track Your Results
Experimenting is great, just keep in mind that you should also track your results and how each strategy performed to see what works and what doesn't. You can see your results in mobile by integrating a conversion tracking solution into your app. Conversion tracking allows you to see what happens after someone clicks on your ad. With this tracking, you'll be able to see if they made a purchase or downloaded your app. If you have a gaming app, you'll be able to see how long and how frequently users are playing your game.
Conclusion
Mobile marketing must play a fundamental role in your overall marketing strategy. Smartphone ownership and smartphone app usage by every age group has increased within the last few years and the numbers will keep on increasing. At the start of 2017, all demographics were pushing an average of 2.4 hours a day spent on mobile, by Q3 2017, users spent five hours a day on a mobile device. Today, marketers are not just targeting a small group, but expanding the overall reach through mobile advertising. Mobile marketing strategies are not a one-and-done deal, but a big part of any long-term or short-term marking campaign.
As a marketer, make sure you're optimizing for mobile and focusing on mobile marketing best practices. This will give your brand an edge over the competition.