Many brands ignore their About page, opting to simply copy and paste their company boilerplate and move on. But, this oversight ignores the power of the About page when it comes to persuading a user to move through the sales funnel. In crowded industries where differentiation is key, a strong About page can be the difference between a sale and a lost lead. In a world where 52% of users choose to visit the About page after the homepage, it's more important than ever to make sure your About page exceeds expectations.
Read on to learn how (and why) to make your About page a centerpiece of your website strategy.
Make a Strong First Impression
If someone comes across your website in a Google search, or seeks you out based on word of mouth, your "About" page is likely where they'll go to learn what about makes you tick. That's why it's important to make a strong first impression, starting the customer relationship off on the right foot. Try to lead with your brand's single most important differentiator, or your "reason to believe." In other words, think of it this way: If someone could only remember one thing about your brand, what would you want it to be? Do you have a strong reputation for customer service, or are you proud of your secret family recipe? Have you been in business for many years, with accolades to show for it? Whatever your "reason to believe" is, it should be front and center on your About page.

In this example, Blue Flame Heating, Air & Electric starts their About page with an appeal to credibility. The headline establishes that they've been in business for multiple decades, while the copy introduces their strong reputation for environmentally-friendly products and services. In just two paragraphs, the user now has a sense of the brand's history and what separates them from other HVAC companies.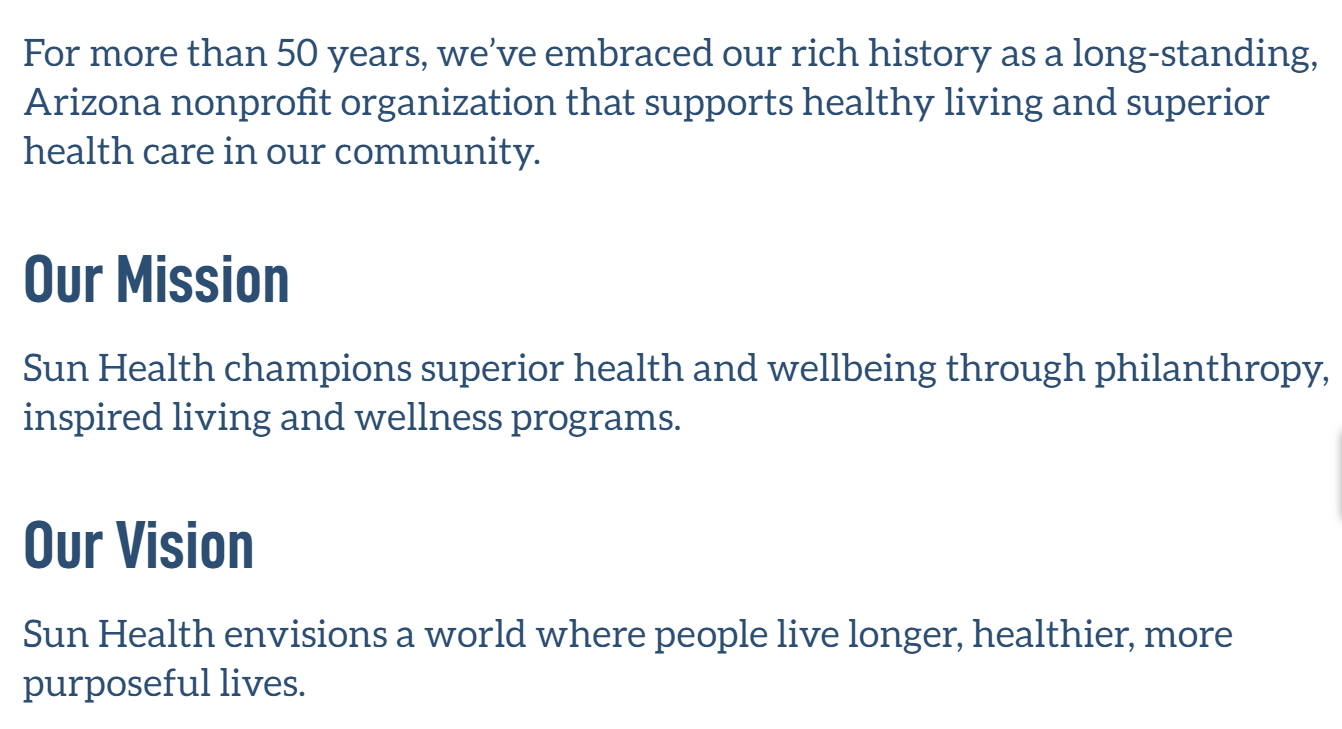 Sun Health makes a strong first impression with an introduction to their mission, vision, and values as a philanthropic organization. The clear, concise messaging ensures that the user can tell at a glance exactly what Sun Health stands for.
Tell Your Story
Your About page is the place to tell your brand's story and share your past successes with users. It's the place to be honest and represent your brand truthfully. It's not the place for a sales pitch, although you can still speak highly of your product or services. If you've never written your brand's story before, it's helpful to start with a brand voice guide. It'll help you narrow down how your brand communicates, by answering questions about:
Personality traits (is your brand cheerful, down to earth, or sophisticated?)
Tone (do you want your communications to be candid, or diplomatic?)
Style (is slang okay? Do you use contractions, or steer clear of the oxford comma?)
It may seem daunting, but building a brand voice guide pays off in the long run. You can learn more about how to go about it elsewhere on within our article.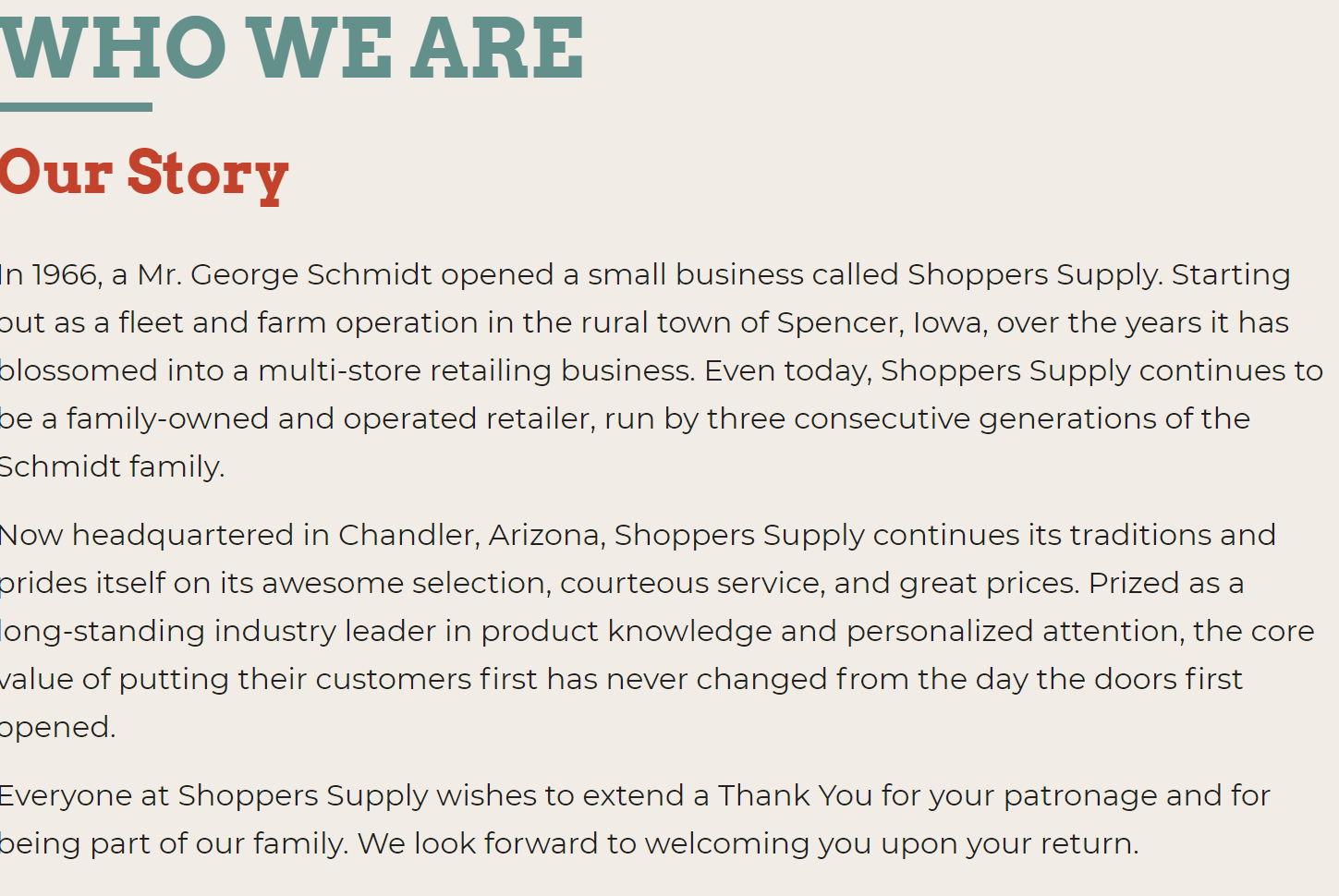 Shoppers Supply shares their story for users and helps illustrate the strong foundation that persists in their business into the present day. It's a great way to introduce users to the brand and establish it as credible, with years of experience to back it up.
Make It Visual
Well-written copy is important for an About page, but that doesn't mean you can neglect the visual aspect. Your About page is the place to introduce users to your brand's colors, style, and "feel." This could mean adding an image gallery, embedding a video, or even simply building visual interest through page design. Just viewing a white page with black text isn't enough to engage users—so make sure your About page is as interesting to look at as it is to read.
Barro's Pizza adds a fun visual twist to their About page with a timeline featuring real family photos. This helps reinforce their roots as a family-run restaurant and makes users feel like they're part of the family too.
Get Creative
If your brand is friendly, creative, and out-of-the-box, your About page should be too! Don't be afraid to stray away from the standard format. You can use video, audio, animation, or whatever medium speaks to your brand—and your audience. For example, if you're a fashion brand, showcasing some of your latest fits can help users learn more about your style. If customer service is at the heart of your brand, you can feature video testimonials from customers to strike an emotional chord. The possibilities are endless and getting creative ensures your About page leaves a lasting impression.
Venezia's Pizzeria puts their own spin on the "listicle" trend with an About page that lists the 10 reasons why customers love their pizza. With visuals, animations, and humor throughout, the page helps differentiate Venezia's from other pizza restaurants.
End Strong With a CTA
Putting together an About page without a clear and actionable CTA is like mixing all the ingredients for a cake but never putting it in the oven. In other words, there's no reward, no payoff for your audience. Your About page should provide a clear set of "next steps." Depending on what you want your visitors to accomplish, this could mean making a purchase, booking an appointment, or continuing to browse your site.
Optimize and Strategize
Once your About page is written, it's time to take a step back and look at it through a lens of SEO. If your About page isn't well-optimized, it won't rank high in search results. Lower rankings equal less visits, which means fewer potential customers will get to enjoy the great About page you put together.
Optimizing for SEO includes:
A descriptive and brief URL (such as "our-story" or "our-history")
An engaging title tag and description
Headlines (H1, H2, and so on) that include target keywords
Links to internal (and external) pages
Descriptive alt tags for any images
Short paragraphs broken up with bulleted lists, images, and more
Simple sentences that avoid industry lingo/complicated jargon
In terms of keywords, use tools such as Buzzsumo, SEMRush, and Google Trends to see what keywords get the most attention in your industry. You can also use tools such as Google Analytics to see what terms your website already ranks for as you narrow down the keyword you want to target.
Don't Forget About Mobile
Your About page should also look just as great on mobile as it does on desktop. According to Statista, mobile devices account for half of global web traffic. If your About page doesn't work on mobile, you could be making a poor impression on a significant portion of your audience. Of course, this differs by industry—if you know that your users primarily come from desktop thanks to insights from analytics, it's reasonable to prioritize desktop over mobile. That is, as long as the mobile version is still readable and communicates the same point as its desktop counterpart.
Next Steps
With the tips in this article, you can trust that your About page will serve as a great introduction to a great customer relationship. Remember, there's no one size fits all solution when it comes to About pages. The challenge (and fun) is finding out exactly how to share your story in a way that reflects everything that makes your brand unique. The good news is, there's no wrong answer—so don't be afraid to think outside the box.