How to Increase Marketing Effectiveness with a Pop Culture Flair
So it's possible that you feel as if your current marketing campaign is ineffective, and you are looking for a complete overhaul. Or, maybe your marketing is actually effective, but you want to give it a shot in the arm. It can be tough to know where to start when it comes to making a brand more relevant to your audience. Surprisingly, something that marketers and public relations pros often overlook are possible ties between their client(s) and pop culture.
Staying up-to-date on the latest trends in pop culture—whether it be TV, music, movies, reality stars, or celebrities—can become a real advantage for you or your client. Throughout this article, I will showcase two case studies that explain how we at Zion & Zion worked to stay on top of pop culture in order to benefit our clients.
How to Look for Pop Culture Tie-ins
First, think about what the issue/roadblock is that you feel your business is currently dealing with: lack of awareness, market share, introducing a new product, a concept that is hard to understand, etc.  What do you need to communicate to your audience in order to fix the issue at hand?
Flip through the latest US Weekly or watch The Today Show, and see what people are talking about right now. Whether it is a hot new movie, a rash of celebrity pregnancies or inappropriate conduct from a reality TV star, keep your eyes peeled for anything relevant.
You'll want something that has legs and that can stand up to a variety of different channels, from direct mail to web banners to in-store signage. Let your imagination roam a little, and then tie it all back to your question/answer to help increase your marketing effectiveness.
Below we'll review two examples from our own clients at Zion & Zion that highlight how something prevalent in pop culture was the focus of an integrated marketing campaign.
Pop Culture Marketing – Case Study #1
One great example comes with the case study of our client, Fascinations. For those unfamiliar with the company, they are an established romance superstore with 16 locations in Arizona, Colorado, and Texas. They specialize in lingerie, adult toys, bath & body products, costumes and clothing. The company had long suffered from a stigma of being dirty and risqué, based on some of its key product categories, despite having clean, well-lit stores, very knowledgeable employees and higher end merchandise. Fascinations was looking to get rid of the associated stigma and become viewed as a much more mainstream store.
Initially, we struggled with how to displace a long-held public perception and began looking at outside traditional marketing tactics. And then it appeared: a mention on The Today Show about a new book that was all the rage with suburban housewives called, "Fifty Shades of Grey."
Fifty Shades of a Grey is a popular romance novel written by E. L. James, released in 2011. This novel, while a true romance story at heart, quickly made headlines for being extremely erotic and highly graphic. Women (and men) all over the country, and all over the world for that matter, quickly began reading the first book, finishing the second and third books in the series shortly after, making it the go-to topic of conversation for quite some time.
After a fast read of the first book, we quickly jumped into the fray and developed an entire campaign leveraging the appeal and awareness of this book series, featuring social media posts and contests, live events, media pitches, in-store displays and more.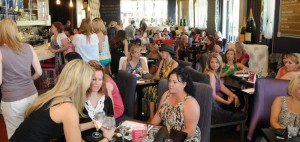 Our first event concept was to partner with a local, upscale bar/club for a book club event. We would showcase some of the products in a safe and comfortable environment to help reduce some of the "taboo" nature. Narcisse, a Champagne lounge in the trendy Scottsdale Quarter shopping center, was the location selected. We promoted in-store and on social media, pre-selling tickets online and at the door. We offered two experts to talk about how you can approach your partner if you are interested in exploring the themes of the novels, as well as how to use several of the products featured in the books.
The event was a sold out success with standing room only. Many guests stayed to ask our speakers questions and peruse the products. We offered gift bags and coupons to every attendee and were able to track that usage. Through the coupons we were able to determine that 43% of attendees shopped the store within two weeks of the event.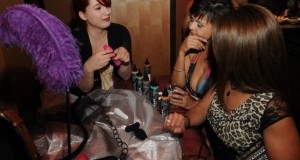 Next, we set up a series of events with the hot nightclub, The Mint, to recreate the "Red Room of Pain" from the books and sell products to club guests. We had product experts on hand to once again walk customers through some products and experience the brand with a few drinks in hand. The staff at the club dressed in outfits from the book and we hired models to pose for photos as "Christian Grey" in front of a branded step and repeat. Events were well attended and the staff answered a lot of questions.
All 16 Fascinations locations featured a "Fifty Shades of Grey" table with products from the book. We hired experts in BDSM to speak at the in-store "Let's Talk Sex" series, offering a glimpse into the secret life outlined in the novels.
We pitched media stories around the books' phenomenon, getting local broadcast stories with the Fascinations relationship expert and a story in the Arizona Republic highlighting the 200% sales increase in certain product categories that were popular in the book series.
We were able to sustain this campaign for several months. It continued to provide exciting and engaging content for our social media fans as plans for the film were announced and the casting guesses began.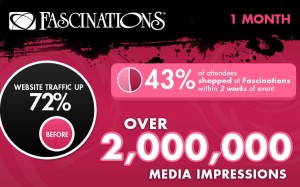 During the campaign, we saw website traffic increase 72% in just one month. While Fifty Shades became a pop culture whirlwind, Fascinations was able to benefit by being at the forefront of the wave and making it easy for a new customer group to find what they never knew they wanted.
Pop Culture Marketing – Case Study #2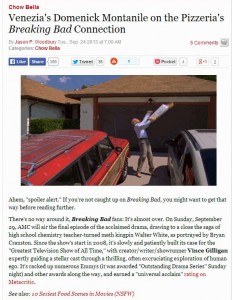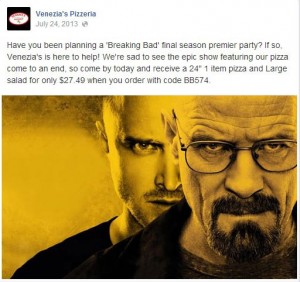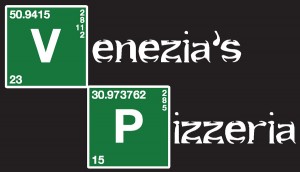 Pizza is one of the most popular foods to eat in any part of the country and Phoenix is no exception. Our client Venezia's, was looking to increase their market share in a crowded market. While the store's marketing was already doing a good job, they wanted to ramp it up. Venezia's is a family owned business with stores in Arizona and New Mexico, owned by several members of the family.
Lucky for them, one location in Albuquerque happened to be near the set of a small TV show that you might have heard of, AMC's "Breaking Bad." Someone on the staff was a fan and ordered pizzas for the set occasionally, one day ordering 10 of the Venezia's famous party pizzas. The scene that followed the ordering of these party pizzas became an iconic one for the first season of the show when Walter White throws the pizza on the roof.
What could have been a fun small piece of trivia was turned into a full on marketing campaign for the stores. We worked with the family in Arizona to create a slew of social media posts targeted to the popular show: offering Facebook specials on the nights the show aired, hijacking the show's hashtags on Twitter and interacting with fans who mentioned Venezia's while watching the show.
New t-shirts and hats were designed for the staff and sold to customers in-store. A new logo "As seen on Breaking Bad" was added to the pizza boxes.
We promoted the association in public relations efforts, with multiple hits on outlets such as the national TV show The Listand a feature on the local Chow Bella foodie blog that is part of Phoenix New Times.
Phoenix area stores received quite a bit of notoriety from the show and saw sales increase, especially as the show got closer to the end of its run. The Breaking Bad connection allowed Venezia's to introduce itself to a new audience and allowed it to become a household name in the Valley.
A Tip for Pop Culture Marketing
There are a ton of things that you can try to tie your business back to pop culture when you start thinking about it. Keep in mind however that many things in pop culture can also be trademarked items, so tread carefully when using visuals like logos and photos. Do some research or consult with a lawyer if you are really concerned.
Potential Pop Culture Tie-In Example
So let's talk through a different example. Your company sells hiking, camping and survival gear. The public generally thinks of your store as a great resource for equipment but you want to increase the frequency of their visits and increase your brand awareness.
A great pop culture tie-in for you would be "The Walking Dead," "The Hunger Games," or "Falling Skies." Below are just a few ideas of how to leverage tie-in across multiple channels:
Create displays of a "zombie" survival kit in stores
Advertise products tied to that concept in print and online
Pitch to media when the show airs or the movie hits theaters
Create social media infographics about basic wilderness skills
Offer in-store workshops on survival skills
Send weekly email blasts highlighting products that tie into your concept
Turning to pop culture can give much needed relevance to a marketing campaign, making it easier for customers to remember and relate to. To truly have an effect, it needs to be a cohesive campaign that spans several mediums such as in-store events, public relations, and email marketing. Keep in mind the message that you want to communicate to your audience, and find a hook that ties to that. Next time you are at the newsstand, pick up one of those magazines and you may just find a marketing gold mine for your client.