NAB show (National Association of Broadcasters) is an annual trade show/conference that takes place in Las Vegas, Nevada every year at the Las Vegas Convention Center. This was my first year at NAB and I will say, I was blown away by the scale of it; there is simply no way of doing everything the show has to offer because there is so much going on at all times.
Post Production World
The first 2 days I knew I wanted to focus on things that I knew very little about but wanted to learn more of. What better place to learn than the annual NAB show?
Hector Berrebi's Shooting for Color Correction and Grading
The first session I attended was Hector Berrebi's talk about Shooting for Color Correction and Grading. I will say, it wasn't what I expected it to be, but it was really informative and highly technical. He discussed a lot about the "chemistry of video" and basically explained why footage exiting your camera looks the way it looks and how to get the best picture quality with the most color data for your footage.
Project Breakdowns
Throughout the second day, I spent most of my time watching project breakdowns from high level colorists from around the world such as Andrea Chlebak (@achlebak), Patrick Inofer (@patinhofer) and Dan Moran (@DanMoranColor). Watching these color breakdowns is by far one of the best ways to learn, only second to practicing hands-on.
Colorists, Color Grading and Color Correcting
Colorists are usually the final piece of the puzzle for any video/film project. Colorists color correct and often color grade the footage they are working on. Color correction is usually just fixing footage to make it look "right" or the way you expect something to look; making it look natural. Color grading on the other hand is adding a level of style to the footage, almost repainting it to set a mood or a tone for the footage. Usually things that are informational or documentary-like just do a level of color correction but fictional stories will get corrected and then graded.  This video gives a great explanation:
Each one of these speakers gave great talks about challenges they met and how they overcame those challenges.
NAB Show at the Maxon Booth
The official NAB show started on a Monday and I knew that the majority of my time would be spent at the Maxon booth. Maxon is the software company that created the 3d package I use called Cinema 4d.  Several motion graphic and VFX artists from around the world came in to talk about and breakdown some of their projects and their workflow.
Josiah Taylor's Camera Mapping for Game of Thrones
Camera mapping is a quick technique often used to apply a 3d look with minimal modeling, unless you're Josiah Taylor (@JosiahTaylor3d). He and the guys at Charlie Company take camera mapping to the next level. If you're a fan of Game of Thrones or the NFL, you might have seen some of their work.
NFL Network: IDs Montage from Charlie Company on Vimeo.
Josiah walked us through how he started with a single image from the set of Game of Thrones, created a 3d model of Peter Dinklage, and then projected that same image onto the model to create a fully animated spot.
Jeremy Cox's South Park Intro
Jeremy Cox (@Jereremy) brought in and deconstructed how he and the team at Imaginary Forces built the town of South Park for Matt Stone and Trey Parker. It was really interesting to see how they used some really simple modeling techniques and some simple deformers to recreate a cardboard looking cutout to then create a diorama look and feel for everything. You can watch the full spot here:
Ghost Town Media's Nontraditional 3d Acquisitions and Workflow
The Ghost Town Media guys (@gtmvfx) blew my mind with what they were doing in their workflow. I wouldn't even know where to begin in trying to replicate some of the things they showed us during their presentation, but after sitting through their session, I have a better grasp on the technique. Ghost Town is the post-production company that has done several music videos for artists such as Linkin Park, Will.I.Am and Kanye West. They specifically broke down a music video they produced for the band Linkin Park. In this music video, they took 3d scans of the band using Microsoft's Kinetic sensor and Artec 3d scanner to digitally scan the members of the band. They then created motion captured 3d models of the band members that they later imported into c4d to build a massive 3d cyber punk world around them.  You can check out the final piece here:
Corridor Digital at the GoPro Booth
So my entire time wasn't spent only at the Maxon booth. Wandering around, I noticed that the guys from the very popular YouTube channel CorridorDigital would be giving a project breakdown of one of their more recent videos titled Superman With a GoPro.
Before this, I had never seen the video and I didn't know what to expect, but after watching their breakdown and discussion I was totally pumped on what you can achieve with something like a simple GoPro camera and a relatively cheap aerial drone. Video sequences like those featured in the Superman with a GoPro video used to cost thousands, if not tens of thousands of dollars and required a whole bunch of people, but they can now be achieved with little more than a thousand dollars.
NAB Show Summary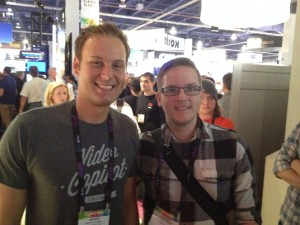 NAB was incredible, not only from a learning and inspirational standpoint, but also because I was lucky enough to pretty much meet and hangout with every person I follow and look up to in the motion graphic/VFX community.