At Zion & Zion, a major aspect of the culture is the focus on continual professional development. A key part of this is that ALL of our team members regularly attend industry conferences to sharpen their skills and share garnered insights with the rest of our agency. Two members of the Zion & Zion team, account coordinator Malory Knutson (me) and account executive Sam Fink, recently attended the 7th Annual Employee Communications, PR and Social Media Summit.
Put on by Ragan Communications, this awesome three-day conference was held at Microsoft Headquarters in Redmond, Washington. The first day consisted of workshops, and the following two days were chock-full of interesting and informative speakers. Throughout this recap, I'll take you through some of the best sessions from the conference.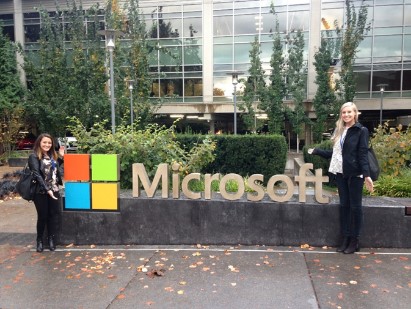 Communicate with pictures: The writer's role in creating powerful infographics
Mary Olivieri & Don Harder, CBD Marketing
Right after Sam and I landed in Washington, we made our way to the Microsoft headquarters to attend a hands-on infographic workshop. Mary Olivieri and Don Harder led this session. The pair gave the audience lots of helpful tips and tricks, went through some practice exercises with us, then let us loose to create our own infographic (see mine below).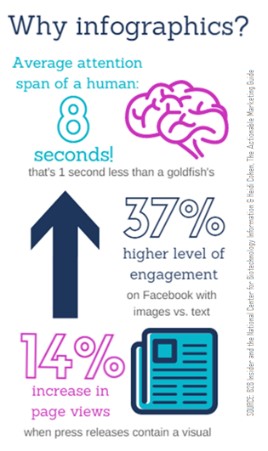 While you can read more about what we here at Zion & Zion have to say about infographics here: What is an infographic?, according to Olivieri and Harder, there are three reasons to use an infographic:
To share statistics
To tell a story
To show a process
If you think about it, just about every business or organization has statistics to report, a story to voice, or a process to explain. Infographics are a more visually appealing and attention-grabbing way to convey this information, instead of (or in combination with) a press release or blog post. In fact, infographics can be used to revive stale blog content, repurpose successful content, and create additional visual collateral for the media.
Some of the top tips that this workshop reaffirmed were:
Identify copy that can be converted into graphs or charts
Show differentiation with color
Tell the story with creative illustrations
Depict things with imagery
Show ratios or percentages with pictograms
Use icons instead of text
Grab attention with callouts
Always cite your sources
Out-of-this-world social media with NASA
John Yembrick, NASA
On day two, the opening keynote speaker was John Yembrick from NASA's office of communications. This was our favorite session, by far. What's cooler than learning about social media from NASA?
Aside from showing the conference attendees mind-blowing social media images of stars, planets, black holes, and galaxies, Yembrick explained how he was able to grow NASA's social media following from 1,000 Twitter followers in 2009 to 13 million followers in 2015, and how we can do the same for the brands we represent (even if they aren't quite as exciting as NASA).
His main tips for success were:
Provide exceptional content that will generate buzz.
Remember that social media is a conversation. Listening is just as important as speaking.
Always participate in the conversations you start.
Ask for, and respond to, feedback.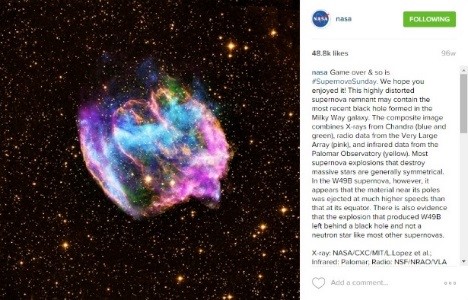 Yembrick encouraged the audience to post content that is familiar, relatable, and relevant. For example, NASA will post about Star Wars and Star Trek, a funny airborne frog, and #SupernovaSunday on Super Bowl Sunday or #BlackHoleFriday on Black Friday. There are so many opportunities for brands to insert themselves into the social media conversation. The key is to find those fitting opportunities and go for it.
Using these social media tips, brands should be able to turn fans and followers into advocates and collaborators—just like NASA has done.
Protect and promote your brand on social media
Mary Wayte Bradburne, Cisco
Mary Wayte Bradburne of Cisco was the speaker at another noteworthy session I attended at the conference. She pointed out that as social media managers, we have a very important role because most of the customer journey is now happening online, as opposed to in-person. In order to implement the most effective social media strategy for the organization you represent, Bradburne touched on several to-dos:
Take a step back and align your social strategy with your business objectives, as well as your marketing and communications objectives.
Know your target audience, and why they are following your brand on social media. What kind of content do they follow you for? Make sure this type of content makes it into your content calendar.
Know your social voice and personality. When defining your brand's personality, be sure to outline your anti-personality as well. This helps you keep in mind what your brand is NOT when writing social media updates.

Example of Zion & Zion's brand personality & anti-personality

Real-time listening is crucial. Not only will you know when something negative is said about you and be able to respond in a timely manner, but you will also be aware of positive discussions, as well as trending conversations that you may want to insert yourself into.
Use metrics to analyze everything. Look at the most popular content, the least popular content, word clouds, demographics, and more to derive actionable insights.
Create short and interesting "snackable" content that will hold shrinking attention spans, and help explain complex ideas.
Beyond marketing and communications: Bring social to the business
Kirsten Hamstra, SAS
This session was led by Kirsten Hamstra, SAS's global social media manager. While much of her presentation focused on her corporate social media implementation, there were quite a few key takeaways that could apply to any brand.
First of all, Hamstra believes that all social content should be FRESH:
Focused
Relevant
Engaging
Scalable
Helpful
Another helpful piece of advice the presenter touched on was the idea of creating a unique social content strategy for every platform. At Zion & Zion, this is something we already implement for clients, but it was refreshing to hear the presenter talk about it. This could include primary goals, secondary goals, audience, post frequency, top performing content, social KPIs, and best practices. As a social media manager myself, I definitely agree that a cheat sheet with all of this information available to reference can come in handy when writing social media content calendars.
Hamstra also mentioned that social media goes beyond likes, comments, and retweets, and can impact all different aspects of a business:
Share of voice (Marketing)
Crowdsourcing (R&D)
Social selling revenue (Sales)
Social recruiting (HR)
Customers responded to (Customer Care)
With this in mind, how can you question social media's important role in your business?
Why 2015 is the year of effective PR (and how to do it)
Serena Ehrlich, Business Wire
On the last day of the conference, I attended a session led by Serena Ehrlich of Business Wire that left me wanting to rush back to Phoenix to share this information with the rest of the Zion & Zion PR team.
So why is 2015 (and now 2016) the year of effective PR? It's simple: coverage converts!
According to a Nielsen report, 67% of consumers trust editorial content, and 84% of consumers trust earned media, including word-of-mouth.
Editorial coverage impacts purchase consideration, familiarity, and affinity, making PR more important now than ever before. Human behavior has changed (it now takes 20+ touch points to convert a prospect instead of the seven touches it took back in 1994) and search, social, and media have changed along with it. Google now features press releases in Google News, and news is featured at the top of a search on a mobile device.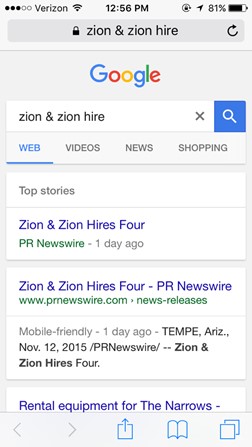 Social media has also changed. News travels far and fast on social platforms. Not only are media outlets sharing their stories on Facebook and Twitter, but users themselves are spreading the stories, and news can quickly go viral.
Additionally, media has changed. There is now a 24/7 news cycle that leads to increased competition for audience amongst media outlets, and there are fewer journalists now than ever. Because of this, PR pros like us should help out as much as possible by always providing images or multimedia for the stories we're pitching.
As search, social, and media constantly evolves, PR's role in the consumer journey is evolving too. I'm eager to adapt to these changes, and excited to take on the changes 2016 will bring!
Employee Communications, PR and Social Media Summit Summary
After three days at the Employee Communications, PR and Social Media Summit, Sam and I returned to Zion & Zion feeling inspired. There were key takeaways from all of the sessions we attended, many of which we couldn't wait to bring back to the office and implement for our PR and social media clients. This conference, and its excellent speakers, get the Z&Z stamp of approval!