The Guide to Instagram in 2015
Since Instagram launched in October, 2010, it has amassed 300 million active monthly users that are sharing an average of 70 million photos per day according to Instagram's about page.  More importantly, these users are generating 2.5 billion likes per day, which means they are not only posting, but they are consuming visual content at a high volume. This is why your business needs to consider whether it is appropriate to add Instagram to your social media marketing strategy. In this guide, we're going to show you what you need to know to create and maintain your business' Instagram account.
As a leading national social media agency, we at Zion & Zion have continued to expand our knowledge in all things Instagram, striving to benefit our clients' and our own social media efforts via this extremely visual platform.
[quicknav type="list"]
Instagram Terms
Instagram has a list of terms that you need to know for various aspects of your marketing strategy. Here's a breakdown of the main essentials for your business.
Your Profile
Username – Your 30 character account name, which is used in updates to mention you. It is also what makes up your unique Instagram profile URL: http://instagram.com/username. While you have the ability to use up to 30 characters, remember that shorter is better to make it easier for future followers to remember. (Please note that even though you can send your Instagram's to other social media platforms, using an Instagram username when tagging doesn't necessarily tag a person once the Instagram is posted on another social media platform.)
Bio

A 150 character description of your business that you can add to your Instagram profile.

Profile Photo

180×180 square image of yourself, your logo, or another photo that represents your business that appears next to your Instagram posts and comments.

Follow

The ability to follow another Instagram user's profile.

Follower

When someone follows your Instagram account, they become your follower.

Following

When you choose to follow another Instagram account, you are following them.
Activity Terms
Like

The ability to let an Instagram user know you enjoyed their post. You can like a post by clicking the heart or double tapping the photo/video!

Double Tap

As stated previously, this is another way to quickly like another user's photo. You can quickly tap on an image two times, which will make your account like the user's post.

Comment

The ability to leave a response on an Instagram user's post.

Hashtag

A keyword or phrase you include with a #. For example, if you shared an image of the beach, you might want to add the hashtag #beach to give it more exposure beyond your current followers.

Instagram Direct

The ability to send a photo or video to specific users on Instagram without them posting on your profile or in your followers' news feed.

Embed

The ability to add an Instagram post to your website or blog using HTML code created by Instagram. Option available on desktop browser only.
Instagram Navigation (App)
Home

The home tab contains the news feed of photos and videos from those you follow on Instagram.

Search

The search tab allows you to search for photos and people by keyword or hashtag.

Camera

The camera tab allows you to take new photos and videos or choose from photos and videos in your camera library to upload to your Instagram account.

Activity

The activity tab allows you to see the latest activity related to your account, such as new followers, likes, and comments. It also allows you to see the latest activity by those you follow, including their following and likes.

Profile

The profile tab shows you your profile photo, name, bio, website link, and latest updates. You can edit your profile from this tab and find the settings wheel to configure your account settings, app settings, and options. When editing your profile, emoji's can be utilized to bring personality to the description of you or your business. Be sure that you utilize the website link, as it is the only clickable link you can share with your followers.
Photo Editing (App)
To understand the following items, it's best to try each of them out individually on your photos to see which results in the best looking image. Note that you do not want to go overboard on image effects while editing your photos if you are going for a natural look.
Filters

Filters allow you to quickly change the look and feel of your photos by adding different coloring effects with one click. You can apply filters by tapping on the magic wand icon. Once you select a filter, you can tap on it a second time to control the intensity of the filter using a simple slider.

Lux

Lux allows you to fix exposure and contrast using a simple slider. You can adjust exposure and contrast by tapping on the sun icon.

Tools

When editing a photo, the tools button is shaped like a wrench, and next to the Lux button. There are several tools to help you when editing your photo. Below are your tool options:

Adjust

Adjust allows you to crop and straighten your photo. You can find this option by tapping on the wrench icon. Taking a photo that is perfectly straight isn't always the easiest task, especially when snapping a quick photo from your phone. You can see in the example that we've used the straightening tool to ensure the chalkboard and countertops are perfectly straight.

Brightness

Brightness is how bright or dark your image will appear. You can adjust the brightness of your photo using a simple slider.  You can find this option by tapping on the wrench icon.

Contrast

Contrast is the difference between the dark (black) and light (white) in your image. Contrast will make the dark areas darker, and the light areas lighter. You can adjust the contrast of your photo using a simple slider. You can find this option by tapping on the wrench icon.

Warmth

A warm image generally has an orange tone, whereas a cool image generally has a blue tone. You can adjust the warmth of your photo using a simple slider. You can find this option by tapping on the wrench icon.

Saturation

Saturation is the intensity of colors in your image. Decreasing color saturation in an image would convert it to black & white, whereas increasing it would make each color within the image bolder. You can adjust the saturation of your photo using a simple slider. You can find this option by tapping on the wrench icon.

Highlights & Shadows

Highlights are the light areas in your image, and shadows are the dark areas. You can adjust the highlights and shadows of your photo using a simple slider. You can find this option by tapping on the wrench icon.

Vignette

Vignetting adds dark edges to your photo. You can find this option by tapping on the wrench icon.

Tilt Shift

Tilt shift in mobile photography allows you to create a miniature effect. For example, a tilt-shift effect added to a street view photographed from above would make the people, cars, and buildings in your image look smaller. You can find this option by tapping on the wrench icon.

Sharpen

Sharpening adds crispness and definition to your image. You can find this option by tapping on the wrench icon.
Video Editing (App)
Filters

Filters allow you to quickly change the look and feel of your video by adding different coloring effects with one click. You can apply filters by tapping on the magic wand icon. Unlike photo filters, you cannot control the intensity of the filter on videos.

Trim

Instagram videos are limited to 15 seconds. The trim feature will allow you to edit yours to the appropriate length. You can trim your video by tapping on the scissors icon.

Cover Frame

The cover frame is a static snapshot from your video that will appear on Instagram until the video is played. You can customize your cover frame by tapping on the monitor icon. You can see in the example that we have chosen the Cover Frame to be the "Z" shot.
The Perfect Instagram Profile
When someone visits your Instagram profile on their desktop browser, they will see the following.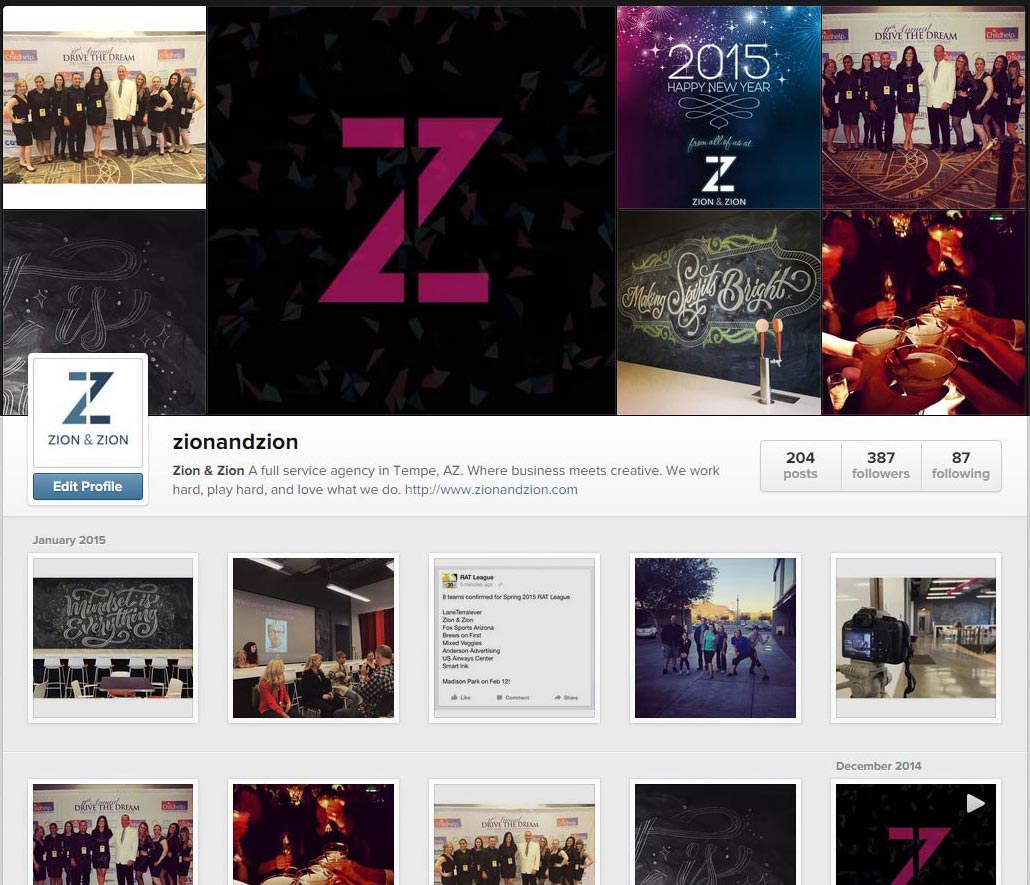 On a mobile device, they will see this.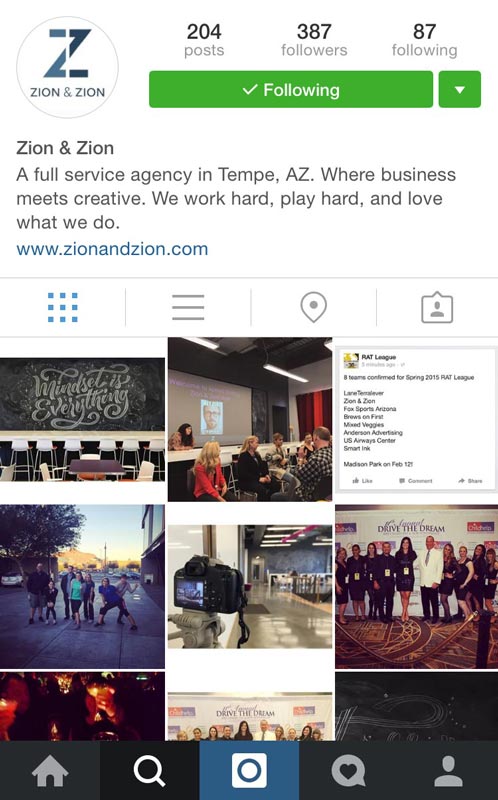 It's worth noting that 98% of Instagram users in the US access Instagram from their mobile device as opposed to a desktop browser. That said, your Instagram profile may appear in the first or second page of branded search results within search engines, so you still want to ensure that your Instagram profile on your desktop looks as good as it does on mobile.
Based on first impressions, here are the most important elements of your Instagram profile that appear above the fold, plus the differences between the desktop versus app versions of your profile.
1. Your latest updates.

On a desktop browser, your latest updates will be shown as the cover photo for your Instagram profile. As opposed to a static cover photo that you can control, Instagram rotates through your latest posts in that space. Beneath your cover photo and basic profile information, visitors will see your latest updates. Unlike the mobile app, visitors to your desktop profile will see dates above your updates, so they will see how active you really are.In the app, visitors to your profile will see your latest six updates.

2. Your profile photo.

On a desktop browser, your profile will be shown as a square, whereas in the app, it will be shown in a circle. Check your profile photo to make sure it looks good in both shapes.

3. Your username & your name.

On a desktop browser, your username appears to the right of your profile photo, and your name appears at the start of your profile bio. In the app, your username appears at the top of the app, and your name appears beneath your profile photo, above the bio. For the sake of your desktop browser profile, you do not want to simply repeat your name in your bio as it will show up twice in a row.

4. Your bio & website URL.

Your Instagram profile bio appears next to or below your profile photo on a desktop and in the app, respectively. In the app, you can use special characters to point at your website URL, which appears below your bio. On a desktop browser, your website URL follows your bio, so your special characters may no longer point to your URL.
Make sure that your 150-character bio describes both your business and what people can expect from your Instagram account. It's great to know what you do, but people deciding to follow you on Instagram will want to know what kind of photos and videos you plan to share.
Organic Instagram Marketing
Just like any other aspect of your online marketing, you should plan your Instagram marketing strategy. To be successful, you should consider these tactics.
Grow Your Followers
Whether you have just created your Instagram account or you have been using Instagram for years, one of your goals should be to grow or continue to grow your Instagram following. There are several organic ways to do this, no matter what stage you are in. They include the following.
Add an Instagram badge to your website.
Embed your Instagram posts on your website. The embedded post will include a follow button at the top right of your photo or video that logged in users can click to instantly follow your Instagram account.
Occasionally share your Instagram link to other social media audiences. For example, you might tweet, "Hey, we're on Instagram too! Follow us at http://instagram.com/zionandzion."
Include a link to your Instagram profile in your email signature. Services like WiseStamp allow you to create a professional email signature that includes your social links.
Include a link to your Instagram profile in your business newsletter.
Participate in daily hashtag trends for exposure with a larger audience. One example is #TBT for Throwback Thursday where you share a photo that is over a year old (the older the better). Business Insider defined the most popular daily Instagram hashtag trends. Be sure to also follow hashtags that may pertain to your own business name, industry or industry trends. This will help you zone in on people that really are interested in your topic at hand.
Follow people on Instagram that have the potential to be customers. Whenever they ask questions along with their photo and video posts, answer them.
Include a link to your Instagram account on your business card.
Encourage employees within your company to have personal Instagram accounts and to follow the main business Instagram with their personal accounts.
Look for other profiles where you have the option to link to your Instagram account. These profiles include Google+, Klout, most forum profiles, most author bios for publications, and similar.
For those considering purchasing Instagram followers, there are plenty of ways to do that too. The thing to consider is that paid followers will only inflate your numbers, or following count. Paid followers won't likely engage with your status updates or become your customers. Also, Facebook (the owners of Instagram) tends to purge inactive and fake accounts, which means that if you have purchased followers that are fake accounts, your follower count could drop significantly overnight. In the last purge, Instagram's official account lost 18.9 million followers. We recommend steering clear of purchasing Instagram followers to ensure every follower you receive is a true, engaged fan of your brand.
Post Updates Regularly
Because your latest updates are featured prominently on your Instagram profile, it is in your best interest to post updates to your Instagram account as often as possible. Here are some ideas on what and when to post.
What to Post
While Instagram is a great way to connect with your target customers, it's not about publishing banner ads and commercials. It's about publishing photos and videos that help your customers get to know the real you behind your business. Here are some ideas on what you can post on Instagram.
Fun behind-the-scenes photos and videos from inside your company.
Teaser videos for upcoming interviews, commercials, webinars, or other full-length videos you plan to release.
Teaser photos promoting a product.
Photos and videos of customers using your product.
Photos and videos that align with popular daily Instagram hashtag memes.
Speaking of hashtags, be sure to research popular hashtags that are relevant to your business and your products. This post by Post Planner offers seven suggestions for 30 verticals. They also have 25 hashtag suggestions for Instagram users who want to grow their following.
A great source of inspiration on what to post can come from your competitors. For Instagram accounts with under 25,000 followers, you can use the SimplyMeasured Instagram Free Analytics Report to analyze popular posts from any Instagram account.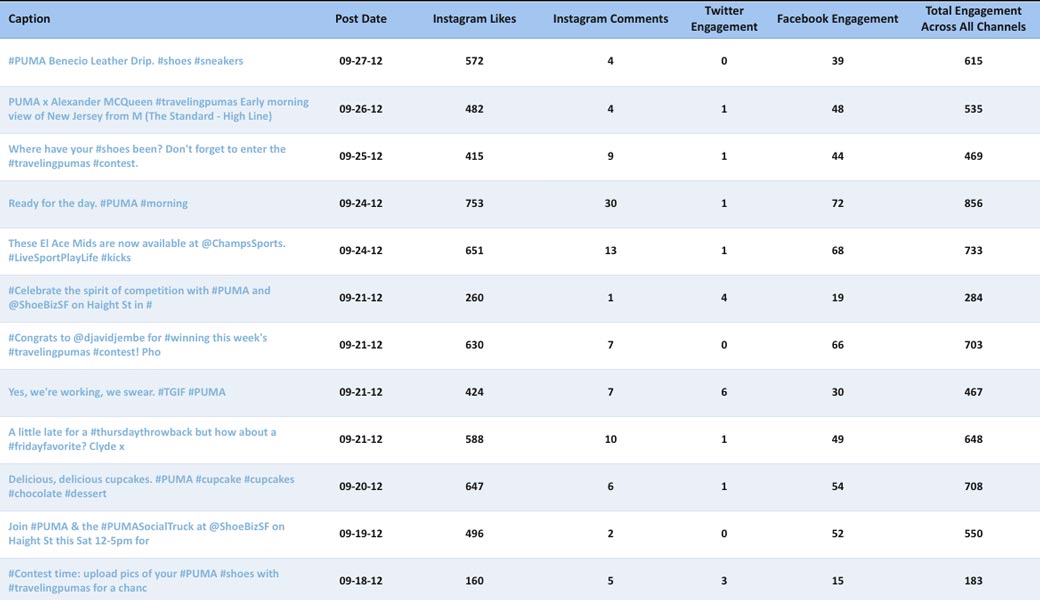 You can also use tools like Rival IQ to see popular photos and videos from a group of your competitors.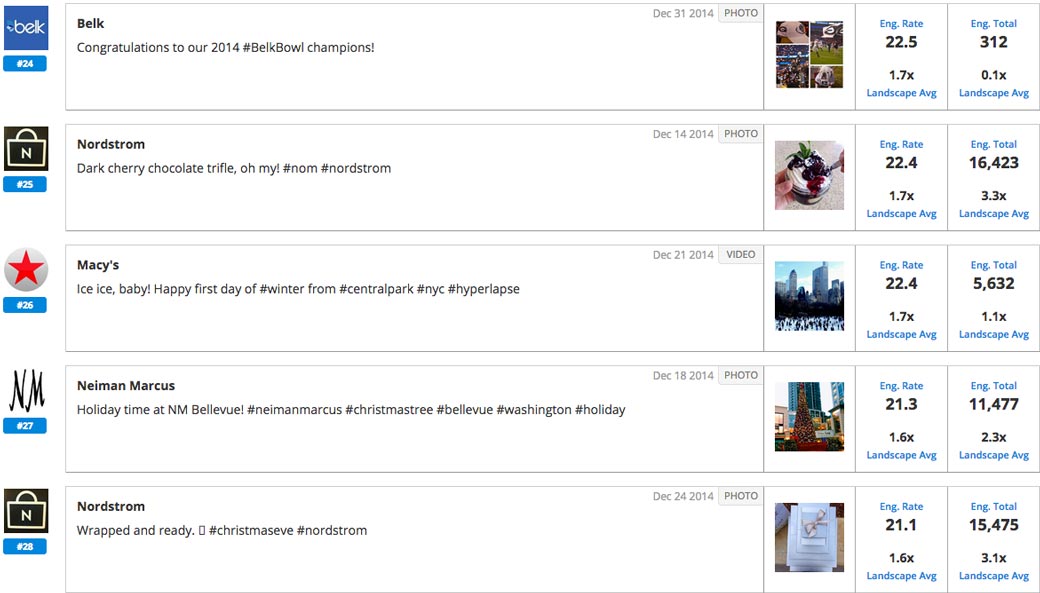 Be sure to analyze the photo or video, the text, and the hashtags used to figure out how your competitors are utilizing Instagram for engagement.
Also, remember that Instagram content that comes from your business' fans can be twice as powerful as the content that you create. You can invite your fans to post photos and videos of themselves using your products and direct them to use a branded hashtag. You can then use tools like The Social Board to aggregate the best content shared by your fans on Instagram and share it on your website.
When to Post
When Neil Patel compiled data from several sources, he came to the following conclusions about the best times to post on Instagram.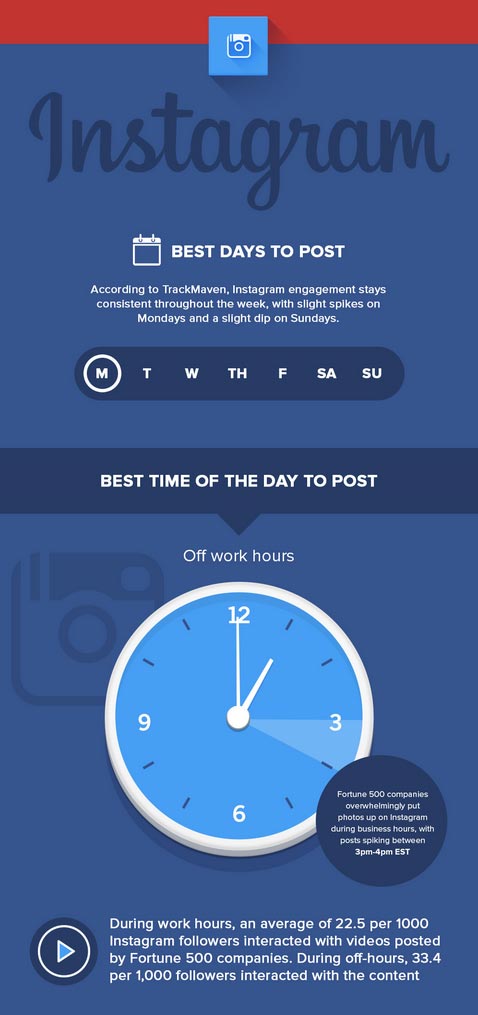 Of course, the same days and times will not work for every business. Your best bet is to try SimplyMeasured's Free Instagram Analytics report. This report will analyze your Instagram activity and determine the best times to post to reach them.

For important messaging, remember that your most influential Instagram users may not be on at peak times. For this reason, you may want to find a few different ways to get your message across (different photos and videos) to make sure it is seen.
Where to Post
In addition to posting to your Instagram account, you can configure Instagram to share your posts on Facebook, Twitter, Tumblr, Flickr, Foursquare, and a few other networks. Cross-posting your Instagram content can help you gain more exposure for your business and your Instagram account. It can also give you some fresh new content to share with your other social media audiences.
How to Post
You can choose to post photos and videos captured with the Instagram app, or photos and videos that are stored in your smartphone's photo library. Once you take or choose a photo or video, you can edit it in the Instagram app by adding filters or adjusting settings for brightness, contrast, saturation, and other details.
With an update made in late 2014, Instagram now allows you to edit your caption after posting it. Simply open the post you want to edit, tap the three dots icon to the bottom right, and click edit. You can now edit the caption, location, and users tagged in your photo.
Monitor Your Brand
Instagram can be a difficult network to search. There are many tools that can help you search Instagram for users and hashtags, but not necessarily just keywords. One approach, if you would like to get notified of any mentions of your brand in Instagram posts, is to set up a Google Alerts for the following.
site:instagram.com/p/ keyword
site:instagram.com/p/ keyword phrase
site:instagram.com/p/ "exact keyword phrase"
site:instagram.com/p/ #hashtagforyourbrand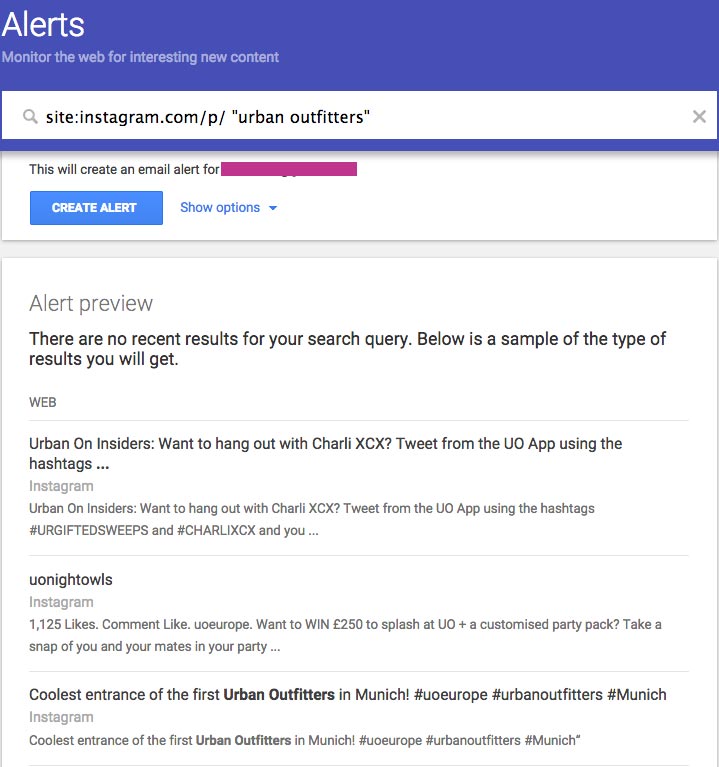 These alerts will send any matches directly to your inbox. This way, you can follow up with any mentions you find and respond to them. You can like and comment on any Instagram post that is found through Google Alerts regardless of whether you are following the user that posted it or they are following you.
Provide Customer Service
In addition to monitoring mentions of your business on Instagram, you should always monitor comments on your Instagram posts and your Instagram Direct posts. These are areas that customers may use to attempt to get customer service from your business.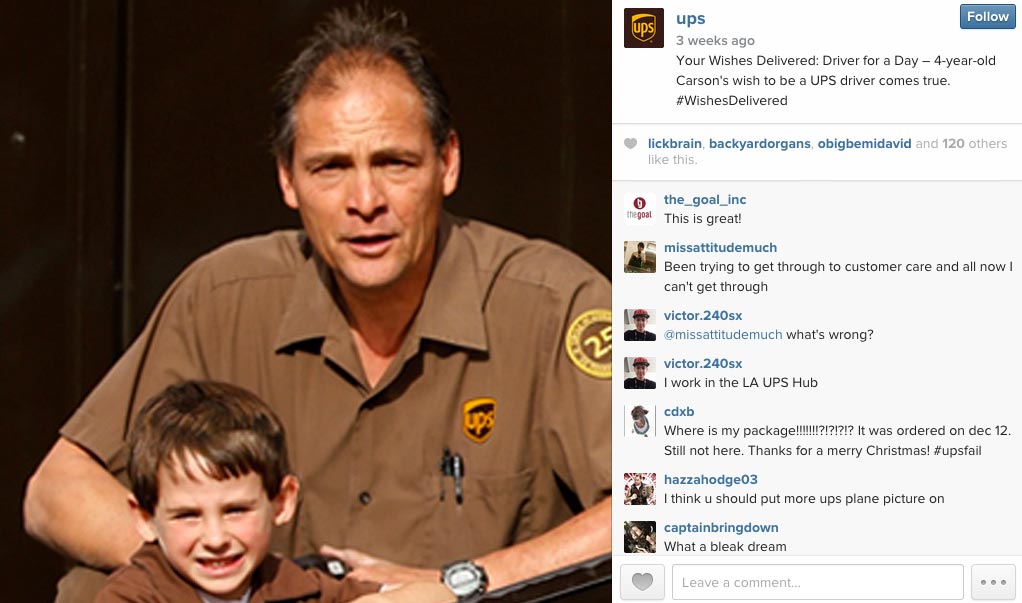 You should always respond to any customer service requests publicly. If you cannot resolve the issues on Instagram (which is likely), then mention the user in a comment and provide an email address that they can use to contact you for more help.
Utilize Instagram Testimonials
With the embed option, you can take the best Instagrams about your products and use them as testimonials on your website, as long as you receive permission from the original owner of the post.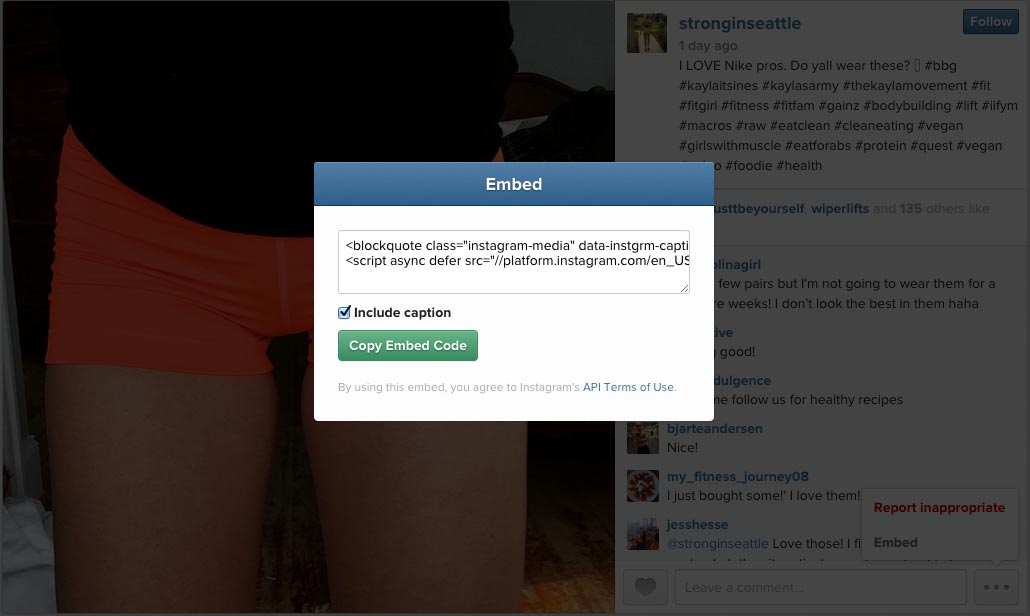 You can find this kind of Instagram testimonial by consistently monitoring your business mentions on Instagram or by inviting fans to post about your products using a branded hashtag. The beauty of using Instagram posts as testimonials is that you not only have a text update that supports your products, but you also have a visual reference that your customers can relate to.
Paid Instagram Advertising
Instagram launched paid advertising options in 2014. Currently, these are only available to large brands, but they will likely be rolling out options for more businesses on Instagram in the near future. You can keep up to date with the latest news about Instagram advertising by visiting their business advertising page and following their business blog.
Instagram Analytics
Outside of the analytics offered to the limited number of brands with access to Instagram advertising, there is no Instagram analytics platform similar to Twitter Analytics or Facebook Insights at this time, although one is coming soon. For now, you have to rely on third-party tools to get insights into your Instagram marketing efforts beyond the numbers you can find on your profile.
Instagram Tools
The following are popular tools that businesses use to manage specific aspects of their Instagram marketing.
Iconosquare (formerly Statigram) provides key metrics about your Instagram account. Get your total number of likes received, your most liked photos ever, your average number of likes and comments per photo, your follower growth charts, and more advanced analytics.
Ink361 is an Instagram web browser that allows you to discover new friends and followers, connect with famous brands and people, organize your posts into albums, and analyze your Instagram marketing strategy.
The Instagram app in the HootSuite App Directory allows you to connect your Instagram account to HootSuite and create columns to view your home news feed, your photo feed, your likes, keyword searches, and other Instagram feeds.

Instarchive

Instarchive will send you your Instagram photos in a zip file so you can backup your visual content.
Instapult is a tool that allows you to publish content to your Instagram through the web and share account access with your social media manager without giving them your Instagram account password.
Latergram is a tool that allows you to plan and schedule your Instagram posts, upload images from the web or phone, manage updates from a web app or mobile app, and get scheduled images pushed to your phone.
This company offers a couple of apps to help you repost Instagram posts you like and create video slideshows, text images, and collages.
Rival IQ is a competitor research tool that allows you to monitor your Instagram presence along with your competitors to ensure that you are getting the most out of your Instagram marketing in terms of positioning and engagement.
TakeOff is a mobile app that allows you to schedule Instagram posts to your account.
Totems is an Instagram platform that helps you understand your audience, track your campaigns and benchmark your competitors. You can also use it to discover creators best suited to endorse your products on Instagram.