I had the opportunity to ship off to the Live Music Capital of the World, Austin, TX, to attend the 2018 Smart Social Summit, put on by the newly merged Spredfast + Lithium. When I wasn't enjoying Torchy's Tacos or a Voodoo Doughnut on National Doughnut Day, I was learning from some of the most forward-thinking minds and brands on social media today. Continue reading to learn about the insights I brought back with me from this gathering of over 700 social media and marketing leaders.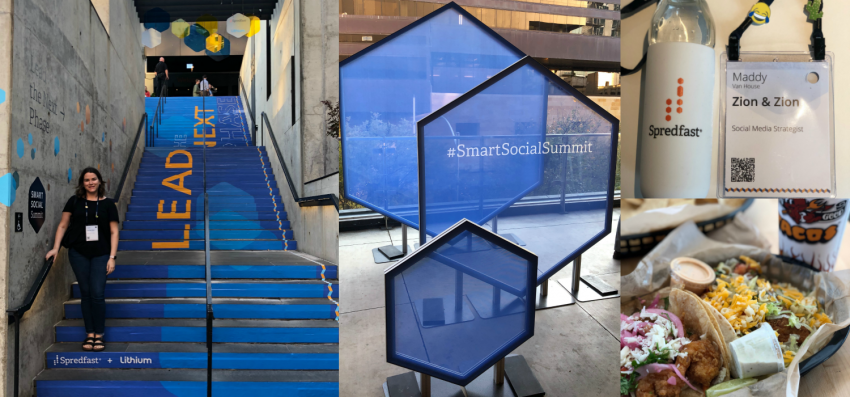 Align Your Brand
If I could sum up the running theme of this two-day conference in one word, it would be "Alignment." This powerful expression wove itself through almost every single presentation. For example, it was clearly outlined at the beginning of a presentation on how established brands are succeeding on social media. The speaker shared: Brands that grow have consistent communication, a great brand experience, and brand dynamism. Meaning, brands clearly communicate what they stand for, deliver on the promises made in these communications, and make their audience feel like there's something about this brand that's relevant to them right now.
This doesn't mean just jumping on the bandwagon to support a trending topic, but rather that your brand needs to be rooted in a history of strong brand values. Nike took a stand with their Colin Kaepernick campaign on the 30th anniversary of their tagline, "Just Do It," but that phrase itself is nothing new  ̶  it's what Nike has always stood for. As Roy Spence of The Purpose Institute eloquently stated, the organizations that succeed are the ones that have a purpose beyond making money. "The only thing we all have in common is that we are all different. Where your talents and the needs of the world intersect – that's your purpose."
The stand a company takes doesn't have to only be heavy, as shared by Jennifer Saenz, CMO of Frito-Lay. For example, Cheeto's mission is to simply unlock mischievous play. Just stand for something and funnel it into all your marketing efforts. When you do, you'll attract likeminded partners and audiences.
Use Influencers To Get Attention
Curtis Midkiff, Senior Advisor of Social Business Strategy at Southwest Airlines, asked the crowd at the beginning of his presentation at the summit, "Raise your hand if you woke up this morning thinking about what Southwest is going to post about on Twitter or Instagram today." If you hadn't figured, not a single hand was raised. The fact of the matter is, with our now 1.7 second attention span with content on social media, people aren't listening to you.
It's not enough to assume that people are going to stop while they're scrolling, but we can leverage influencers to cut through the noise (with realistic expectations in mind, of course). As Midkiff stated, "Influencers don't sell plane tickets," but they do influence and create some amazing engagement content while they're at it. Andee Olson, Director of Partnerships for Bumble, looks for microinfluencers with a 10% engagement rate as a baseline, in addition to people that align with their mission and goals. Back to that alignment theme I mentioned before. Dave Feldman, Senior Director of Social Content for the NFL, uses players as influencers as they engage at a higher rate than both the NFL and Club accounts. "What grows players' accounts is good for the NFL as a whole." This is a familiar practice, as our employee sharing initiative for Zion & Zion social media content is extremely effective.
Once you begin your influencer program, use it as a tool to engage the influencer's audience, then bring great content back and tweak it to engage your audience To illustrate this, James Gregson, Senior Manager of Global Social Media for Lego, says that he will rarely share the influencers' content in its original form, as it reads as Lego simply announcing the partnership. Instead, he puts out the influencer's content as user-generated content originating from Lego itself. I love this thought process of strategically using the influencer's work in a way to best fit the needs of your own audience.
Engage Your Customers
Jennifer Saenz from Frito-Lay had awesome insights into the power of utilizing your customers to grow your business. Social listening is credited as being a huge reason the decades-old brands she represents stay credible to this day, and it's the first thing her team does when they roll out any program. When they saw Cheeto's mashups becoming big on social media, her team decided to open a pop-up restaurant that only served items with Cheeto's in them. The one-day-only restaurant was so wildly popular they decided to do it again in a new city with a new menu. There's no need to reinvent the wheel constantly, just bring a fresh twist to things.
In addition, Frito-Lay tries to co-create with their audience whenever possible, as nothing engages consumers more. Similar to us having Zion & Zion client Barro's Pizza's audience name their Super Bowl Game Day Deal this past year, Frito-Lay had users design their Super Bowl campaign a few years back. Spawning from their Super Bowl Doritos commercial, they also held a "Blaze the Beat" contest for their audience, where the winning rapper was able to open for Wiz Khalifa! As Saenz said, consumers "want to be co-authors of the brand." 
In this same vein, one of National Geographic's goals on social media is transitioning from a monologue to a dialogue. The brand has a private Women of Impact Facebook group where women speak candidly about "breaking barriers in their field," and have even turned to Reddit to have AMAs (Ask Me Anything) with their photographers and other brand representatives, allowing their audience to speak directly with these individuals. Seems like social media is becoming a little more social!
Make It Experiential
Shawn Silverman, Head of Global Social Media Marketing and Community at Dolby, said that the future is going to be exclusive and experiential, like selling rock climbers gear from the Cliffside Shop, 300 feet up a sheer cliff. It's important to give people an experience, especially on social media.
The NFL began their Live Content Correspondents program to bring their social media followers on the field on game day. Fans are transported directly to tailgates, player warmups, touchdown celebrations, and more, making them feel like they're right there in the action. Similarly, Kate Coughlin, Senior Director of Audience Development & Community at National Geographic, aims to bring their social media followers on the ship in the middle of the ocean with photographer Bertie Gregory in the series Wild Life: Resurrection Island, or in the arid Maasai Mara of Kenya in their Safari Live Facebook show. "Everything we do needs to transport people," says Coughlin.
The key to a successful social media post is having it be a portal into your business – make them smell the pizza your pizzeria posts about or get them intrigued with a behind-the-scenes live video of an event you're hosting. Your brand can ooze outside of the platforms themselves, too. Avery Block, Manager of Digital Customer Care at Taco Bell, aims to surprise and delight their fans on social media by sending them handwritten cards, and even Taco Bell merch, when they reach out to them. This is definitely something I'm looking forward to incorporating more with our clients at Zion & Zion to heighten customer support.
Conclusion
"Lead the next phase" marked the stairway leading up to ACL Live at The Moody Theater, and I believe the Smart Social Summit will help me and my fellow attendees do just that. The future of social media is thrilling, and I can't wait to see how it transforms over the next few years.