This year, I attended a two-day, Digital Marketing Bootcamp hosted by the American Marketing Association. Hosted in Seattle Washington, the bootcamp ran through multiple aspects of digital marketing and how it all works together in marketing strategies.
As an Account Executive, I felt it was important for me to attend this bootcamp so I could continuously improve my knowledge of digital media and the ever-evolving ways it can work for my clients. Also, Zion & Zion is a big proponent of cross training their employees in different areas to make our jobs more holistic.
The different aspects of digital marketing they covered included:
Digital Strategy
Integrated Digital Media
Email Marketing
Social Media
SEO (Search Engine Optimization)
Analytics
Below are my takeaways from each of the different sessions.
Digital Strategy
One interesting phrase that came up during the bootcamp was "Zero Moment of Truth" (established by Google). This is the interaction consumers have with your brand through digital (online research), without your direct participation. Consumers then form their opinions in advance of you.
This means that branding really matters. Since we don't always get the chance to strategically put ourselves out there in front of consumers with methodical messaging and content, we must find ways to organically brand ourselves and our reputations.
Secondly, consumers have shorter attention spans and are bombarded by media on a regular basis (aka "attention pollution"). If your brand has a strong online reputation and a loyal following, sometimes that is just as, if not more important than your media messaging. Your marketing efforts are strengthened, and consumers will pay more attention.
The concept "Feel, Think, Do" also came up a lot throughout the bootcamp. An overwhelming amount of consumers work with a brand because of how it makes them feel, how they compare to the big guys like "Apple, Amazon, etc.," and whether the brand actually understands their journey and what matters to them.
Integrated Digital Media
Digital media is the future. The shift has already started. Although traditional media is still heavily in use and will never completely disappear, media dollars are being spent more heavily in digital media, so it is important to know why. Also, as an advertiser, digital media is highly used because you can get more "bang for your buck" and engagement can be more accurately tracked.
Knowing what people are doing online is a start. According to Statista, in 2019, the share of monthly U.S. internet users using email is projected to grow to almost 91%. Not too far behind are search engines and social networking. Being aware of where people are spending their time online helps us decide where to put our digital marketing dollars.
Another interesting (but not surprising) takeaway is that people consume media and are influenced to make a purchase differently by generation. Amongst all generations, TV/Broadcast video is still the most influential. Baby Boomers are less influenced by online and social media than younger generations.
One of the trends on the rise is the media investment in Google and Facebook, with mobile also on the rise. As online vendors start providing more options and evolve with the times, you will see more media dollars being spent there.
However, due to inappropriate content and privacy concerns, digital media is currently the least influential media channel. So, as I stated earlier, your brand is what is going to help you stand out against the competition if you run in this type of media format.
Your digital presence, including your website, should have a consistent message and brand. It is important to take a holistic approach, like we do at Zion & Zion, and think about strategy (digital and traditional) as a whole.
Email Marketing
Email works and is the top way consumers grant permission for advertisers to send promoted messages. This is because getting an email requires someone to say "yes, I want to receive your emails."
However, once you get them in the door, you must keep them hooked. This is why personalization is so critical in addition to re-engaging your customers by checking on them with a "we haven't heard from you in a while" email. If people unsubscribe, it's okay. If someone isn't opening your emails, they probably aren't fully engaged with your brand. You want consumers who care and are more likely to engage with your brand.
The bootcamp also brought up an additional level to the well-known marketing funnel, once a consumer has already converted, which I liked. A lot of times we think about getting our audience to the bottom of the funnel, but we also want to keep them around. After they become a customer, you want to retain them, potentially upsell them, and hope that they become an advocate for your brand.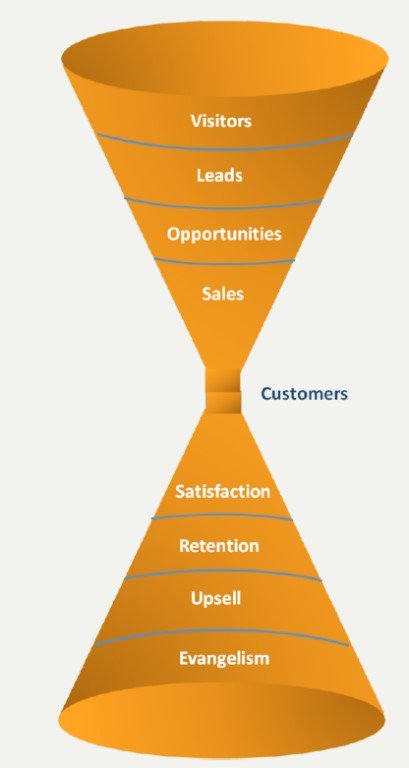 Emails, especially those for e-commerce, are a good example. If a customer buys a product, you want them to come back and buy more or share your brand with others. Personalized emails related to customer interests and previous purchases (or abandoned carts) have higher open and click-thru rates. Even just segmenting emails based on those interests and location can produce more engagement.
Using subject lines that create curiosity, asks a question, expresses urgency, adds value, or offers something are strongest. 23% of opens happen during the first hour of when an email is sent, and less than 1% is after 24 hours—so getting your consumer's right away is crucial.
Social Media
Utilizing social media is another way to get your audience's attention. Half the world's population is on some type of social media, where Facebook and YouTube dominate in the U.S.
First, set goals and break them down into Key Performance Indicators (KPIs). These need to be outcomes, not activities. And make them specific. Like, how many leads do you want to generate? How many consumers convert? Etc.
Then, identify your target audiences. Listen to what they are saying so you can better understand their pain points. Utilize those pain points to authentically market to them. Once you learn about them, you can develop content that is relevant. Turn your audience into your advocates, not just your customers.
The best performing content is funny, useful, or beautiful (imagery). Blogs, videos, infographics, case studies, eBooks, and White Papers are ways to distribute your content.
Knowing your brand's personality and voice and how your audience feels about it, will make your social media presence stronger. It will also help you know which type of content to write and which platforms to use, because not all are a good fit for your audience.
SEO (Search Engine Optimization)
SEO can be a bit daunting. I went into the bootcamp with basic knowledge and learned a lot, but it did get technical, so I will spare too many details. If you aren't familiar, your website SEO is what contributes to you showing up in organic searches. This is a great resource that your audience is utilizing to find you without always knowing they are looking for you. Some aspects of working with SEO include recognizing pain points, understanding zero-click searches, and choosing the right keywords.
Pain Points
Being aware of consumer pain points and whether the are actively looking for what you offer, how motivated they are, and where are they in they funnel/sales cycle is one way to a strong SEO strategy (of course this applies to your entire integrated digital marketing strategy).
Zero Click Searches
One big shift that Google has made to account for shorter attention spans is sending less traffic to websites by offering Zero Click Searches. For example: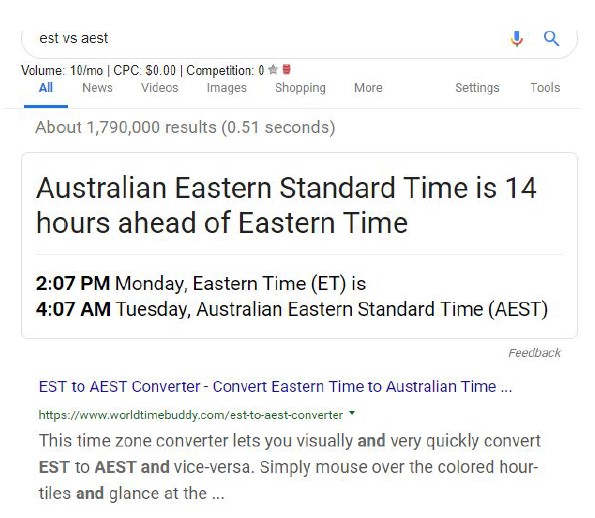 You get results on Google immediately and without ever clicking on a website. As another example, consumers can get their FAQs answered or even look at online menus (if a business account is setup that way).
Recognizing Keywords
One important piece to remember about SEO is to not get too clever. It's not about you, it's about them. Think about the types of words consumers use to search for your product/service/etc. and keep it simple. For example, using "daycare" produces a 33,000 monthly search count versus "child learning center" with a 320 monthly search count.
Of course, if you have specific words or ways to refer to things, you can include it in your content, but you also need to sprinkle in what consumers are looking for in their searches in order to appear. The presenter at the bootcamp mentioned that she had a client that was not appearing in searches and wasn't sure why, only to find out their website didn't utilize any keywords that consumers would generally use in their searches.
Analytics
It's not about the numbers. Sure, we all put together reports for our clients that have a lot of numbers and stats. But, what really matters? Do they even care? These types of numbers are called "vanity metrics" which across the board seemed to be what many of the people in the room provide for their clients.
Analytics has three pieces to provide a complete story for our clients:
Insights – why should we care?
Action – what should we do with those insights?
Business Impact – how will this affect our bottom line?
Numbers are just numbers if we don't do something with them. Either measure them against your original goals and KPIs or utilize them to make tweaks to your strategy or content. If they aren't helping to fix a problem or tie into a goal, then they probably are just going to be archived away into a folder and never looked at again.
In Conclusion
After two long days filled with a lot of information, I left with many additional insights about the ever-changing world of digital marketing.
Not only did the conference reinforce the importance of developing strong online brand reputations and how it ties into the new digital marketing phenomenon of "Zero Moment of Truth," but I also enhanced my skills with respect to how to continue to measure what really matters when it comes to post-campaign analytics, and campaign results.
Overall, attending the AMA Digital Marketing Bootcamp left me inspired and ready to get back to work on our own clients' digital marketing strategies at Zion & Zion.