This year Tealium hosted a virtual version of their Digital Velocity conference in San Diego, CA. Top Tealium solutions engineers, AudienceStream experts, iQ practitioners, EventStream specialists, and highly successful Tealium customers converged to deliver an excellent conference. Sessions in the conference detailed how Tealium delivers solutions to complex customer data challenges, tips on keeping your customer data organized and clean, breakthrough digital marketing tactics maximizing the customer experience and personalization, Tealium's product vision moving forward, and much more.
Tealium did a great job at organizing conference sessions into key subject matters, making it easy for attendees to organize their day and select which conference sessions were most relevant to current challenges their customers might be facing. Subject material at this year's conference included:
Powering Personalization
Redefining the Customer Experience
Excelling with a CDP
Prioritizing Privacy, Doing More with Data Readiness
Delivering Predictive Insights
Modernizing Digital Marketing
Tealium's Product Vision
Tealium customers tuned into this conference to extract valuable information and put to work key use cases detailed in many of the conference's sessions.
Insights & Takeaways
With so many great use cases and relevant subject material covered, you could say all the conference sessions provided insight and use case implementation that could be deployed for a variety of Tealium customers. Below are a few of my favorite Tealium subjects that were covered at this year's conference, along with a detailed vantage point of how this is impacting our current and future Tealium clients.
Personalization at Scale
Personalization in the context of this session means delivering relevant content to people that are contextually relevant, to how a person has interacted with your brand and the products or services they have expressed interest in. Data presented in this session showed exactly how personalization can positively effect business revenue.
With the relationship between personalization and positive revenue impact clearly defined, we now are asked how we can efficiently scale personalization across our marketing efforts. The keys to allowing your customer data to be used at scale to enable personalization are as follows: treat your data as a shared strategic asset, use one common vocabulary centered around the customer, and keep your data neutral of technology and neutral of various marketing channels. Putting these key points to work when organizing your customer data will better allow you to put your CDP data to work at scale.
One of our current Tealium clients, the Phoenix Suns, has been using this methodology to organize customer data captured from their website and offline purchase data that is uploaded via an omnichannel upload. Our media team at Zion & Zion, Tealium, and the internal Suns marketing team can act on this data from various sources because we follow a strict common vocabulary and leverage Tealium to keep this data vendor agnostic. This allows us to pass along and target highly valuable customer segments at scale via AudienceStream.

Using Personalization To Drive Conversion
Highly successful Australian based insurance company, NIB, delivered a session detailing how they've used personalization to drive incremental growth and conversions for their company. They used a framework to approach personalizing their customer's experience with their brand via Tealium. The framework they built is as follows:
Stay simple and start now
Engage experts
Break down the data and focus on value
Build for scale
The results they garnered following this framework were truly impressive. They collected over 113 million customer events, increased marketable leads by 175%, and deployed 30+ additional marketing campaigns built off customer data insights. At Zion & Zion, we adopted a similar variation of the framework NIB followed into our workflow. However, the philosophy remains the same. Start as soon as you can and keep initial use cases simple to capture value from the platform immediately, leverage expert resources whenever possible, and build your CDP solution for scale. Following this framework for new Zion & Zion clients will allow us to not only capture wins quickly but will allow us to generate Tealium use case frameworks built for longevity, scale, and driving conversions.

Drive Better Customer Experiences & Insights with Data-Driven Predictions
Tealium delivered a session exclusively tailored around leveraging machine learning and AI to unlock valuable customer data insight and learnings. The session began by detailing exactly how complex building a predictive model can be. This process traditionally would involve various business teams to flush out the idea, involving data science teams to build the model, development and ops teams to structure the model and validate data, and marketing teams to use the insights generated in the model. This can be a lengthy and time-consuming process, however, leveraging Tealium's Predict ML capabilities can expedite this process and allow businesses to be agile in their approach to predictive modeling.
Tealium's Predict ML
Tealium's Predict ML product allows you to use any available attributes housed within AudienceStream to build predictive models in a quick, streamlined, and user-friendly UI. Client use cases for this newer Tealium product will be instrumental in future AudienceStream use case strategy and implementation plans.
Tealium's Predict ML product can allow machine learning capabilities to segment audiences and allow activation on audiences across an array of marketing vendors based on likeliness to buy certain products, browse or download white page materials, engage with website functionalities, and much more. This technology will be used to further transform "window shopper" audience segments into valuable repeat customers by defining audiences based on likelihood to convert.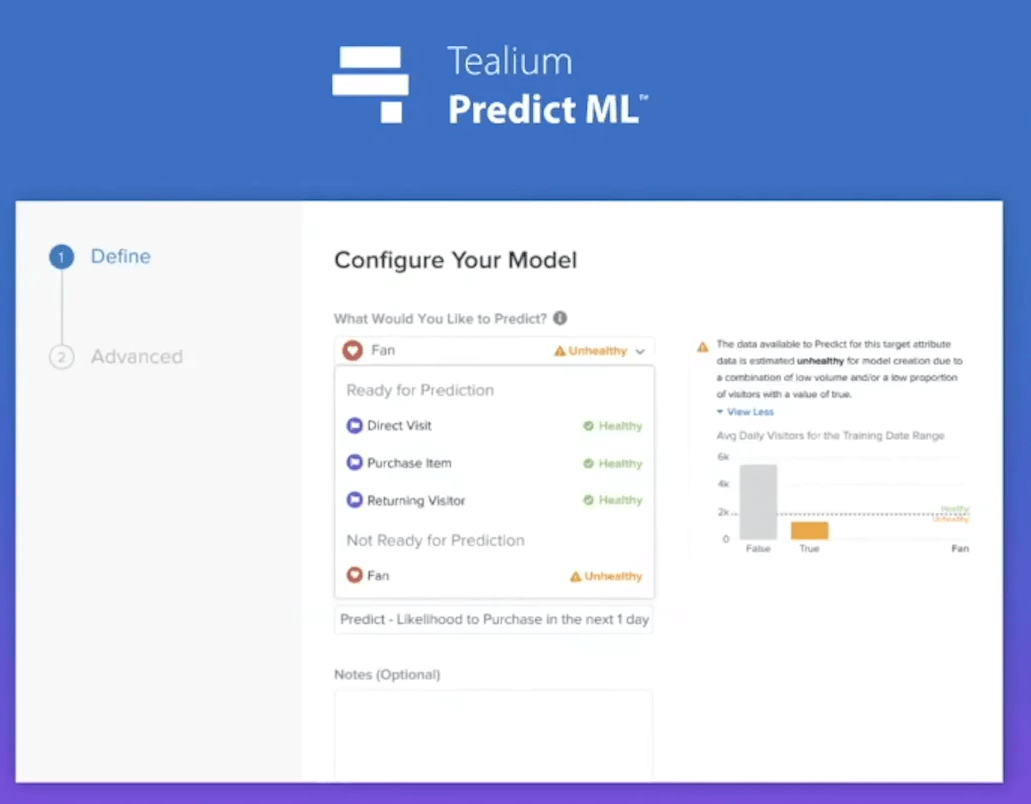 Conclusion
The 2020 Tealium Velocity conference delivered ground-breaking Tealium platform updates, highly valuable CDP use cases, simplified often complex workflows involving various data sources, and allowed current Tealium customers to share their success and knowledge with the greater Tealium community. This highly anticipated conference has positively shifted our thinking to further maximize value for our clients out of all products in the Tealium suite, including AudienceStream, iQ, EventStream, DataAccess, and Predict. Tealium did a great job bringing together not only their own platform experts, but customers who have executed impressive workflows out of Tealium and have seen stellar results.
The Zion & Zion Tealium team and our clients have already begun seeing the benefits of the core concepts presented in many of the conference sessions. The Tealium suite of products are leading the charge in the next era of digital marketing by allowing advertisers to streamline data orchestration, maximize marketing message personalization, and defining value in complex customer purchase journeys. As a trusted Tealium partner, Zion & Zion is leading the charge in the ever-evolving digital marketing ecosystem.