Digital Velocity is a conference with guest speakers and discussions on best uses and case studies on Tealium. As a Tealium Preferred Agency Partner, originally, members of the Zion & Zion media team were to travel to San Diego to participate in this three-day conference, which included lectures and training sessions, keynote speakers, and networking events with other Tealium Certified Users across the country. Due to the current world circumstances, instead we were able to attend virtually. Instead of three days, the Digital Velocity conference was shortened into one jam-packed day. Each session was 30 minutes long and covered specific topics. There were about five different speakers and sessions offered at a time, so the media team decided to divide and conquer and attend as many sessions as we could. We then got access to all the videos and sessions to review and relearn at the start of July. Hearing about successes from different clients that utilize Tealium provided great perspectives and ideas for how we can better use Tealium with current and future clients.
Tealium: What Is It And How Do We Use It?
Let us back up. What is Tealium and why did we attend this digital conference? Tealium offers a suite of products that are used to collect, standardize, transform, enrich, integrate, and activate data with for a cohesive marketing and customer data hub. Tealium products include Tealium iQ Tag Management, Tealium EventStream API Hub, Tealium AudienceStream CDP, Tealium DataAccess, and Tealium Predict Machine Learning.
This software is used to power capabilities across the data supply chain. At Zion & Zion, we utilize Tealium with our clients to build customized audiences based on site, app, and offline data that we can then target these audiences to serve unique ads in the best format for the best results.
Features & Takeaways of Tealium and the Tealium Digital Velocity Conference
There are many layers to Tealium and each product that Tealium offers could take up a full day of speaker sessions to run through. I was able to attend quite a few interesting sessions that apply directly to our clientele, providing unique insight into the future of the industry and Tealium itself. The intro session brought up interesting points about the 5 Principles of Dynamic Marketing:
Trust and protecting consumer data
Unified by having the "right" data
Now and having real-time experience
Everywhere which requires a relevant experience across channels
Delight meaning consumers expect businesses to know them and make them happy.
In my next session, Tealium's Ted Sfikas defined "Data As A Service" and how businesses can transition to this low-cost model, as well as how a Daas model can help address the different data needs of each department at a company. Another session had Leanplum's Wout Laban teaching how to optimize multi-channel customer engagement. Here we heard the main challenges marketers face when it comes to creating digital engagements and how to overcome them with tips for successfully A/B testing to optimize activation, retention, and monetization for a product.
Another favorite session of mine was from NBA basketball team Utah Jazz's VP of Analytics and Digital Development Jared Geurts as he explained how personalization increased ticket sales and improved customer experience, something we are also working to do with our client the Phoenix Suns.
The final session reviewed that the bar has never been higher for marketers. Consumers demand engaging, relevant, and timely experiences, and have little tolerance for brands that cannot deliver. The disruption to marketing caused by empowered customers, constantly evolving technology, and new cultural hallmarks is undeniable, but more critically, it creates a once-in-a-generation opportunity for the brands that successfully establish new approaches for understanding, orchestrating, and delivering customer experiences. The most interesting session to me was the discussion of how customers expect personalized experience while also being conscious of their data privacy, which I will address more in depth below.
Driving Personalization in the Age of Privacy with a CDP
What is a CDP?
The CDP Institute defines a Customer Data Platform as "packaged software that creates a persistent, unified customer database that is accessible to other systems." Basically, it's a prebuilt system that centralizes customer data from all sources and then makes this data available to other systems for marketing campaigns, customer service, and all customer experience initiatives.
Nowadays, companies have more data on their customers than ever before. Typically, this data is stored in silos, whether organizational or technological, making it very difficult for companies to provide consistent customer experiences across various channels and consumer devices. This is where Tealium and a CDP comes in to transform and enrich this data, so we can activate on it and provide the most effective customer experience and marketing.
What Did This Session Specifically Cover?
The new era of privacy has created a catch-22 for organizations. Today's consumer expects true personalization, from every business. But this is difficult in an era where consumers are more conscious of their data privacy than ever. If organizations can achieve a balance of privacy and personalization, it can turn into a massive strategic advantage. This session discussed how Customer Data Hub can help balance privacy and personalization to increase customer trust.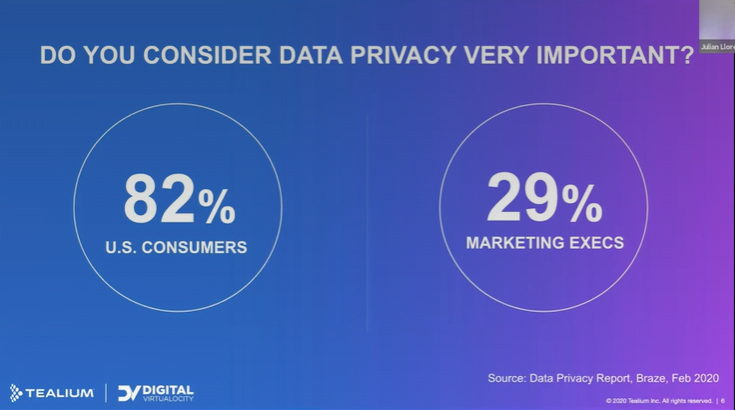 An interesting fact, 75% of adults have stopped engaging with a company out of concern for the way they use personal data. If businesses use a CDP in the proper way, it can ensure that customers are being tracked properly and can personalize their experience based on their consent to privacy. This is something that all companies are having to deal with, especially with changes to cookie-tracking coming soon. We can use a CDP to collect consent of the customer, as well as add some context to that consent. The CDP can offer a customer level view of privacy preferences, so the customer has a unique experience. It is then possible to activate or suppress audiences based on their level of consent. Utilizing a CDP can automate data privacy across all company data.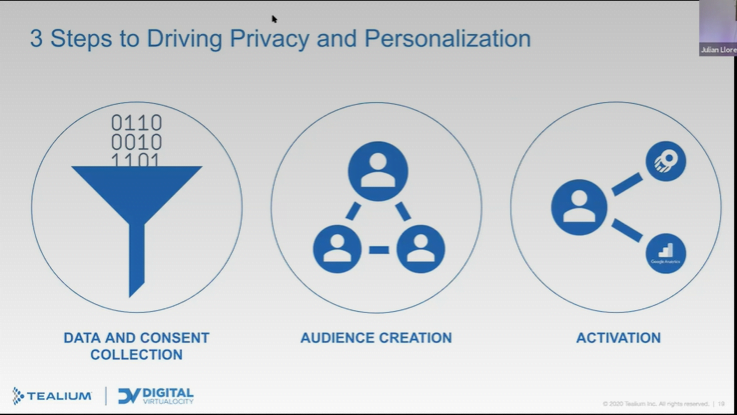 Conclusion
While it would have been nice to enjoy San Diego and interact with other Tealium clients at an in-person conference, Tealium made the online experience fun and informative. They also provided videos for later reference so we could review the sessions we could not attend due to double-booking or time commitments. This was a refreshing way for us to learn beyond the sessions we signed up for.
Overall, Tealium is a fantastic company with a suite of products that are helping companies get control of their data and use it for the best consumer experiences. As a team, we're excited to apply the insights from this conference to our current and future Tealium clients.