Two Very Different Worlds of Marketing
May times lecturers, writers and publications speak to the idea of marketing, and yet they lump the conversation of marketing under one umbrella, as if the general means and measures of marketing apply to any and all types of audiences. As any experienced professional knows, there is a tremendous difference between business-to-business (B2B) and business-to-consumer (B2C) marketing. Sure, many of the concepts behind marketing apply to both categories, but the strategies, messages, tactics and channels can differ greatly, as the one key element that sets these two worlds apart is to whom we're speaking and their individual mindset when we're delivering our message.
Purchase Behavior
Inherently, when marketing to a business versus marketing to a consumer, it is evident that they would be different, however as much as they are different, they can be the same. Consumers and businesses both have needs, make purchasing decisions based on criteria, and follow the general rule of seeking a value-driven purchase. Finding the right combination and balance of these is the core to B2B versus B2C marketing.
Data, facts, markets, demographics, etc., are consistently referenced when the word "marketing" comes into play, yet very often the word "people" is forgotten altogether. Once again, whether B2B or B2C, the decision maker is a person! How we speak to them, where we speak to them, and the value we deliver to them may be very different in both the definition of value, and the context in which they are making their decision. Nonetheless, we cannot forget we're speaking to a person (the decision-maker).
Simply Put
Think "share-of-mind," not just "share-of-market." We all need a reason to buy, and that will be very different if I'm a consumer purchasing a personal item versus a decision-maker making a decision for my business.
Customer Insights
Decision-making for a business, and purchases by a consumer, both are subject to criteria; some are fairly predictable, while others are an ever-moving target and/or are unknown from an outside perspective, and uncontrollable. One can only work with what one knows, yet figuratively putting yourself in the customer's shoes will assist you in understanding their actions, e.g. is the business decision-maker the actual decision-maker, does he/she have a boss, is the decision budget-driven, is it seasonal, what value will your product/service provide in making them look like rock stars?
Simply Put
We all want to make sure we made the right decision, which will make us look (and feel) good.
Return on Investment (ROI)
The previous section touched on some similarities between B2B and B2C marketing in principle; however, return-on-investment (ROI) is an area which does create a divide in how each of these buyers perceives and assesses ROI, i.e. looking and feeling like I made the right or best decision.
Certainly it's easy to understand that a business is truly focused on numbers: revenue, leads generated, sales closed, net profits, etc., so the language and communication in marketing B2B is very focused on how the offer is going to produce this type of ROI for the business. Whereas with the consumer, they might be thinking numbers more in terms of price-to-value, as many products and services bought by a consumer go hand-in-hand with emotion.
Simply Put
Consumers purchase as much with their hearts as they do with their wallets, and though a business decision or purchase is handled by a person, this is usually in the context of the business, which tends to push the emotional consumption more to the sidelines—however, don't underestimate the emotional part in B2B decisions.
The 4 P's (and 4 C's)
For years, marketing proponents have spoken of the 4 P's:
Product
Price
Place
Promotion
It is often the belief that if you engage these 4 P's properly, you're in good with the buyer. Well, with competition ever growing and needing to steal mindshare and market share, these will no longer do. The customer is much more in control today and generally has the upper hand in their decision making process. Both experiences over time and secondary research have consistently shown that beyond the four P's, the four C's are just as (if not more) important to the buyer in the decision making process.
Simply Put
Customers demand
Control
Convenience
Choice
Credibility
Engagement Strategy
Creating a dialogue to keep a business and/or a consumer engaged in a purchasing conversation is the core to not only a sale, but more importantly, to bringing that buyer on as an advocate for your organization, and in creating sustainable ROI.  As seen too often, after a purchase happens, the "contact" then moves from a lead to a sale or a customer, and yet organizations don't realize that a single transaction does NOT make a lifetime customer, but rather a trial into your organization or product experience.  A lifetime customer, versus a one-time purchase has certainly been proven to be a better value proposition for the long-term growth and sustainability of any company.
There's an old Chinese proverb that goes something like this:
Tell me and I may listen,
Teach me and I may remember,
Involve me, I will do!
Simply Put
unless a buyer is an advocate for your company and product/service, or they are a repeat purchaser, an organization should be hard pressed to lump them into the category of a "lifetime customer."
Infographic Examples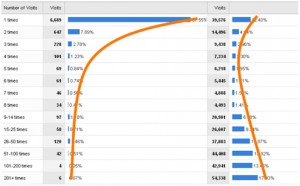 If you still have reservations that there is an inherent difference, or that there is only a subtle difference between B2B and B2C, perhaps looking at things from the opposing angle, i.e. the effect a B2B versus B2C customer has on a business over time will paint a clearer picture. Here is an example pulled from Google Analytics.  Can you guess which is the B2B customer and which is the B2C customer? Logic would tell you that people (i.e. website users) coming back multiple times (i.e. website sessions) are probably regular and/or loyal shoppers, hence a retailer (i.e. B2C business).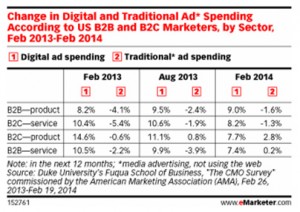 Here's another great example where we can clearly see the inherent differences that lie in both realms, and even further how additional product/service segmentation can potentially illustrate an even greater percentage shift in how you might develop a marketing strategy.
Simply Put
As a customer yourself, how do you use social media, mobile or respond to direct mail from a retailer on a personal level versus when you're receiving a communication at the office? One's messaging and content strategy will differ greatly in both the context of the channel, as well as the mindset of the recipient.
Conclusion
The best offense is differentiation!  You commonly see the latest marketing study, or state of marketing reports, come out from a variety of organizations as sales tools, free promotions, and/or from research firms for purchase. And once again, everything is lumped into "marketing," and very little attention is paid to the separation between B2B and B2C.
How are marketers able to make good decisions based on aggregate data in ensuring their own decisions and/or advice to clients will be fruitful in the context of mixed data? Through giving credit where credit is due, many reports are segmented as they come from organizations that specialize in either category.
The point being, make sure you're clear on the data that you're assessing in respect to your category, and remember to put yourself in the buyer's shoes. It all sounds simple; however the tendency to push our ideas versus truly understanding the buyer is a dangerous pitfall. And should you want to take this a step further, generational aspects are another area of segmentation that could play into what "shoes" you're wearing in order to understand your audience. Baby boomers versus millennial certainly will have different motivating factors when it comes to B2C marketing, but that's a whole other article.
Simply Put
Segment your data, study the facts, BUT look for the consumer or business insights rather than just at the data.