What is a PR Firm?
While you have most likely heard of a public relations agency, or "PR Agency," as it is often referred to, many people don't really know what it is a Public Relations Agency does. When I tell strangers, or even my family, that our agency does PR, they often ask, "What does that mean?" They picture pop culture publicists like Samantha Jones in "Sex and the City" or Olivia Pope from "Scandal." While entertaining, these characters are not the best examples of the day-to-day activities for a PR professional. Let's talk a little about the history of PR and some of the roles a PR agency plays in this day and age.
History of Public Relations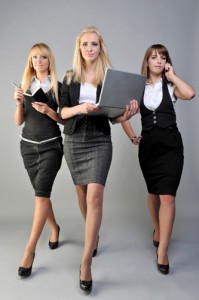 There is no single event or date associated with the beginning of public relations as a profession, however most textbooks say that it first developed in the United States in the early 1900s with the introduction of mass media. Early "PR" professionals primarily dealt with damage control, as publications of the time often profiled large businesses stealing money from stock holders, overcharging the public or general corruption, causing the public to look very negatively on these large businesses. This led to the creation of the first PR agency, The Publicity Bureau. Founded by former journalists including the "father of PR," Ivy Lee, The Publicity Bureau was the first to use press releases in order to feed facts to newspapers about their clients and to place positive stories (instead of negative stories) about their clients' businesses. They became so good at turning opinion and de-emphasizing the negative that they became known as "spin doctors," a nickname that still follows the profession to this day.
These days, it is not just the big businesses that need the services of PR professionals, but small businesses, authors, universities, public figures and nonprofits alike. There are many services that a typical public relations practitioner provides to their clients, from event planning and relationship building, to story pitching and more.
Strategists
Before beginning any public relations program, a good PR agency is going to spend some time getting to know you and your business. To be successful in the long term, this is a crucial step that can sometimes get missed in the hectic day-to-day of business owners and agency workers.
Research
When we first take on a new client, for whatever services it may be, we go through an "onboarding" process. It is imperative that as a PR agency, we take the time to learn about a client's company, goals, products, leadership, history, market and culture, to truly help create a strategy that will work for them. One other key step is to look at the client's competition—what they did right, what they did wrong, how do they compare? All of these questions will give us a clearer picture to begin working with.
Planning
To be able to say a campaign was a success, you must have a goal to start from, and to have long term impact, you need to have a plan. Whether you are promoting a new product, launching a nonprofit, or trying to mitigate some negative press, a PR agency will work to develop a plan to achieve these goals. Common items the PR agency will focus on include key messages, target outlets, and potential pitch ideas.
Messaging
Before you even think about starting to sit down with a member of the press, a good PR rep will work with you on your key messages. What are those two or three vital elements that you want to communicate to the media, and how can you express them well and succinctly? Having defined messaging is very important when dealing with multiple spokespeople to ensure that everyone is on the same page and presenting the same information. Think of it as your "elevator pitch."
Writers
Writing is one area that PR professionals spend much of their time. To be an effective communicator, you have to know how to communicate on a variety of platforms, and the written word takes on an even greater importance in the digital age, where journalists are overwhelmed by emails and hate answering their phones. Below is just a sample of some of the types of pieces a PR agency might write on behalf of its clients.
Press Releases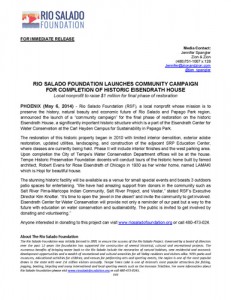 A press release is the most common form of writing that PR students can expect to work on in school, and by far one of the most frequent forms of writing used on the job. A press release is a simple document, written in The Associated Press style. Best practices call for the press release to speak only in facts (not marketing or advertising lingo). It is used as a source for busy journalists to confirm their facts and is sometimes used by smaller outlets, being turned into an article itself.
Press Kit
A press kit, or a media kit as it is sometimes called, is a compilation of documents that give a journalist background on the company. The specific parts can vary depending on the industry that you are working in, but common elements include:
Company fact sheet
Company backgrounder
Executive bios
Product fact sheets
Frequently asked questions (FAQ)
Past news coverage
Significant press releases over the last two years
Media Advisory/Calendar Listing
While these two documents have different purposes, they are very similar in layout, so I have grouped them together. A media advisory is a short "Who, What, Where, When, Why and How" outline that is used for events. Calendar listings typically come first and are sent out to calendar editors at local publications to get listed under their calendars and "things to do" round-ups.
Media advisories are used closer to the actual date of the event and are primarily sent to visual media such as TV and photographers. A media advisory lets the media know the quick details of your event in order to help them decide whether they want to cover it or not.
Speeches
Some PR agencies, especially those that specialize in public affairs, will also draft speeches for clients, including everything from an award acceptance to a press conference address to a rally speech. High profile politicians typically have speech writers on their full-time staff, many of whom have a background in some type of public relations.
Media Relations
The biggest part of a PR professional's job is getting coverage for their clients in the news; we call that process "media relations." To effectively secure interest from a journalist, PR professionals rely heavily on research, instincts and personal relationships.
Relationships
There is a reason why the majority of PR professionals are extroverts. Building relationships and talking to people is a crucial part of the job. Often times, networking outside of the traditional office and office hours are par for the course. That's one reason so many people imagine the life of a public relations professional to be glamorous and full of socializing at extravagant parties. The reality is, having drinks with someone, while it may get your foot in the door, doesn't let you stay there, without working hard and needing to build upon that relationship.
Building a good relationship with members of the media extends far beyond the occasional happy hour run-in at a networking event; it truly becomes about being a reliable resource. PR professionals build relationships by presenting quality story ideas, gathering all of the necessary resources, being flexible, responding in a timely manner and taking the time to help a reporter, even when it isn't about you or your client. Spamming reporters with bad ideas is a sure-fire way to not build a relationship or to damage an existing one, and public relations practitioners need to keep as many healthy relationships with the media as possible.
Building a Media List
To get started securing media for a client, an agency will create a media list based on that specific client's needs. They will focus on a specific geographic region, whether it is national US or Public Relations in Phoenix, Arizona. They will look at different types of media, such as newspapers, magazines, radio shows, TV shows, blogs and online news sources, and they will look for reporters who write about the industry of that client. There are publications geared toward the general public, like a daily newspaper, and then there are publications and websites that are focused on a specific industry, called trade publications. A PR agency will comb through millions of options to create a media list of contacts that are interested in news from that client.
Pitching
Securing media coverage isn't as simple as sending a press release to a reporter. To begin the conversation with someone from the media, agencies will start off with a "pitch." A pitch is designed to highlight the client's news in a short blurb that is interesting and relevant, in hopes that the reporter will want to write a story about it. This is a common area of contention between PR pros and journalists, as the media often receives a ton of BAD pitches each and every day, causing them to get frustrated. In fact, there are many blogs and articles out there that talk about how not to pitch, such as:
A good pitch will offer a reporter a compelling story angle that fits their audience and offers up everything they could need to complete a story, including sources and high resolution photos. While there are blogs and articles devoted to how NOT to pitch, there are also some devoted to HOW to pitch. Our favorite is Michael Smart PR.
Preparation
Once we have secured an interview for a client, we will help prepare them for it. We gather information from the reporter on their story angle, sometimes even getting questions in advance. We give our client background information on the reporter, key messages to get across in the interview, and coordinate the scheduling.
Afterward, we follow up with the reporter to offer artwork, fact check and provide anything else that they might need. In most cases, we aren't able to see the story in advance, and we don't have any control over the final editorial, but we can work to influence them.
Crisis Management
Almost every day there is some story in the news that is based on a crisis for someone; whether it is an investigative piece, a bad customer service story gone awry or something like an oil spill in the ocean. Preparation and training can make these types of rough waters smoother. To handle these situations with grace, you need to be prepared.
Plan Ahead
PR firms can help you craft a crisis communications plan to establish some key factors in advance. Let's discuss a few things to keep in mind. First, establish a level of crisis. You can do something simple like green, yellow and red, numerical or have a little fun and call the levels Defcon 1 and so forth. For example, a very negative review on the popular review site Yelp is a low level issue, but an investigative piece on the evening news about a shooting at your establishment that killed two people is going to rank very high on the list. Something low level would likely be considered green or one, whereas something high level would be considered red or three.
Once you have some basic levels established, you can then outline what needs to happen for each level. For a green light issue, maybe you alert the social media and PR manager to be on the lookout for issue related messages. For a red level issue, it is likely time to get your CEO and possibly attorney involved. Put together a contact outline, almost like a phone tree, to get in contact with everyone quickly and efficiently.
It is also important to determine who your representatives are in certain cases. Often times, it will be your regular media representative, but if an issue is steeped in legalities, maybe it is the attorney. If your CEO is under investigation, he or she should not be the spokesperson until the matter is cleared up.
When things fall apart on a holiday weekend and no one is in the office, your plan will help you get organized quickly and ensure you are able to respond to inquiries even if someone is traveling on a plane and can't be reached.
Media Training
While media training is always a good idea, it is essential when dealing with a crisis situation. A good representative can invoke feelings of trust and stability that are important when dealing with an aggressive member of the media or public. Having a spokesperson that is nervous and stumbling over their words only magnifies potential issues. This can quickly lower the public's opinion of your client even more.
Media training involves teaching a client how to speak and interact with the media:
What to say
What not to say
Body language to avoid
What clothes to wear
Most PR practitioners can walk a client through an easy and solid training session. Occasionally, when you know a crisis is coming or are dealing with an image problem, they may refer to a specialist in media training, although we provide that service in-house. Typically, these folks have extensive background in media, sometimes being former reporters themselves, and often focus on broadcast training since that is one of the toughest forms of media to master.
Next time you are watching the news, pay close attention to the folks being interviewed. I bet that you can tell which ones have been trained and which haven't.
PR Tools
While public relations professionals, like me, can seem to know a lot when it comes to the media, it isn't all head knowledge. Like other professional groups, we have a set of tools that we use to help us in our efforts to create and execute the perfect campaign for our clients.
Media Database
There are several options that house databases of media contacts. These allow PR professionals to search for specific publications, specific beats (a reporter's specialty) or specific people. National databases are on the pricey side, and are typically used by agencies that have multiple clients. Some national options include:
For smaller agencies that only deal with local clients, there are other options that are less expensive, either because they contain fewer contacts or are hyper local, dealing with a certain region. Options like this include:
Clipping Services
At the end of the day, clients and agencies want to see the results of their hard work in the form of press clippings. It is close to impossible to keep up with all of the hits that your client will likely receive. This is especially true if you get coverage outside of market, and can't go pick up a copy of the publication yourself. There are services that read publications across the country, scour the Internet, and review closed captions in order to find mentions and hits. Monitoring services where the service is proactively watching for coverage can also add up, but will get you the best return. Some of these companies include:
There are also companies that work specifically in broadcast. These companies can monitor ahead or secure a copy after the story has run on air.
Wire Distribution
Another common tool in the PR professional's belt is a wire distribution service. In essence, a press release will be electronically sent to a list of media and websites from a very wide, down to a very narrow, targeted subset. PR pros will put a press release out on the wire using a variety of services. Some of the most popular wire services include:
Editorial Calendars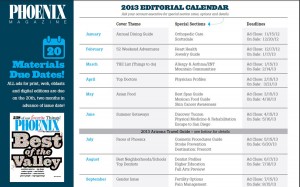 Outlets with a longer lead time, such as magazines, will often plan their year out in advance, deciding what topics to cover what month. This calendar is then used by the advertising department at the magazine to solicit ads relevant to that content. Additionally, this outline is also helpful to a PR pro looking to pitch a client to that publication.
Using this calendar as an example, if Phoenix Magazine is planning a focus on dining in January, we would send a pitch about all of our restaurant clients, like Quiessence, to be part of that guide.
Often times, there is editorial available with these, but sometimes they are paid opportunities, which would be called an advertorial. This can also be a part of a PR strategy, as it often appears like editorial content, but you have complete control over the content.
Events
In the life of a public relations executive, there are many different types of events that you might be required to attend on behalf of your clients. Some are more interesting or more glamorous than others, but they all have value to a client's PR goals and are important for the PR pro to attend.
Press Conference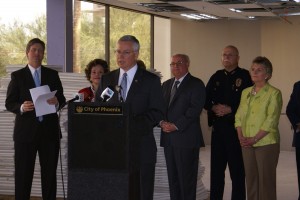 When making a big announcement, companies and politicians will sometimes hold a press conference where they invite members of the media to attend. Typically, these events are just speeches by one or more people involved, but often times they include a question & answer session afterward. This allows reporters to gather additional details for their story. This is one of the most common PR activities you will noticeably see in the news.
Media Tour
Media tours are typically reserved for large scale product launches, like books and movies. Authors will go around the country doing book signings, speaking with media in each city they visit. US movie tours will often only include Los Angeles and New York, and there will be a day or two where media are invited to interview cast members in one location.
With the invention of video conferencing, the need for media tours has decreased as product demos can now be done via Skype without the added cost of travel. Reporters can still get the information they need, all the while getting stories published faster.
Galas/Fundraisers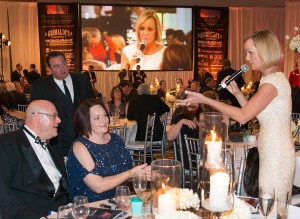 Arguably one of the more fun aspects of public relations are the exciting and lavish affairs that you get to attend. While it can make your friends jealous, what they don't realize is that you are often working at these events and don't get to enjoy it in quite the same way as the guests. These events can be grand openings, nonprofit fundraisers or product launches. You will see PR pros checking-in members of the media and making introductions to company representatives. If it is a bigger event, they can also be in charge of setting up a red carpet, escorting people down the carpet and coordinating any footage or interviews that are happening live. Check out our blog post about live social media from an event  to get an idea of what's involved. Without a PR pro, or team of PR pros, these events can be chaos, resulting in poor coverage for the client. With help, they are a source of great coverage that highlights the right key messages.
Trade Shows
Trade shows are fairly common for any industry, and when you are paying money to have a presence at a trade show, you want to make the most of it. PR professionals can assist in a variety of ways:
Coordinating with the show and highlighting events you are holding
Setting appointments for members of the media to stop by your booth
Fielding inquiries inside the booth or at an event from members of the media
PR pros will work with the event coordinators to find out what media are attending and reach out to them before and after the event, offering interviews, photos and additional details.
Types of Agencies
Now that we have talked about what a PR agency is and what they do, we should talk about the different types of PR agencies out there. When looking to hire a PR agency, you should keep in mind the type of agency you are looking at and what its strengths and potential drawbacks could be.
Broad PR
This will be the most common type of public relations agency across the country. These folks work across all types of businesses and can function on a local, regional or national level. While they do have media relationships, they have to spend some time getting familiar with a new industry, city, etc. However, because they are constantly learning new industries, they bring ideas to the table that might be commonplace in one industry but new to another.
Vertical Specialists
These agencies specialize in a particular industry or segment of public relations, like public affairs. Spending all of their time in one industry allows these PR professionals to build strong relationships with the reporters who cover that specific industry. These PR pros are also well versed in the "lingo" and trends in that industry, just like someone in-house would be. However, specialists can tend to get stuck in the "way we do things" mentality. This can cause the same tactics and approaches to be used over and over.
Full Service
There are agencies that only do public relations, but there are also larger full service agencies that handle many aspects of communications, including advertising, marketing, media buying, web development, social media, graphic design and more. Typically, full service agencies handle a variety of services for each client, but often times, each department is run independently so it is up to the client to know what is happening in each area unless your account manager is exceptional.
Integrated
The newest type of agency, which we believe is the future of all agencies, is the integrated agency. In this type of atmosphere, marketing, PR, social media, design, web development, etc. are treated as different aspects of an overarching strategy which work off of and with each other, rather than in a silo. This is where Zion & Zion fits in. Those working at integrated agencies are more likely to develop into what we call T-shaped people.
Conclusion
Next time you hear someone ask, "What does a PR agency do?" you'll be able to answer the question. PR agencies work with a client to plan a campaign, complete with business goals, to elevate their client in the media. They use a variety of tools to reach the appropriate media and capture their interest with well written and intriguing materials. Lastly, they help clients prepare for interviews and work with journalists to provide them with all the materials they need. The results are some great media pieces with wonderful images, highlighting exactly what that client wanted the media to say about them. And, in the case of an integrated agency, like Zion & Zion, they are typically dovetailing into a variety of other marketing areas in support of their client.