A Guide to Successful Live, Real-Time Social Media
Events are a major undertaking for any company or organization and they offer a unique opportunity for exposure, both for the event and the entity putting it on. So much blood, sweat and tears go into the actual planning of a successful event that few consider who will handle the social media the day of the event. In all reality, the social media aspect to an event is easy to overlook and seemingly unnecessary to make an event a success. However, and not to add pressure to the planners out there, with mobile device usage on the rise you can be sure those in attendance will be talking about you and your event on social media whether you are or not – so you had better have a social media plan in place!
This blog provides in-depth tips to help you coordinate social media for any event. Based on real experience from coordinating an array of events for our clients, our Public Relations & Social Media team is happy to provide you with exclusive, tested strategies and tactics to ensure your social media efforts bring the success of your event to a whole new level.
Goal setting for your event: What do you want to accomplish via social media?
First and foremost you must establish what the goals for your social media campaign are. Typically tied to the overall public relations goals for the event, it is best to not proceed with planning until you are certain you know what is wanted and required of the social media campaign. This will most likely depend on the size, scope and importance of the event.
For example, we have had client events where all that was required was a post or two to Facebook with the goal of simply giving an event some recognition. This will require very little planning and resources on your part. However if the event is the largest, most important fundraising event of the year, you're going to have a much different scope of responsibilities.
Social media event planning: What should you do to plan for your event?
There are some elements that can be planned and brainstormed before the details of your event have been set. However if time allows, it is best to wait for decision makers and planners to finalize the details of the event before putting much time and effort into planning or risk reworking existing plans to fit into the latest event updates. But, we all live in the real world right? So if time does not allow (as it so often does not) just be prepared to "go back to the drawing board" on occasion to tweak content, plans and ideas.
One recommendation to give an event some traction is to create a unique hashtag for the event.
(Tip: For best results make the event hashtag easy to remember, easy to type and keep it brief.)
Why an Event Needs a Hashtag
There are multiple reasons you should plan on having an event hashtag; for starters hashtags are now utilized by three of the top major social media platforms: Facebook, Twitter and Instagram. At this time the effectiveness of hashtags on Facebook is debatable, however on Twitter a hashtag helps to keep the social conversation about your event filtered. Easily find and interact with everyone who is posting about the event by simply searching the hashtag! On Instagram much of the same applies, however hashtags are also an amazing way to attract and increase your following.
Simply put, using a hashtag will help your social media team to monitor the event's conversation, which leads us to our final tip.
(Tip: Create and finalize the hashtag as soon as possible and ensure it gets realty on any and all event marketing materials; i.e. programs, fliers, presentation slide shows, etc.)
As we said, event attendees will be posting to social media whether you are engaged or not, so why not let them know as soon as possible what the event hashtag is so you can immediate help to control (and participate in) the conversation!

Take Advantage of Event Supporters
If you are lucky enough to have celebrity or noteworthy supporters, partners and sponsors for your event, then by all means leverage them and their social media accounts! In some cases it will require having this negotiated up front in the early stages of planning, but in most instances anyone involved in the event will be more than happy to promote it. To be fully prepared and to keep the event on-message, plan on creating social media content for any platforms these supporters and partners have accounts with. Provide them with this content along with any instructions (such as how often to post, etc.) as soon as you're able. You'll want to get pre, during and post event support from them.

Set Up Social Media Command Center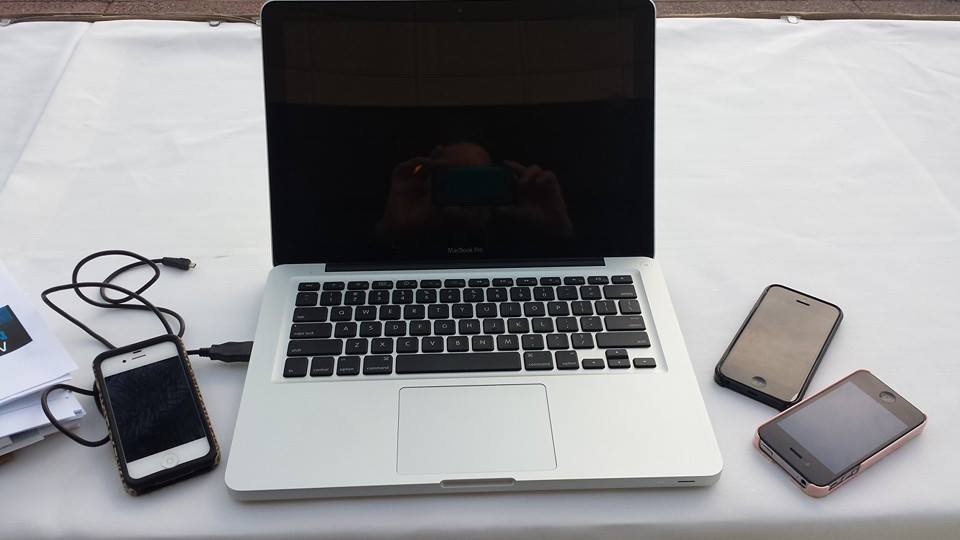 To make the lives of those in your social media team easier, ensure you (or the client) and the venue coordinates to have a designated work area to be your social media command center. What you need in a work space will vary per event, however consider the following:
Do you need to be immersed in the event? Usually the answer is yes, so you can know what is going on. Don't rely on the itinerary 100%. Will your supporting staff (photographers, media relations, etc.) have easy access to you? How close you are to different areas of an event and your staff is going to affect your productivity and effectiveness. Plan on being distracted while posting real-time at the event; distractions are going to be synonymous with the event. Do yourself the favor when coordinating this by ensuring you have WIFI credentials available to you upon arrival. Getting WIFI on-site the day of the event can be quite a time waster since you're at the mercy of the venue. This could potentially make or break your success!
Gather All Necessary Login Information
Similarly, while it seems obvious, an easily overlooked pre-event task is ensuring that all relevant login credentials are sent or provided to those who will be working the platforms during the event. It would be a setback to arrive at the event, set up shop and then realize you have no way of accessing the social media accounts.
Create Lists of Anyone You Anticipate Attending
Finally, one of the best things you can do to save yourself time during your event is to anticipate who will be in attendance! If you're throwing a larger event that celebrity or notable members of the community will be attending, coordinate with those handling the public relations to get a full list of those who have not only confirmed, but who have been invited as well.
(Tip: Don't forget the media! If your local CBS affiliate shows up you'll want to have their social media handles ready.)
Once you have this information you can plan ahead, do the research and have a full social media handle inventory on-hand during the event that may potentially matter to you. Having this will allow you to easily tag/mention them in your social media content.
For example, during your event if your supporting staff uploads photos of a high profile attendee you will immediately have their social media handle(s) ready, and your time and energy can be spent posting compelling content rather than searching for their verified Twitter account. Tagging or mentioning their accounts will not only give your content credibility, but will increase the likelihood they will engage with you, either during the event or after.
(Tip: When researching social media handles be sure you are getting the verified, official accounts. Don't embarrass yourself and the company/client by accidentally tagging unofficial fan pages or parody accounts.)
Know thyself: Perform a social media situational assessment
It is important that your event's social media content has a voice consistent with that already established for the company or organization. Slight changes may be allowed for the event, but it is still a good rule of thumb to understand the brand and keep consistent.
Equally important is an understanding of the platforms you're going to be posting from during the event. You don't want to post the exact same content to each of the accounts, as you won't be giving your fans and followers a reason to actually follow your brand on each platform. To give your audience some value, designate a unique perspective or point-of-view to each of the accounts.
Live Instagramming for Events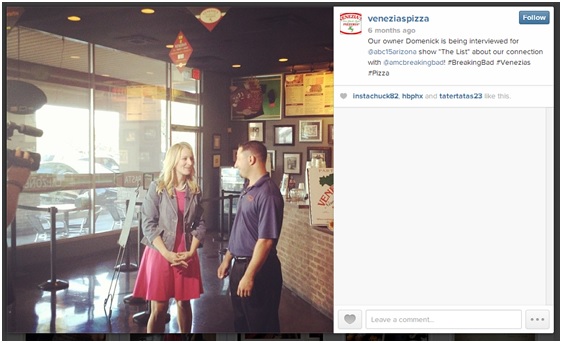 Instagram can be utilized as a behind-the-scenes platform. Give your followers access to interviews, whether you're teasing an upcoming TV segment or providing a follow up to a major announcement made at a press conference. There are some unique nuances involved in behind-the-scenes posts as well, such as your photos can be of rough or rugged quality; meaning you can use a cell phone to take the images. As well, take the opportunity to take pictures from different angles; i.e. panned out, behind the camera or production equipment. And by all means, take advantage of the free photo editing apps to enhance your Instagram images.
Live Tweeting for Events
Twitter really varies in purpose as a platform but it poses unique opportunities for your event in that celebrities often are directly connected to their official Twitter accounts (unlike with the other platforms where assistants may be managing the celebrity account), the media often prefers this platform for real-time posting and in that breaking news often breaks first on this platform. That said, tag all the media you can! Any retweets give your event (and company) added exposure to an audience outside of your established reach!
Live Facebooking for Events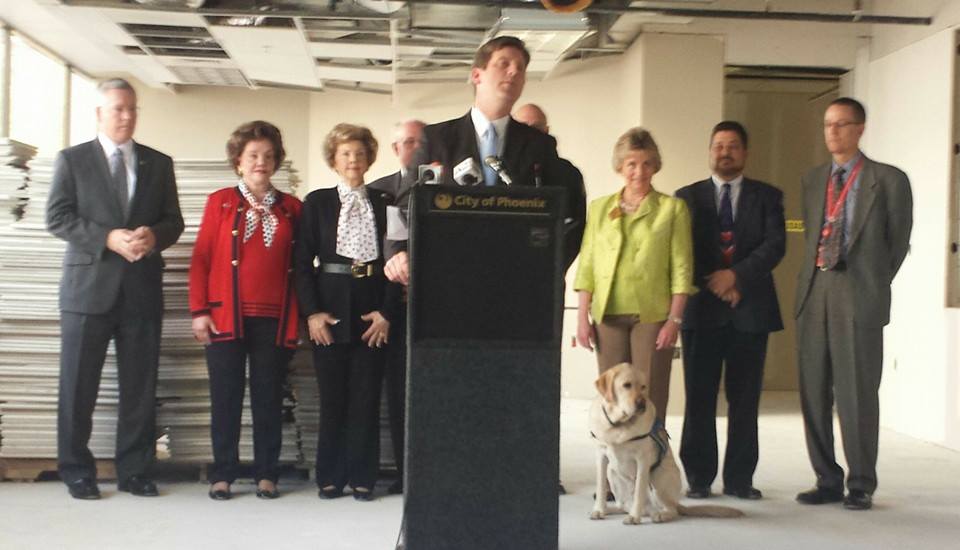 In most instances Facebook is going to be your primary social media outlet, which is great because it allows you to tell your event's story from start to finish. Reserve your best photos for this platform because along with its lack of character restrictions (Twitter has a 140 character limit) and user-friendliness (Instagram can be difficult to construct posts, leading to grammatical errors) you can easily give meat to the event's social media for your audience who can't attend. And let's face it; they're primarily the ones seeing your content real-time.
To keep from coming across as arrogant on Facebook to your audience who isn't in attendance, be sure your posts are primarily informative. When the event and company or organization allows, provide a call-to-action with your Facebook posts as a reminder that the event is part of something bigger; e.g. "Make a donation!" or "Click here to learn more!"
Your social media plan for the day of the event: Carpe diem!
During the event the social media team is going to learn the art of multitasking, if they haven't already. Aside from the on-going posting of content to the various platforms, the primary task-at-hand is going to be monitoring the social media engagement being received. Likes, comments, shares, etc. are going to give you general feedback as to what types of posts people are responding to. However monitoring isn't just about reveling in your successes or fine tuning your message.
Monitoring Your Social Media in Real Time
When monitoring social media, be on the lookout for negative feedback. Positive feedback can easily be dismissed or have a delayed response, however you'll want to address any negative feedback as soon as it is posted. The response can be everything from hiding or deleting a comment, to formulating an official response and making attempts to take the conversation offline. You should be able to anticipate potential negative feedback based on which celebrity and notable community members are attending the event. Even then, you'll most likely only get responses to issues or people you actually post photos of during the event. So anticipate any potential crises when formulating your social media handle inventory and post with caution.
Interact and Capitalize on Celebrity Mentions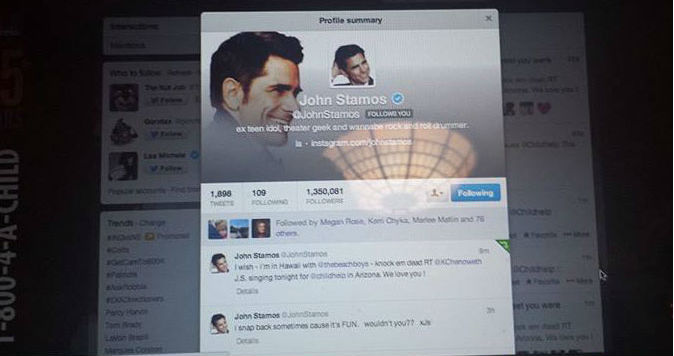 You will need to have your wits about you during the event, especially when monitoring the social media accounts. We had a major client event where the headlining celebrity posted to Twitter as guests were arriving that John Stamos was going to perform that night (which was rumored in the planning stages, but never confirmed). As you can imagine we capitalized on the buzz around this last minute change (as real-time posting allows) only to find out this was not true. Luckily in this situation, John Stamos actually replied and said while he wished he had been able to attend and perform he was on location in Hawaii. If he hadn't responded we would have had to strategically inform those who were following the buzz and adjust their expectations.
Repurposing User Generated Content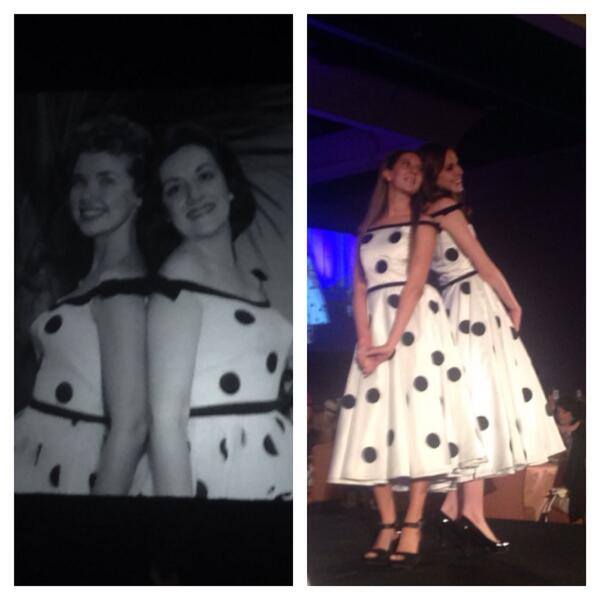 Be on the lookout for user-generated content that you can repurpose. While your best efforts will go into having well thought out, planned, compelling content posted during your event, be aware that hidden gems may lie within the content posted by those attending your event. It is easy enough to understand; most events are not hands-on enough to keep your attendees' full attention so many will resort to browsing through their social media pages, and in some cases posting to their pages about your event. Repost this user-generated content as a way to mix up the types of content you are posting, and typically this act of engagement will enlighten most that you're active on social media and true engagement will result!
If an event hashtag has been created and heavily marketed on official items such as the program and presentation slides, then do plan to have a screen placed off to the side that feeds the real-time display of tweets utilizing the hashtag for attendees to view. If this has been organized then your social media command center should be located among those in the production booth, so it is a coordinated effort.
Keeping Track of Content on the Go
Those posting content during the event are going to have to keep a literal or mental list of the content to go out, be able to prioritize this content and then have a general idea as to the order or schedule of posts. This is going to evolve as the photographers upload content to your device(s), as guests arrive and as the agenda progresses. It is important to stay as real-time as possible and to mention important guests, however keeping the agenda top-of-mind is vital. For example, if an event has a live or silent auction incorporated, you'll want to shift focus from arrivals to the auction real-time as it is a great opportunity to raise funds.
Assigning Roles to the Social Media Team
Your social media team needs to have assigned roles during the event. You can't just simply have one photographer and give them no direction. For important or large events we recommend the following:
One person posting content per social media platform being utilized
One photographer designated to report and upload photos per platform
Ensure there are open lines of communication with those on your team handling the media relations. Your photographers need to know as guests and the media arrive, so you can be sure to get the images you need. If necessary, assign photographers their own list of people to focus on. It should be the responsibility of the entire team to be on the lookout for (and capture) unique, off the schedule opportunities for social media. The client will reward you for capturing this priceless content.
A perfect example of this happened during a client's annual gala. Kristin Chenoweth, who was headlining the event, decided on stage to auction off the dress she was performing in. This off-script moment was captured and posted to social media immediately, adding to the online audience's appreciation of her support.
With mental lists of which content to post and when, the noise of the event, constant interruptions from your social media team, etc. it is very important that whoever is posting the content remembers the following two words: Don't rush. Good content takes time!
Regular Social Media Rules Still Apply
The rules of regular social media campaigns still apply, only you have far less time to ensure grammar is correct, that there are no spelling errors, the content is formatted correctly, other accounts have been accurately found and tagged, etc. The last thing you want is to wake up the next day and realize it looked like an eight year old went run amuck on the company's social media accounts.
Good, strategic social media can be hard to achieve in general and it is all the more difficult during an event when the pressure is on.
(Tip: Since posts to Instagram must come from a mobile device, there is an increased chance for spelling or overall grammatical error. To expedite the process and alleviate these errors, try typing out the content on a platform you're confident with and then copying and pasting the content into a text or email to yourself. You can then copy and paste the content into the Instagram post!)
Post-event Social Media Tasks:
Your job is not done once the event is over. Coordinate with your entire team to ensure any and all photos are compiled and organized into a single location so you all may leverage the content for your respective jobs. Social media allows you to use both professional and mobile device quality photographs.
In the first few business days after your event it is a good rule of thumb to cross promote any media coverage your public relations team garnered. Use this opportunity to post images of any celebrities or notable community members who you may not have gotten to post about during the event.
Most importantly, get your social media team to collaborate and compile all feedback, both positive and negative. Understanding what went well and what could be improved on will only help you to improve your real-time social media skills, and shows your client you know what you're doing. Once you have an internal assessment you can then do the same with your client. You may be surprised what good ideas could stem from a conversation with "outsiders."