Summary
We A/B tested a 10% off vs. a 5% off coupon. The 10% off coupon generated 47.4% more engagement than the 5% coupon. We were able to demonstrate that total profit was actually higher in the case of the 10% off coupon.
As Agency of Record for Imperial Wholesale, a national, family owned tile, natural stone, and flooring retailer and wholesaler distributing to several hundred retailers around the country, we are always seeking to optimize ROI (return on investment) and ROAS (return on ad spend).
This particular case study focuses on one of the many marketing campaigns that we've carried out for Imperial Wholesale. In particular, we examine how a multitude of variables interplayed to lead to the conclusion that a higher percentage discount offered to customers would actually generate a higher ROI, even though, at first glance, it seemed as if the client was reducing margins.
It seems obvious that if you offer a customer a 10% discount, they'll be more likely to buy than if you offer them a 5% discount.
It also seems obvious that if you offer a greater discount on each individual sale, you'll generate lower margins.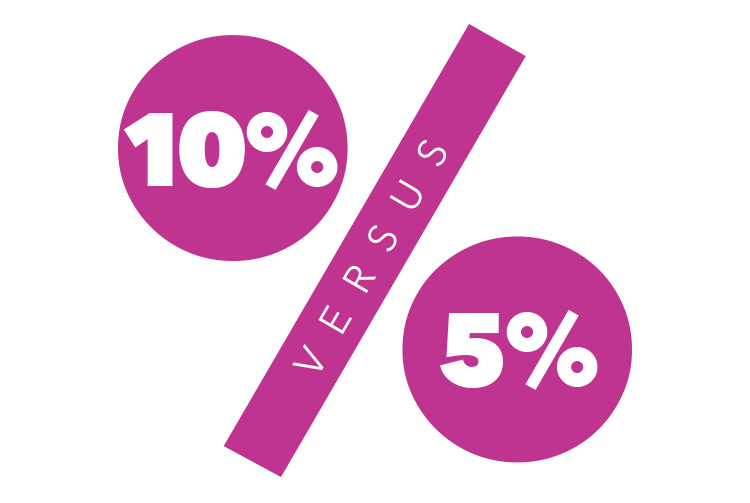 Here is how events unfolded. We A/B tested running a 10% discount coupon vs. a 5% discount coupon. We limited the maximum discount in both cases to a maximum of $100 off of any order.
One would expect the 10% coupon to generate most activity in terms of phone calls, contact forms, coupon downloads (i.e. "engagement") than the 5% coupon, and indeed it did.
The 10% coupon generated 47.4% more engagement than the 5% coupon.
Since this was an even split A/B test, the cost to drive leads to version A and to version B was equal.
But now the question becomes, while the 10% version generated 47.4% more engagement than the 5% version, was the overall ROI better, or was there a decrease in margins with sales that included the 10% discount that made ROI worse?
The answer is that the 10% discount actually generated higher ROI than the 5% discount. This is because almost all of the sales that were generated off of either coupon exceeded $2,000. And, since 10% of $2,000 is $200 and 5% of $2,000 is $100, nearly all sales, whether they used the 10% or the 5% coupon, maxed out the discount at $100. Remember that the offer terms stated that the maximum discount amount was $100.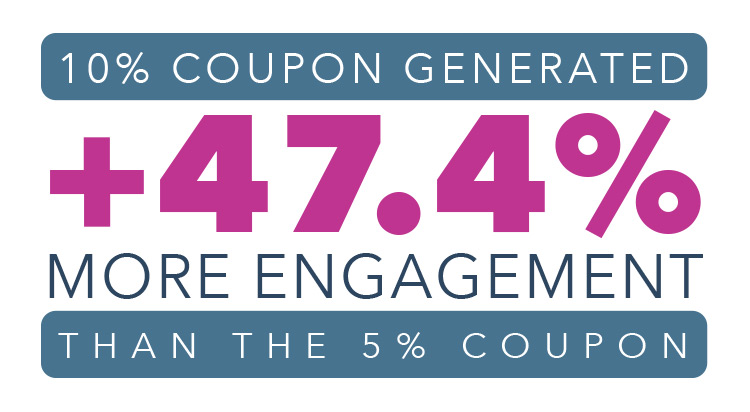 As a side note, we had previously run a test with this client where we had concluded that limiting the total discount dollars to $100 did not significantly impact engagement or business.
In summary, the same amount of ad spend generated more engagement, more transactions, more total revenue, and more total margin dollars when the 10% coupon was used vs. when the 5% coupon was used. This type of analysis that goes beyond simple crafting of an offer and explores ultimate conversion and bottom line impact is just one example among thousands of how Zion & Zion partners with our clients to grow and optimize their businesses.