Summary
We developed a 30 second TV spot for the client, focused on brand awareness. Our strategy and analytics team was able to demonstrate that brand awareness increased and that said brand awareness was directly responsible for a 20% revenue increase.
We recently produced the first 30 second TV spot for our client Shoppers Supply. The spot focused on brand awareness for the retailer. Discover how we not only drove a 20% increase in sales but how we linked TV to the results.
The impact of a brand awareness campaign on TV can be hard to measure and that measurement often takes time. Following the recent 30-second TV spot for client Shoppers Supply, their very first TV ad, our media analytics team reviewed various metrics. Both we and the client were gratified to see significant immediate impact on the company's brand and sales.
This first TV flight ran exactly two weeks from August 31, 2015 to September 13, 2015, and sales were up approximately 20%. But the key question was—how do we know that it resulted from the TV campaign? Here's how we broke down the analysis—general web traffic was up over the previous two week period. Sessions increased almost 19.72% while users increased 17.06% and page views were up 20.78%.
To give some further context, we looked at this same data for the previous year to rule out seasonality as a possibility, and saw that during the previous year, traffic remained flat from week to week for an extended period running from July through the end of September.
But one could say, web traffic was up during the campaign period, and while we've ruled out seasonality as the reason, we haven't yet proven that brand awareness was the driver of the traffic and sales increase. Therefore, we decided to look at the search queries that were bringing traffic to the website. We looked at the two-week period the commercial aired versus the previous two-week period. We focused on branded search terms and saw there was a 21.12% increase in brand term impressions during the run, along with a 23.21% increase in clicks on brand terms.
Next we looked at non-branded search terms as a comparison to see if search traffic in general was up—because it's fair to say that maybe ALL traffic was up—not just brand traffic. But in fact, non-brand search-term impressions were down 1.27% and non-brand search term clicks were down 23.81% while average position remained relatively unchanged.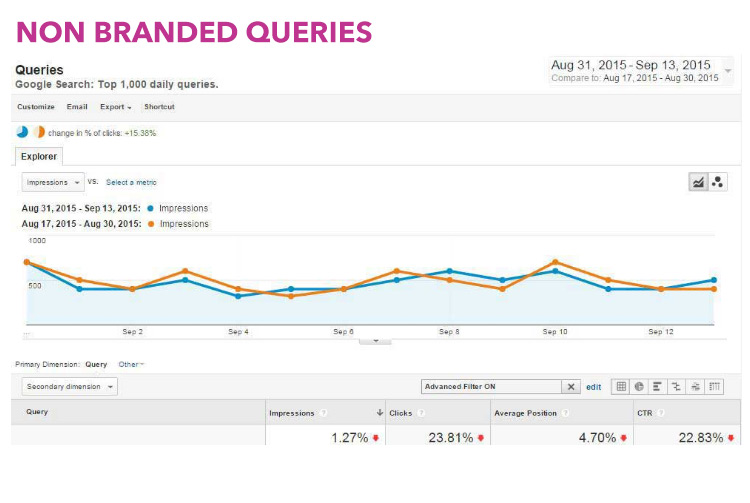 If anything, the TV campaign not only resulted in increased brand awareness, brand traffic, and sales, but also was fighting a general downward trend going on at the same time.
Note that all of the foregoing analysis was on organic traffic. We also saw an impact on paid search terms related to the brand. Overall impressions were up 20.8% and clicks increase by 11.4%. For those who did click through, we saw the number of conversions increase by 31.3% and the conversion rate increase by 17.8%.
Our takeaway? The new television spot was highly effective. All the data showed an immediate impact on the often hard-to-measure idea of brand awareness.