I really appreciate analogies, as they can draw a visual image in conveying an idea much easier than a long written or verbal explanation which may be open to various interpretations. So, here's one to start off with in framing our discussion.
Ask someone what they need, and in most cases, they will tell you about something that exists today. Something they want (or desire) vs. an unmet need. If you watch someone's behavior, you may get clear insight into those unmet needs—i.e. what they 'need,' which they can't necessarily put into words. For example, nobody asked for the fax machine, a cellphone, or rideshare services like Uber® before they existed, yet the 'need' clearly existed.
I travel regularly and have enjoyed the evolving technology which now allows one to watch movies on a cellphone or tablet. But as I've experienced myself, and have watched others try to place a device in hands-free mode on their lap or on the fold-down tray of the airplane seat in front of you, one could imagine asking the earlier question: 'what do you need?'.
Well, someone observed our collective behavior and took it upon themselves to design an answer to the question for American Airlines®. A separate flip-down unit at viewing height (see photo below) right above the seat-back tray.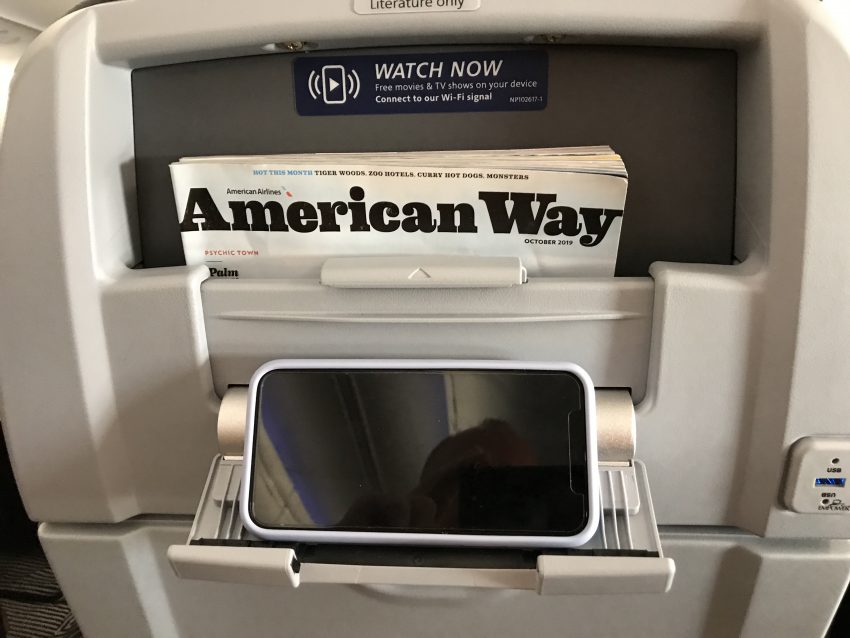 Nobody said (at least to my knowledge), 'I need a flip-down holder at viewing height to place my device on to be hands-free.' Rather, our behavior on airplanes "voiced" this need; we just needed to observe the behavior and take action.
As Frog's VP of Global Strategy, Timothy Morey stated in Why Design Thinking is Failing in Most Organizations: "Delivering successful outcomes for target customers requires upfront design research to truly understand who you're designing for, and where the unmet needs are. This is why we try to push the boundaries of research methodology, combining multidisciplinary teams that blend qualitative and quantitative research on real people and real behaviors. From there, we're able to incorporate that feedback consistently into the design and development process to ensure we help our clients scale their success and create real impact with their customers."
Get To The Point
The point is that in a previous article (Integrating Marketing, Technology and the customer: The New Paradigm), we discussed elements including strategy, MarTech stacks, CDPs (customer data platforms), and Walled Gardens in relation to understanding and meeting 'customer needs,' to in turn create the ability to profile, segment, and personalize marketing messages to both prospects and customers. However, before we start implementing or incurring substantial technology and infrastructure costs, we need to start with the behaviors and the customer experiences (CX) in which our segments live (and act) to appreciate how we'll truly fulfil their needs—especially in an ever evolving omni-channel world.
"A great customer experience (CX) is determined by a business's ability to effectively respond to the question: what do customers want? The challenge, however, is that in today's disruptive economies brands often need to answer this question before consumers even have the chance to ask it.

To achieve this agility organizations require deep insight into their CX to supplement operational data (O-data) from their CRM systems. Combining experience data (X-data) – like CSAT and NPS – with O-data – such as sales, finance, and HR – creates a system of action enabling brands to address the question 'what do customers want'.

Merging X and O Data gives you a holistic understanding of your company. It provides a rounded understanding of your brand by showing the connections between revenue, growth and human behavior."

– Qualtrics
Why Does This Matter To The C-Level?
According to a Nielsen, July 2018 study, American adults spend more than 11 hours a day interacting with media. With more and more companies launching media content, i.e. movie streaming services (Disney+ and AMC Theatres On Demand) to garner eyeballs and compete against the plethora of content that already exists, at the end of the day C-level executives are less focused on tactical metrics (Views, CTR, Open Rates, Likes, Media Impressions), are clearly focused beyond an interaction (which maybe be just a single step in a failed customer journey), and rather focused on an attribution tied directly to a conversion, which impacts revenue, margins, and profits.
Forrester, in its forecast, points to the elimination of the CMO position at dozens of high-profile brands, including Johnson & Johnson, Kellogg's, Taco Bell, McDonald's, Netflix and Walmart as evidence that the role is under attack. It also cites the 20-year-old transition to digital as the key force behind the transformation of CMOs from brand-builders to data-focused, short-term revenue drivers.

– Retail Drive
In Gartner's 2019 IT Symposium entitled: What CEOS Want From Their CIOs, they touch on issues and topics like: digital transformation, analytic solutions, data scientists and the reality that CEOs today want to make fact-based decisions, and "how companies can use technology to drive their growth priority".
This is also accentuated in the nature of the CMO role being eliminated (as stated earlier), or morphing into new roles like CXO (chief experience officer), or CDO (chief data officer), or even CMO-CIO alliances which relate to what should be highly connected relationships between marketing and technology to deliver clearer lines of delineation between what's being spent on marketing (and tracking the performance) back to the bottom line.
"In a perfect world, collaboration between marketing and technology leaders would be seamless. In the real world, that sort of synergy is uncommon. Just 8% of marketing decision makers in the Forrester Analytics Global Business Technographics® Marketing Survey, consider their CMO and CIO to be strategic partners.

It makes no sense on the surface. After all, CMOs have the fastest-growing tech spend in the C-suite. But divergent goals, priorities, and timelines keep the two roles miles apart. For example, pressure to respond quickly to changing consumer behaviors can drive CMOs to seek outside tech solutions instead of working through longer, in-house processes."

– Forrester, What It Means, 2019
Back To Business Outcomes
Each organization, whether B2C, B2B, or non-profit, will have different goals, priorities, and dynamics and therein different KPIs, so it would be pointless to list out what might be considered the right set of KPIs or top metrics here. Rather, we'll speak to a higher-level perspective on what should be a best practice in any organization, i.e. a strategy built around understanding (and in time predicting) how your consumers consume (purchasing or donations, drop-off and lost opportunities, loyalty and life-time value, and word-of-mouth and referrals as an expression of meeting or not meeting their needs), which correlate back to the bottom line.
"Choosing MarTech solutions, however, isn't just a matter of checking off a box, but entails building the capability to deliver engaging digital experiences that fuel sales and customer retention and loyalty. That's why marketers should focus less on the ROI of MarTech and instead determine whether the investment is necessary to support the company's business strategy and drive positive business outcomes."

– CMS Wire
Today, marketers and agencies need to no longer to just think of themselves as skilled developers of marketing strategy, messaging, creative, and media channels. But rather as an extension of the C-level suite and one that speaks to and is accountable to the clients' P&L statement.
This is even heightened in a world in which "73% of customers say one extraordinary experience raises their expectations of other companies. Every time Amazon raises the bar in retail, for example, it also does so for banking, healthcare, hospitality, and every other industry", according to a Salesforce 2019 study. Meaning, in the greater scheme of things, another tactic compared to a competitor that is disrupting the space will do little for the bottom line.
And since we started with an analogy, it seems appropriate to end with one. Metrics are critical to view and understand what's happening, to continually test and learn, and to optimize performance and efficiencies. But like a wet towel to be wrung out, at some finite point you can only squeeze the last drop out of performance. Therein, it may be prudent to throw in the towel (so to speak), step back, and look to see if your strategy is still on track and aligns with your target market's need in making sure you're delivering the monetary results the C-suite is expecting.