Social media is always evolving, and as we look ahead, a new trend is emerging. Many experts have identified that private messaging is on the rise, as well as sharing via stories and groups. This shift from sharing publicly to privately calls for new strategies for reaching your customers online. Let's take an in-depth look at what's already happening, and what businesses should expect more of in the future.
What's Already Happening
Messaging
As someone that manages social media for businesses, I'm already seeing the move toward a message-focused world. Facebook, with its Messenger platform, is increasingly focusing on taking the conversation into a private forum. When creating content on Facebook, you can now add a "Send Message" button to any post, making it that much easier for users to send your business a message when viewing your content in their feed. In many cases, it makes a lot of sense to include this feature on a post as a call to action when you expect customer questions.

Facebook Ads can also prompt users to message businesses, through the click to Messenger ads. These ads are worthwhile. But, be prepared to have a person (or a chat bot) readily available to respond to the influx of messages. Speaking of bots, on Messenger these can help you achieve higher open rates and click through rates than email, according to Neil Patel. Facebook support is even jumping on the messaging train. Hard to reach in the past, you can now directly message a support agent from your business page to resolve all kinds of page issues.
Groups
In addition to messaging, both Facebook and LinkedIn are placing a higher focus on increasing the usage of groups on their platforms. LinkedIn unveiled a new groups experience at the end of 2018, focusing on bringing group activity to the forefront of their platform and giving their users more ways to share.
Facebook also continues to roll out exciting features to support their groups platform. Business pages can now join groups if the group admin allows it, bridging the gap to a world that was previously reserved just for user profiles. Further, business pages can create their own Facebook group and tie it to their Facebook page, allowing a place for their followers to engage with the business in a closer-knit, private community.
Stories
Stories are a popular way to engage with followers on Instagram, where followers can respond to your video and photo stories in a one-on-one way. When 1/3 of Instagram stories viewed are from businesses, this method of sharing isn't going anywhere anytime soon. Because of the 24-hour time limit on stories, these engage at a high rate because followers want to rush to view them before they expire. And have you noticed those green circles surrounding your friend's stories on Instagram? These take privacy one step further, as they're stories that are only shared with close friends. Users or businesses must add a list of profiles to their close friends list, and then can share exclusively with this smaller group of people.
Brands are also connecting with users through stories GIFs on Instagram. These stickers are added to a user's story before posting, and can not only add flair, but can have incredible brand exposure. The team at Later.com achieved over 16 million impressions in one week from users seeing and using their GIFs in their stories. Talk about a lot of eyes seeing your brand on social media.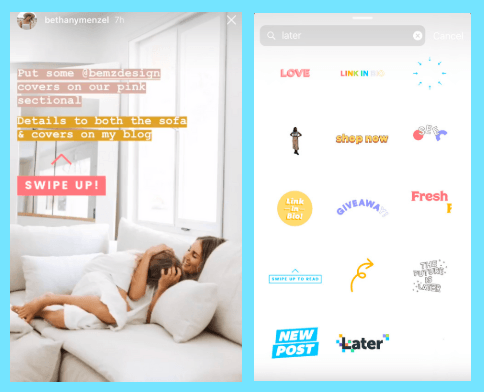 What Businesses Should Plan For
Heightened Customer Service
The lines between social media teams and customer service teams are going to blur. On social media, it's all about prompt customer service, especially with the rise of messaging. Did you know that 21% of consumers would rather message a brand on social media than call a business' customer service hotline? I see this stat come to life in my job often, with inquires coming in via direct message about delivery status, store hours, and product recommendations, for example. In this always-on world, providing exemplary customer service on social media is going to prove to be vital.
Timing is important too, and if users don't already expect an immediate response to their question or complaint, a statistic says that 42% of them expect a response within 60 minutes. If you don't have a dedicated team member, or members, to communicate with users on Messenger, chat bots will come in handy.
Exclusive Content
Personalization and exclusivity are going to be key in the future. As I wrote in my article about what I learned at the Smart Social Summit in Austin, TX, everything on social media is going to need to give people an exclusive experience. Achieving this level of personalization can come in a variety of forms. We should see more business-ran Facebook groups, offering businesses a closer way to communicate with their customers. Customers can be given the VIP-treatment with access to these Facebook groups, or they can even take the place of the business Facebook pages.
Stories can also be used to give customers the one-on-one attention they crave from brands. Reward these engaged followers by offering specific deals or exclusive information to them in a 24-hour lasting story. You can even add customers to your close friends list on Instagram and share content with this closer-knit community.
New Platforms
Knowing that the top six messaging apps together bring in 5 billion monthly active users, more than any traditional social network, I think it's safe to say that the future may already be here. Platforms like WhatsApp, Facebook Messenger, WeChat, and Skype are on the rise, but despite this, 71% of businesses don't use messaging apps in their marketing. There's definitely some uncharted territory here that brands should explore more, and brands may soon need to expand from staying only on the "traditional" social media platforms. It'll be important to get to know your customers, adopt the platforms that they're active on, and develop new strategies for communicating your brand's message.
Conclusion
Sharing privately is here to stay, but that doesn't mean that businesses can't still reach their customers online. Provide great customer service and meet customers where they are. By staying nimble and employing these various strategies, you'll continue to reach your customers on social media.