Search engine optimization, more commonly known as SEO, is the process of making improvements to your website to make it more easily discoverable by search engines. How often your site appears among top search results directly influences the amount of traffic you receive. More traffic often translates to more opportunities to sell products and services.
What does it take to rank a website in 2017 and beyond? A little more context is necessary before we dive in.
Google's Algorithm
Google's constantly evolving algorithm is the brain behind SEO — it's responsible for determining how websites rank in search results. Understanding how it works is essential to your strategy.
The biggest element of change to SEO in 2017 is the advent of Rank Brain, the artificial intelligence (AI) program used to help sort out Google search queries. It's not science fiction — Google's AI is constantly learning how humans search for information to improve the results we receive. Just a few years ago, a semantic search like "How many pounds in a ton?" would generate some off-point results — Rank Brain makes it possible for Google to interpret the query and deliver a direct response like this …
Artificial intelligence makes it possible to understand these conversational search queries — it adapts the search results to us. This technology is increasingly more valuable with the rise of voice search — it's becoming more common to own in-home devices like Google Home and Amazon Echo.
So, in order to get your website to rank, you need to take stock of how Google's algorithm is adapting to new technology.
The Economy of Keywords
Keywords are the currency of SEO. Keyword rankings ultimately measure the success. There are some important considerations to be made when prioritizing keywords throughout your campaign.
Not all keywords are equal in terms of value.
The most valuable keywords are often difficult to rank.
Keywords that yield high traffic volume aren't necessarily valuable; keywords that yield relevant/targeted traffic are essential.
A successful SEO campaign finds the right balance of keywords in terms of value and competition.
No matter your industry, there's someone out there that wants to rank for your most valued term. The key to effective SEO is not to solely fixate on 'pie in the sky' scenarios such as "I have to be number one for term xyz." That's a goal worth pursuing if you have the resources to out-effort your competitors, but long-tail keywords, when taken in aggregate, can also generate a substantial amount of traffic. For example, ranking for "plumber los angeles" is much more difficult than ranking for "plumber beverly hills," "plumber hollywood," or "plumber long beach."
SEO's Relationship with Pay-Per-Click (PPC)
Finally, there's an important disclaimer to be made for any business considering SEO — it's not a free alternative to paid search.
Organically ranking in the top spot for your most valued term is a desirable scenario, but there's a reason most of us are comfortable paying a premium for that kind of placement in AdWords. The reality is that the financial investment to rank number one for your most valued term can sometimes exceed your resources/budget.
Search engine optimization works best when it is an approach that is complementary to your paid advertising. If you're looking to SEO as some cheap alternative to PPC, think again. Yes, the clicks are free, but the time and energy you'll spend certainly aren't.
2017 SEO Ranking Factors
1.      Backlinks
Backlinks are 90% of SEO.
Backlinks are the external links pointing back to your site. They function like the professional reference of the digital world and remain the most significant ranking factor in SEO to date.
Why are backlinks so critical to SEO rankings? It has a lot to do with how difficult they are to manipulate. Establishing credibility with external sites takes work — your site genuinely needs to provide value to other people to succeed in this area.
Who links to your site and how they link to your site are important considerations to be made when building backlinks. Remember, this is a professional reference — the more credible the source, the more weight it carries for your reputation.
If you're looking for an non-resource intensive answer to building great backlinks, good luck. In the meantime, here are some guidelines to get you started:
Build relationships with people in your industry and see how you can help each other
Sponsor local charities, organizations and other non-profits
Partner with companies that promote your services
Get a better grasp on PR; generating your own buzz will naturally bring links
Buying links will only get you so far and has Google penalty consequences
Local Citations
I like to start off building local citations when starting a backlink campaign for my clients. Although most citations require a physical address for the business, claiming a listing in these directories can provide powerful links to your site. Many citations are free, too.
To help you prioritize your listings, check out this legend from Whitespark …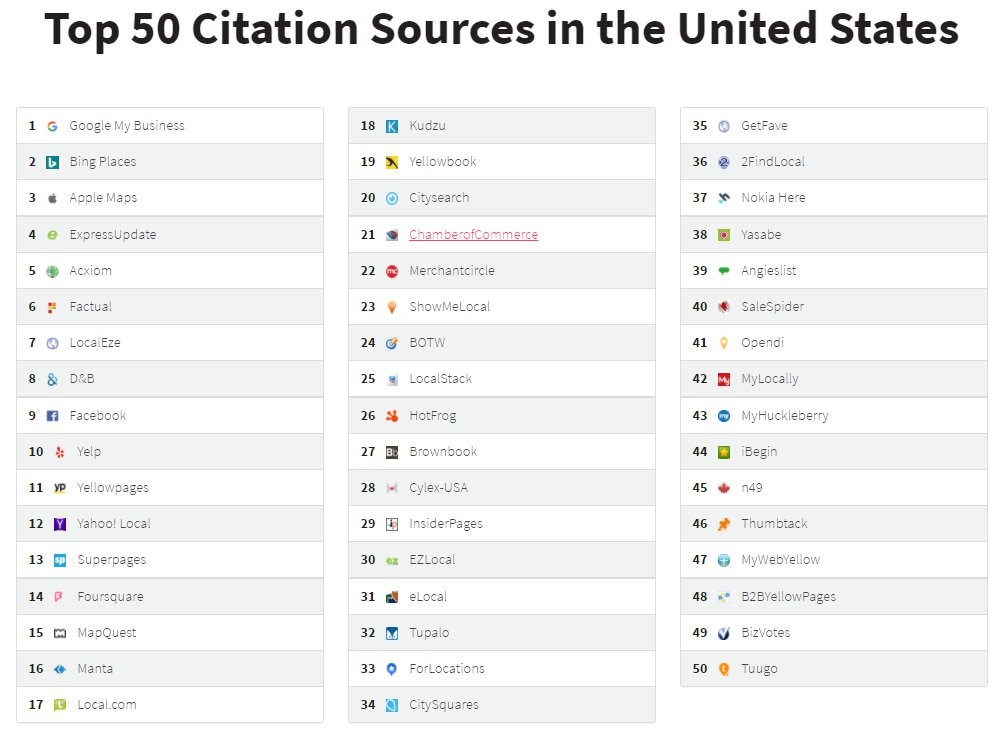 2.      Content
Content remains a crucial ranking factor in SEO. We're not just talking about peppering in keywords and hitting a certain word count — Google's Rank Brain is evaluating content for quality. Google's increasing push into artificial intelligence should scare anyone who is used to mailing it in with their content marketing.
Want to optimize your content for SEO? Thin content should be public enemy #1. Your content should be comprehensive, capable of answering more than a user's initial search query.
There's no better example of comprehensive content than your typical Wikipedia entry. Here's an example about The Muppets …
That's a ton of information in one place! No wonder Google has a habit of including Wikipedia content in search results …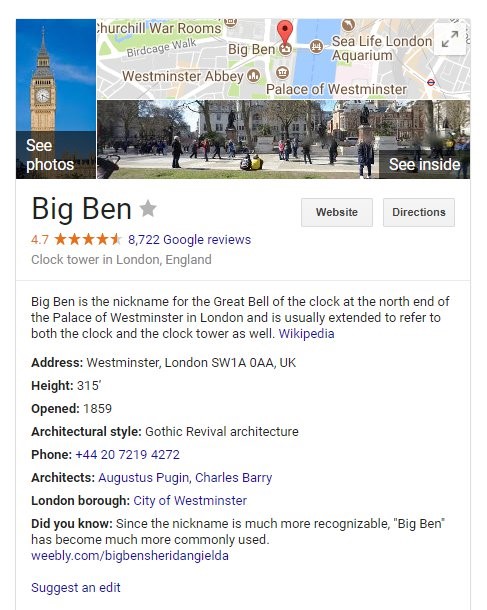 Your content should aspire to produce the same kind of exhaustive answers. Not only should you answer my initial search query, you should anticipate what else I want to know about the subject. Your content should be simple to navigate and easily direct me to related subjects of interest. That's how you win the content game in SEO.
3.      Speed & Mobile Compatibility
80% of Internet users own a smartphone, according to recent data. That smartphone is a lot more accessible than a desktop computer, so it's hardly any surprise the majority of search traffic stems from mobile devices. Be that as it may, most of the web is not optimized to facilitate mobile audiences and provide the best experience — which presents a huge opportunity.
Google loves fast, mobile-friendly websites. Why? These websites provide the best possible user experience. Google rewards these sites within mobile search results, giving them favorable rankings. Most websites procrastinate making technical optimizations. Yes, optimizing your website for faster loading times and mobile audiences can be time consuming (i.e. expensive).
Want to establish a baseline for your website's speed and accessibility? Start with Google's free to use PageSpeed Insights tool. This tool provides some general information to pass on to your development team to help optimize loading times.
Another great Google tool for your analysis is Google's free Mobile-Friendly Test. This test will basically give you a yes or no answer as to whether your site is mobile-friendly; it also includes some details on how to improve compatibility overall.
Ironing out the technical issues with your site is another major step in the right direction toward effective search engine optimization. Your top priority should be ensuring your site offers efficient loading times and mobile-friendly pages.
Conclusion
The ranking factors contained in this guide are the pillars of successful SEO. If you're serious about seeing your keyword rankings improve, you need to get serious with an action plan for each step: backlinks, content and compatibility.